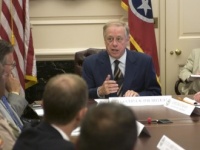 Gov. Phil Bredesen and his allies tried again yesterday to imprint on Tennesseans the "reality" of Solar and other renewable-energy opportunities.
Bredesen told his Tennessee Solar Symposium audience he hopes the governor Tennesseans elect next year will commit early to building upon the the state's current efforts to establish a leadership role in Solar and other technologies.

Given the economic slump, Bredesen said, "it's going to take us a decade to get back where we were a couple years ago."

That reality, Bredesen argued, makes it imperative that government and industry collaborate in demonstrating that Tennessee is "right in the middle of development" of photovoltaic technologies, in particular. Tennessee, he said, should place bets on a diversified portfolio of new-energy technologies, given the uncertainty surrounding the sector's long-term direction.

Yesterday's program at Nashville's Renaissance Hotel brought news of funding for tech transfer and commercialization, as well as updates on related projects:

First, the recently created Tennessee Solar Institute (TSI) will soon launch a $14.5 million competitive Innovation Grants program, with a call for proposals due in early 2010.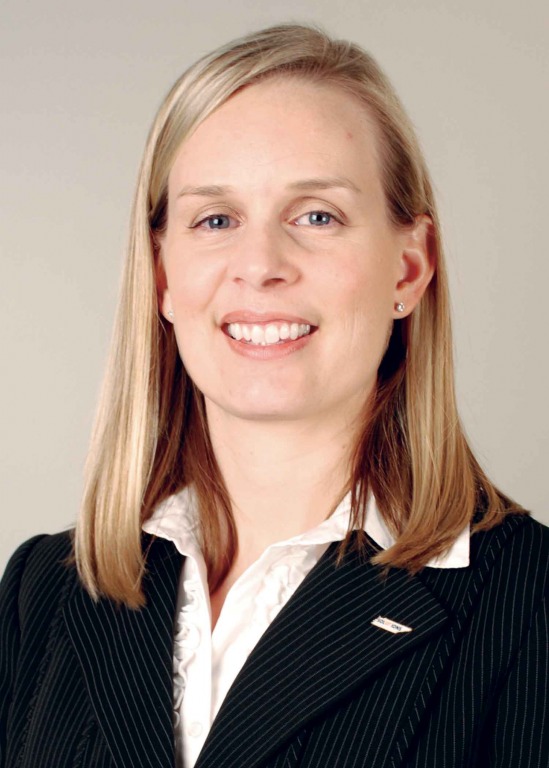 Kelly Tiller (at left), Ph.D., CEO of a UT Research Foundation subsidiary, Genera Energy LLC, told Symposium attendees that the new TSI innovation program will help renewable-energy entrepreneurs with technical assistance, process-improvement guidance and other services.

Tiller said the TSI will also spawn technology transfer and commercialization, partnership match-up retreats, on-the-ground assistance for industries, workforce certification programs, a contacts database and support for demonstrating "cutting-edge" research. When Gov. Bredesen, who earned his Harvard bachelor's in physics, announced his plans for the Solar Institute during his State of the State Address in February, he urged Tennessean to thing big, likening the Institute to major scientific institutes at Princeton University, and elsewhere.

A second TSI grants program, fueled with $9 million in ARRA funding, will encourage installations of "small scale" solar-energy systems, with up to $75,000 available for each winning project, on a cost-match basis.

A third initiative, centered at Oak Ridge National Laboratory and known as the industrial technologies program (ITP) Solar


Program, will provide $3 million worth of utilization of ORNL facilities and technologies to companies that are working with advanced materials, with emphasis on improving performance and reducing costs to heighten competitiveness and adoption.

Companies will be asked next month to submit requests for the first of a planned three rounds of ITP Solar access, according to ORNL Solar Technology Program Director Chad Duty, who spoke yesterday. Duty stressed that applying will require only a three-page proposal, describing project work of a maximum eight weeks duration.

The Solar Institute will also be closely tethered to the West Tennessee Solar Farm, which is the $31 million-plus project advancing in Haywood County's industrial megasite, alongside Interstate 40, halfway between Jackson and Memphis.


Tiller said the Farm's mission is to showcase "a wide range of technologies," in the course of demonstrating utility-scale power production and grid connectivity, while supporting Tennessee's existing solar-oriented industries, and helping with recruitment of new solar companies. Integrated within the Farm will be a highly visible combined education and welcome center, developed in cooperation with the Tennessee Department of Transportation. The center may become a prototype charging station for the state's federally funded cooperation with Nissan to roll-out a new electric-powered automobile.

The new I-40 center is being developed purposefully to raise awareness among Interstate motorists to Tennessee's solar resources. Land acquisition for the Farm is underway, a request for design proposals is due out after New Year's, and the site should be operational by February 2011.

Meanwhile, in East Tennessee, the TSI will be housed within the UT-ORNL Joint Institute for Advanced Materials (JIAM) at University of Tennessee's Cherokee Farms research campus.

As reported earlier by VNC, leveraging Tennessee's Solar-industry initiatives and expertise is a key factor in another grant proposal recently submitted in behalf of the state to the National Science Foundation's experimental program to stimulate competitive research (EPSCoR).

During the Solar Symposium, State Economic and Community Development Commissioner Matt Kisber stressed that Tennessee business and citizens, generally, must become true believers in Solar and other emerging industries. In earlier speeches, Kisber has often insisted the state must leverage its new stature as a home for Green industries, which was recently applauded by the Pew Trust.


Kisber (at left) warned that in trying to develop Solar industries in the state, there's a "psyche we've got to overcome," a prejudice that leads Tennesseans to doubt how realistic it is for Tennessee - which isn't seen as enjoying the amount of sunlight that bathes Arizona and other southwestern states - to seize the lead in Solar development.

In fact, according to several speakers yesterday, recent studies show that portions of Tennessee get a surprising 90 percent of the sunlight intensity of the Southwest.

Echoing Kisber's concern, panelist and Hemlock Semiconductor Vice President Gary Homan told an audience of about 200
that Tennesseans mustn't think of Solar "from a tree-hugging standpoint."

Homan (at right) confessed that roughly seven years ago, he, too, was a skeptic viewing Solar as little more than part of "hippie culture." To the contrary, he continued: "Solar is real...and will be a major, major driver" of the economy of all states.

Fellow panelist Ed Wegener, manager of AGC Flat Glass' North American Solar Business unit, concurred, stressing that Tennesseans must adopt "the attitude that this is a viable business," later adding that stage government should "accelerate" its efforts, before competing states decide they, too, "want to become a Solar mecca."

Apparently, many are ready to become believers: In addition to economic-development professionals, companies registered for the event included Rockwell Automation, SPX Arguson, TVA, Soltility Inc., Southeast Community Capital, Tennessee Solar Energy Association, ThyssenKrupp, Kendall Electric, Lightwave Solar Electric, Outpost Solar, Provectus Solutions, SSOE, and an array of contractors, engineers, lawyers and others.

Additional speakers included executives from Wacker Polysilicon (Wacker Chemie's new plant at Chattanooga), Sharp Manufacturing and AGC Flat Glass (formerly Asahi) and the Solar Electric Power Association.


Hemlock and Wacker, together, are expected to invest more than $3 billion in their new polysilicon facilities, coming out of the ground in Montgomery and Hamilton Counties, respectively. Current Tennessee solar-oriented businesses include Sharp in the Memphis area; Shoals Technologies Group in Gallatin; AGC Flat Glass in Kingsport; wind tower manufacturer SIAG Aerisyn, L.C.C. in Chattanooga; and, Alstom Power, a major supplier to clean-energy manufacturers, globally.

For the record: Addressing a gaggle of journalists during a break in the Tennessee Solar Symposium at the Renaissance Hotel, Bredesen once again dismissed as poorly informed "political grandstanding" concerns recently expressed by some state legislators about the costs and benefits of the state's emerging program to convert switchgrass to biofuel.

Bredesen and others attending the symposium said those concerns appear to be have been quelled, and the apparently short-lived controversy no longer jeopardizes either the state's biofuels project or potential new investment here by a company the Bredesen Administration has not identified.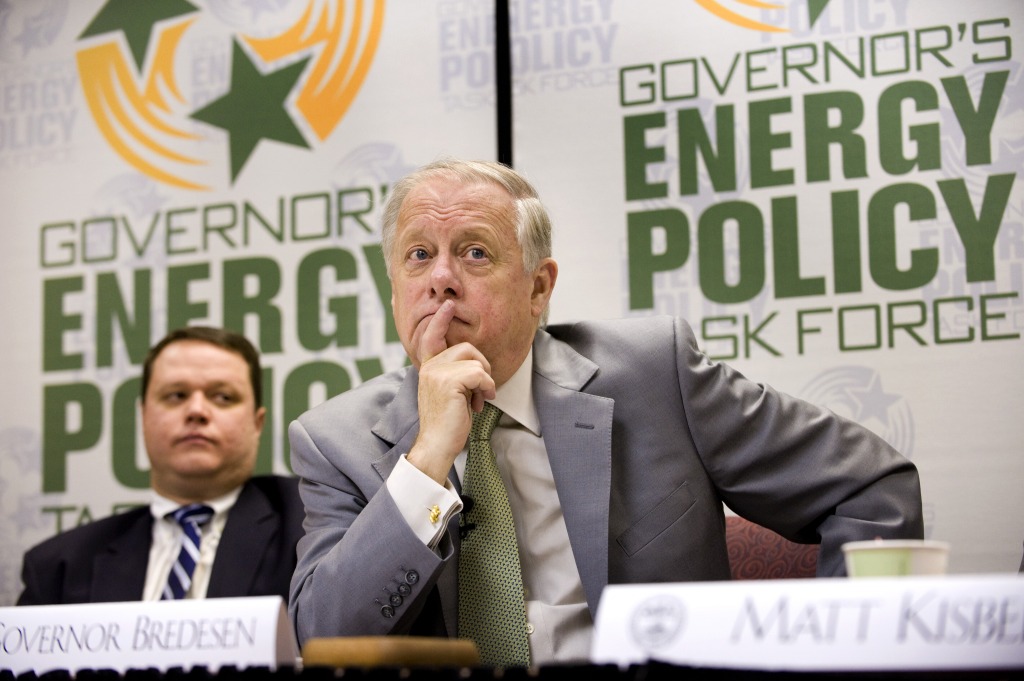 Bredesen, citing the potentially fleeting advantage the state enjoys at this moment and sometimes tempering his tone, has more than once been blunt and impatient in addressing impediments, including what he once apparently viewed as lightweight work by his own energy task force, which was grappling with a host of issues, from training to energy conservation, just as a wave of new economic-development opportunities arose.

The Tennessee Solar Symposium was jointly sponsored by Kisber's ECD and by the Tennessee Economic Partnership, a
marketing, networking and industry-recruitment lead-generation organization for economic-development agencies and corporations supporting economic development.

The TEP is currently chaired by Mike Evans, who is executive director of the industrial development board of Clarksville-Montgomery County. The TEP is staffed by Hall Strategies, a Nashville public-policy and public-relations firm. ♦
Related Articles