THE SOLIDUS-spawned Selous Venture Society (SVS), an Angel group based in Nashville, has been quietly stalking Angels and startups for months, and is about to pounce on its fourth deal.
Gatto declined to name its portfolio companies, but VNC learned that NewsBreak Media Networks, based in Knoxville, is one of its three completed investments. NewBreak supports convenience stores' ad-network revenue generation and in-store marketing, NewsBreak co-founder Brian Nelson told VNC today.
The SVS membership group is an offering of Selous Partners LLC, which was chartered in mid-2012 by Vic Gatto, a partner in the Solidus venture capital firm; and, Nashville Entrepreneur Center (EC) CEO Michael Burcham.
SVS is likely to reveal more publicly during a July 11 half-day Angel "crash course" program that is to be held under the banner of the nonprofit EC's CapitalTN program.

Vic Gatto
The Selous group now has more than 30 Angels, said Gatto, and its niche will be funding companies that are "post-accelerator," but too young for venture-capital investment. SVS will rapidly become "broadly partnered" with other investment groups across the nation, he said, noting that its fourth investment, pending, involves a Silicon Valley investor.
It's first three investments include two as-yet undisclosed technology companies, plus NewsBreak, which is in the tech-enabled retail marketing space. SVS is likely to make few investments in Nashville's flagship sector, Healthcare, said Gatto.
The SVS model calls for the group to invest a total $250K-$500K per round, probably acquiring minority stakes. In 4Q 2013, SVS signed its first SVS member and executed its first investment, Gatto said.
The "explosion" of startups in the Nashville area probably fosters confusion in the minds of would-be Angels who have no investment experience, he said, adding that it seems there are "10 or 20 times" more startups dotting the landscape now that a few years ago. He attributed this, in part, to the TNInvestco investment program, inaugurated in 2009, in which a Solidus affiliate participates.
This creates "a good problem" to have, but the challenge now becomes finding follow-on investment for all the companies coming through Solidus-backed Jumpstart Foundry, the EC and other incubators and accelerators, said Gatto.
Rather than competing for investment from Angels already active with Nashville Capital Network (NCN) or Angel Capital Group (ACG), Gatto said "we're mostly finding new people that have never invested before, and don't know who [NCN President] Sid Chambless is."
Gatto emphasized that he does want to partner with NCN, ACG and others. Thus far, only a handlful of SVS Angels are also involved with NCN, ACG or other Angel groups, he said.
In recruiting members, SVS concentrates on Middle Tennessee and is not likely to go beyond the 100-Angel mark, he said, noting that Middle Tennessee is home to roughly 50,000 households in which there is at least one accreditable investor.
As a practical matter, unless someone is a "billionaire," said Gatto, they cannot build a large portfolio of Angel investments without being part of a group.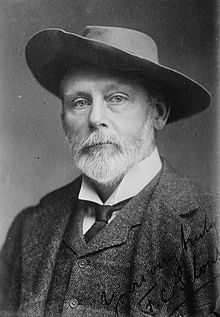 Frederick Selous
SVS's namesake is the late Frederick Selous, a Briton who was an avid African big-game hunter. He came to decry game poaching and eventually advocated wildlife preservation. Selous burnished his reputation by supporting a specimen-collecting expedition to Africa, undertaken in 1909 by then-former U.S. President Theodore Roosevelt and the Smithsonian Institution.
In 1917, Selous, by then a captain in the British Army, died in uniform at 65 in World War II, during a military sortie in Africa. He was killed by an enemy sniper. According to one scholarly report on Selous' impact on wildlife preservation, Selous and his exploits resonated strongly in wartime among Britons who valued masculinity and Empire.
Gatto, 43, told VNC that SVS adopted the Selous name to reflect the adventure, safari-like fellowship and collaboration, risks and rewards of the Angel-investing quest.
SVS is the lead investor and bush-guide in its Angel safaris. SVS members are accredited investors who pay $2,000 per year in dues and who, if they choose to invest at all, invest at least $5,000 in a given company presented by Gatto.
There is no minimum number of deals in which members must participate, and SVS overall is likely to complete eight to ten transactions per year, said Gatto.
SVS's outside advisors include accountants Plante Moran; and, attorneys with four law firms: Bass Berry & Sims; Baker Donelson Bearman Caldwell Berkowitz; Miller & Martin; and, attorney Derek Hughey. NewsBreak's Nelson said that Hughey is also his company's outside legal counsel, and he said he is advised by Nashville-based venture consultant Julia Polk. NewsBreak recently completed its Series A raise, for an undisclosed amount.
Looking ahead, Gatto said that Solidus, which makes evergreen VC investments, will defer any follow-on investment in SVS portfolio companies until other venture-capital firms have had time to consider a deal, to ensure Solidus has no unfair advantage. Gatto mentioned Heritage Group, Chrysalis Ventures, Noro-Moseley and Mountain Group Capital as examples of potential downstream investors. Gatto said Solidus adopts that same stand-off posture regarding Jumpstart graduates, including NewsBreak, which was in Jumpstart's 2013 class.
In addition to SVS, Gatto has played key roles for Solidus in an array of its holdings, including Jumpstart, Solidus-TNInvestco and its Knoxville-based Venture INCITE company, the latter founded in 2010 and dedicated to technology commercialization, leveraging Oak Ridge National Laboratory, University of Tennessee and other sources of intellectual property.
Gatto said he is likely at some point to add an in-house associate to assist in supporting SVS operations, but has no candidates in mind. Gatto has presumably been relieved of some duties by the recent appointment of Solidus Principal Chris Poole as managing director of Jumpstart Foundry. In addition, XMi Holdings Associate Chris Booker has previously been detailed to support EC CapitalTN programs, such as the one scheduled next month at the EC, according to information online.
In February, Gatto registered at least one domain name for SVS -- SelousVentureSociety.com -- according to WhoIs. VNC