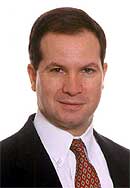 AT&T Intellectual Property Inc. President and CEO Scott Frank will address Middle Tennessee's Mind2Marketplace coalition.
The M2M event will be Thursday, April 16, convening at noon at the BellSouth Tower.
In his role at chief protector and marketer of AT&T IP, Frank is exposed, globally. He is regularly involved, for example, in such coups as the company's recent licensing to SONY Corp. of AT&T technology essential for optimal operation of video transmission and storage.

It's also Frank's duty to engage in such conflicts as his company's unsuccessful battle with Microsoft over global protection of AT&T IP shipped overseas with Microsoft software. He has also been involved in such IP-creation efforts as AT&T's long-running effort to patent a method for managing intellectual property, itself.

Frank's influence has spread as AT&T's operations have grown internationally. Reflecting that, he shared the dais during last year's first summit of Chief Intellectual Property Officers, in Amsterdam. At home, he is current chairman of the Georgia State University College of Law Intellectual Property Advisory Board.
Frank was named to his present AT&T role in March 2007, following the company's merger with BellSouth. He had played a similar role with BellSouth. Prior to joining BellSouth, he practiced intellectual property law seven years with Atlanta-based Troutman Sanders LLP. Earlier, he was an electrical engineer with Nortel and a systems analyst with AT&T. He earned his J.D. and MBA at Georgia State University and his bachelor's in electrical engineering at Georgia Tech.

Mind2Marketplace (M2M)serves the 40 counties of Middle Tennessee to promote commercialization of technologies born and bred on local university campuses and in the workshops of entrepreneurs.
An enthusiastic M2M Chair Andrea Loughry (at left) told VNC Frank will share with those attending the M2M event his

experience and ideas for stimulating innovation and protecting intellectual property, information that Loughry noted "can be of benefit to [M2M's] investors," a reference to sustaining sponsors M2M is recruiting.
Asked how Frank was recruited, Loughry said M2M had enlisted Middle Tennessee State University President Sidney McPhee to make the request via Gregg Morton, the president of AT&T Tennessee. Morton is a member of MTSU's Honors College advisory council.
Formation of M2M was spurred by a challenge issued by U.S. Rep. Bart Gordon in fall 2005, during a speech to Rutherford Countians, in which he urged his constituents to participate in the emergence of technology-driven sectors of the economy. M2M began operating as a coalition in early 2006, and was incorporated in October 2008.
Although the group must still gain long-term funding, M2M gained additional momentum recently when U.S. Rep. Zach Wamp engineered both the admission of Gordon's district to the Tennessee Valley Corridor initiative and subsequently landed a key TVC event for Murfreesboro, home of M2M.
Gordon's influence has risen steadily the past two years, and he now serves as chairman of the U.S. House Science and Commerce committee, and he is viewed as one of the chief advocates for full funding of pro-competitiveness legislation -- with Amerca COMPETES as its centerpiece -- which was purposefully left largely unfunded during the Bush Administration.
With Wamp's recent announcement of his departure from Congress and his gubernatorial candidacy, Wamp's congressional influence may migrate to other members of the Tennessee delegation, or to representatives from other TVC member-states. ♦