EVEN doggedly independent business owners often come to believe that four bootstraps are better than two. Then, they have to find boots that fit the business.
It's been nearly 12 years since Paul Reed created Brentwood-based Business Resource Solutions (BRS), a barcode-centered labeling, asset-tracking and logistics technology and services business.
He has bootstrapped the business, all the way. However, a couple years ago, Reed, now 52, accepted the fact that he needed to grow significantly if he hoped to position himself to realize significant rewards upon his eventual exit from the business.
The business emerged from the Great Recession profitable, with six employees and 2011 revenue of $1.5 million, Reed told VNC.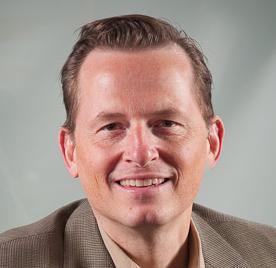 Paul Reed
However, the challenges of the past few years helped make clear to Reed that future growth required adding the sort of talent that he would be hard-pressed to afford, unless he found a co-owner.
In short, he needed another pair of bootstraps. Those extra bootstraps may have arrived in the person of one Harry Hoover, a 54-year-old veteran of 25 years in the printing industry. [Update: Hoover's LinkedIn shows no Idezi affiliation.]
Since January, Reed and Hoover have been attempting to plot a course toward a 1Q 2013 launch of a new identity and structure for BRS. Hoover's Linkedin shows he carries an interim title with BRS, responsible for corporate and business development.
Months of get-to-know-you coffees in 2011 have been followed in 2012 by more months of trying to reconcile their views of priorities and processes, according to VNC interviews with Reed and Hoover.
If their current plans hold, in January a repositioned enterprise will begin operating as Idezi Group LLC. The long-running BRS barcode labeling and logistics business will operate as Idezi ID; and, a new growth-focused promotions and marketing-oriented division will be known as Idezi Design. (The "Idezi" brand is meant to evoke "ID," "identity," "idea," "design" and related terms, said Hoover.)
BRS/Idezi presently has no plans to raise outside capital, Reed recently told VNC. "That said, there may be a need down the road...to seek and acquire some outside funding," said Reed. Meanwhile, he said, banks "have been very willing to lend us money based on our track record."
The business serves its customers by counting, sorting, applying labels and tracking assets; and, it provides software, equipment and labels and signage to support such work, Reed explained. The need to create disposable labels and tags for the original label/logistics business helps feed the printing business, which will also produce marketing, promotional and other printed collateral materials, he noted.
Reed noted that he has received valuable insight and advice over the years from a wide range of business associates and from such groups as SCORE, the Service Core of Retired Executives.
However, Reed stressed, ultimately the burden of making decisions related to risks and rewards fall almost entirely upon the business owner.
The Reed-Hoover relationship remains a work-in-progress. By each of their accounts, their continuing attempt to forge a partnership has been made possible by each man's avowed readiness to adapt to the requirements of profitable sustainable growth.

Of course, vows are one thing, but entrepreneurial roots run deep. Sometimes deals don't quite work out as originally designed. For example, by all accounts the integration of Web-uberdesigner Cabedge into Atiba, reported by VNC in January, has gone very well; but, to the surprise of few if any, Cabedge founder Chris Blanz's stay with the biz after its sale proved fleeting, and the highly regarded creative director moved on to create MOBLS, a mobile-media brand management shop, while keeping his hand in a number of other startups and consulting alliances.

Reed's openness to bringing in a co-owner, rather than continuing to operate as a sole proprietor, helped overcome a sort of inertia that had set-in, Reed told VNC earlier this year: "It's real easy to make fundamental change when your business isn't doing well. [Serious business troubles are] like the teachable movment after a heart attack," he said. "But, when [as has been true at BRS] you're plugging-along and things are going well, and you're financially very stable, it's [equally difficult to force yourself] to take a hard look at your business processes," he added.
The BRS/Idezi story is the sort often heard in Nashville: Two executives, separately networking to avert the isolation that can undermine the judgment of any business owner. They individually share their respective hopes and dreams with a mutual friend -- in this case, Tom Tucker, who subsequently introduced them to one another.
Reed had met Tucker during a Nashville Area Chamber of Commerce event at Belmont University, while Hoover had met Tucker during a men's gathering at a local church.
Hoover previously been involved as CEO with Nashville-based PrintPartners LLC, a startup no longer active, which set out to roll-up printing companies; earlier, he spent 19 years with US Print Corp., based in Birmingham. He and his Nashville-native wife relocated to Middle Tennessee in 2009, largely to be near her aging parents. Hoover's Linkedin is here.
Earlier this year, Reed told VNC that he saw in Hoover a candidate for the C-level sidekick he needed, and for which he was prepared to consider relinquishing a stake in his business. At the same time, Hoover told VNC he recognized that there was much he could learn from a business owner who had made progress despite the Recession, largely by knowing "what to chase, and what not to chase."
The pair have spent much of 2012 collaborating under a series of short-term arrangements, while attempting to reach agreement regarding longer-range plans, according to Hoover, who acknowledged his own eagerness to make changes in company processes, in order to prepare rapidly for operating at much larger scale.
Sufficient structure is in-place and the repositioning effort seems likely to result in a launch of the rebranded business in January, Hoover told VNC this past weekend.
"We are different, but seem to enjoy the same vision and passion about the future. We are excited about the first of the year," Hoover said.
Reed's legal advisor is Kyle Mothershead of Nashville, Hoover said. The company banks mainly with First Citizen of North Carolina, which had been helpful since the firm's foundation, Reed previously told VNC. St8mnt Design Studio has provided some Web design services, Reed said.VNC