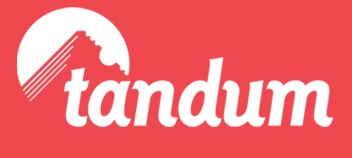 Update: VNC learned that in 4Q16 the owners exited the business through a sale to one or more parties.-Ed.
TANDUM LLC, the Nashville startup that offers mobile consumer ticketing and an event-management platform, today reported it has raised another $450K, moving it closer to the $2MM total Seed-capital mark.
Co-Founder and Co-CEO Douglas Pace confirmed the raise for Venture Nashville, but declined to discuss a possible further Seed extension or a Series A raise for Tandum, which has an office on West End. Its earlier $1.4MM Seed raise was reported in 2014 here.
Tyler Griffith
Doug Pace
Pace co-founded Tandum with Co-CEO Tyler Griffith. Both are 29. The firm was registered in Delaware in 2014.
As previously reported by VNC, professional Angel Crom Carmichael is both investor and advisor for Tandum. Pace declined to name other individual investors.
Pace emphasized that CTO Jacques Woodcock has been with the company since before it took outside investment, and the company has "a really extensive roadmap" for both the business model and its technologies.
He added that Tandum continues to develop tools for consumers, venue operators and festival owners that are aimed at securing and maintaining over competitors an edge in ease and efficiency.
Tandum's marquee clients now include 1,500-capacity Joe's Live in Rosemont in the Chicago area and a Zac Brown Band sell-out this month in Jackson Hole, Wyo., as well as the Rythmn N Blooms Music Festival (April 8-10) in Knoxville and Nashville venues that include "The End" and "Acme Feed & Seed," among others.
The company's legal counsel is from attorneys with Charlotte-based Robinson Bradshaw & Hinson, led by Matt Efird. VNC
.
---