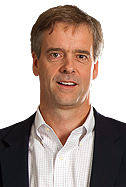 Update 4:13 pm: Search leader Tom Ballard said after our article appeared that the group will be actively searching nationally and accepting other applicants, with no candidates preordained whatsoever, in order to secure a successor to Brock to build on the group's track record and its role in behalf of an increasingly competitive state and its robust entrepreneurial community. Applications will be received via Jackson, TN-based Allygn and Ballard has a 7-person selection committee (story below). Jobs details here. - Ed.
Tennessee Department of Economic and Community Development Commissioner Bob Rolfe announced today that Charlie Brock, CEO of Launch Tennessee (formerly known as Tennessee Technology Development Corporation, TTDC), will return to work in the private sector in October.
The timing of his departure will enable Brock to serve through the next iteration of the 36|86 Festival, which he and his board not long ago moved into the 1Q of FY2018-19.
Yet, at least for the moment, news of Brock's departure also leaves dangling the fate of ideas he has recently surfaced, including creation of a new $100MM venture fund to support the state's entrepreneurs, preparations for the organization's transition to a new gubernatorial Administration and other factors.
Brock's successor will be announced following a search process with a committee led by Tom Ballard, emeritus board member of Launch Tennessee.
Ballard told VNC the search committee he chairs includes Leslie Smith, CEO EPImemphis; Ben Ferguson, TheCo, Jackson; Abby Trotter of Hall Strategies and LifeScience Tennessee; Jessica Harthcock of Utilize Health; Marcus Shaw of The Company Lab; Courtney Jones of MomSource; and FrankWilliamson Oaklyn Consulting.
Brock joined LaunchTN in January 2013 following the nonprofit's several years of turbulence, with circumstances calmed by Gov. Bill Haslam and his ECD commissioners. TTDC, or Launch Tennessee, was founded 20 years ago.
During his five years' service, LaunchTN budgeting sharply expanded and stabilized, its statewide influence generally increased and it amassed a core of professional staff who seemed to coalesce under his leadership.
A deeply rooted Chattanooga native, Brock has been an investor and an entrepreneur for nearly 20 years.
Today's announcement carried no hint as to whether, for example, Brock might do further service in government or electoral politics, join a corporation or resume fuller involvement with his former Chattanooga Renaissance Fund or Four Bridges Capital Advisors, a boutique investment bank based in Chattanooga. The release did not say whether Brock will reside in Chattanooga or Nashville, following his departure.
Earlier VNC Brock coverage and LaunchTN coverage here. Rolfe is the chairman of the group's board of directors.
TN ECD emphasized in its release today that LaunchTN, a nonprofit public-private partnership, supports entrepreneurs by focusing on early-stage capital formation, market access, commercialization resources, talent development and retention, and startup-friendly legislation.
LaunchTN has in recent years offered entrepreneurial mentorship, how-to programming and some capital to some entrepreneurs, through programs funded with backing from State and federal governments. The group also produces and executes the 36|86 Entrepreneurship Festival, and extends programming into about 75% of the state's counties.
During Brock's tenure, LaunchTN has also allied with other groups -- notably Life Science Tennessee - to generate legislative support for new or existing programs. Early-stage investment in Tennessee has increased 100 percent during this period, according to the ECD release today.
"Because of Charlie and the team at LaunchTN, Tennessee entrepreneurs have been able to take advantage of the startup-friendly environment that has been fostered in our state," Rolfe said in his release. "More than 1,700 jobs have been created and $186 million has been raised by accelerated-assisted companies thanks [in part] to LaunchTN. Governor Haslam and I are enormously grateful to have had Charlie lead LaunchTN for the last five years, and we wish him well on his next venture."
Brock promised Chattanoogans when he accepted the CEO post at LaunchTN that he would only take the position if, among other achievements, the move would benefit, rather than represent a loss for his hometown -- the locus of his pro-entrepreneurial civic work, his family and the site of his long-standing business relationships -- and he is widely viewed as having honored that pledge, while ramping-up LaunchTN/TTDC activism to serve the entire state under a succession of three ECD commissioners.
"My time as CEO of LaunchTN has been the most rewarding period in my professional career," Brock said in today's press release.
"Working with an amazing group of colleagues and many partners across Tennessee, we've created a best-in-class collaborative network across the state, substantially increased the availability of and access to resources and developed national relationships that have elevated Tennessee as a great place for entrepreneurs to launch and grow a startup. This will lead to continued future job growth and economic prosperity for citizens and communities across Tennessee," he said. VNC
.
---