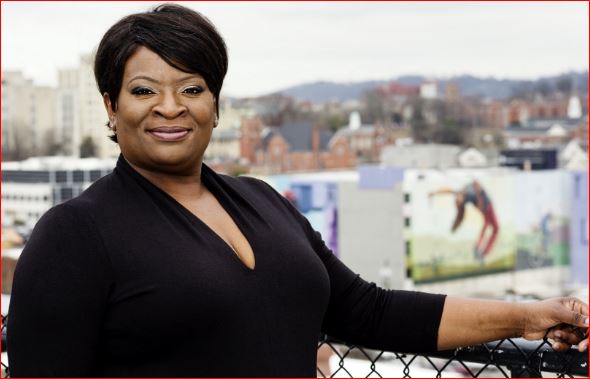 Updated June 29, 2021 - CPRwrap, has a StartEngine crowd-raise running, has met Founder-CEO Felicia Jackson's threshold minimum raise, has a roughly $3MM valuation and seeks a maximum $1MM capital. -Ed.

FOUNDER and CEO Felicia Jackson says she's had early conversations with investors ahead of a planned $1MM Seed raise for her CPRWrap startup, based in the Chattanooga area.
Meanwhile, she's hoping that the year-long Tennessee Titans visibility and hospitality sponsorship she won Jan. 25 via a pitch competition held by the Nashville Entrepreneur Center will help build the awareness she needs for her 3-year-old business.
The company produces a disposable cardiopulmonary resuscitation (CPR) template that is used to guide and protect non-medical responders -- caregivers, new parents, business owners and others -- who are confronting people experiencing cardiac arrest associated with incidents of choking, drowning, stroke or other trauma.
Jackson, a licensed physical therapist assistant, said she believes that both her product's instructional template and its integrated mouth barrier could become the standards among related products.
Her industry advisors include Andy Dunn, the former Walmart SVP for digital brands, whom she met while participating in the 2018 Heartland Summit at Bentonville.
The CEO said her local advisors include patent attorney Robert Fox of Luedeka Neely, Knoxville; and, accountants with LBMC in Chattanooga. Its rebranding was handled by Aisle Rocket Studio. The company banks with Pinnacle Bank.
A U.S. patent application submitted by Jackson, as inventor, says, in part, that the CPRWrap template includes "a pliable mask portion, a pliable body portion and a connecting link that joins the mask portion to the body portion. The mask portion is adapted to be placed over the face of a person, and includes a mouthpiece extending therethrough for use in administering rescue breaths. The body portion has a sternal diagram displayed thereon, and an instructional area in which [start to finish] CPR instructions are displayed."
Prior to the pandemic recession, Jackson said she had begun to generate consumer revenue, with the assistance of a Facebook campaign and with some temporary sales support.
Proceeds from the company's Seed raise are to be used to generate revenue via sales and marketing to reach channel partners, with targets including manufacturers of defibrillators and first-aid kits, with constant, but secondary emphasis on social-media promotions that reach consumers and-or employees of sponsors. Individual CPRWraps are sold to consumers for $14.99 each. The company also fills bulk orders.
The CPRWrap folds to 3.5 in. square size, allowing it to be included in first aid, defibrillator or other kits and containers, Jackson said.
Only after achieving fresh traction on the sales front will Jackson focus on commercializing her second product -- a CPR Canine template for use in rescuing service or pet dogs owned by police, military and consumers.
A Centers for Disease Control (CDC) site says that in 2015 roughly 357,000 people experienced out-of-hospital cardiac arrests in the U.S., with nearly 90% of those proving fatal.
An American Heart Association website said that 2017 data shows that more than 2,700 Americans die each day of cardiovascular disease or stroke. The Sudden Cardiac Arrest Foundation says only about 10% of victims treated by EMS teams survive to the point at which they are discharged from a hospital.
Jackson, who remains the company's majority equity holder, has previously raised roughly $440K via participation in a Techstars Austin Accelerator and in the form of other cash and in-kind services, much of the latter having been provided by an individual Angel investor.
A mother of three, Jackson explains that, despite having been trained in CPR techniques, she "froze" when her 2-year-old began life-threatening choking. A moment later, her husband successfully applied rescue techniques.
That traumatic incident motivated her to seek a way of averting experiences such as her own. That led to CPRWrap.
The CEO explained she spent much of 2016-17 researching and prototyping her offering, which debuted commercially in 2018.
The business had just entered her second full year of business when the COVID19 pandemic hit, greatly increasing the difficulty of building awareness among potential provider, corporate and consumer users via direct sales or social media promotion.
The "Tennessee Tough" prize Jackson won 10 days ago via the Titans-NEC collaboration is described by Titans staff as representing "substantial media, promotional and hospitaity value on an NFL stage."
The Titans package includes opportunities for ad placement and social media exposure via multiple online platforms, as well as some Titans game-day recognition, plus some gametime seating in climate-controlled suites at Nissan Stadium, during two games of the 2021-22 NFL season.
Jackson said she has not yet discussed with Titans marketers her next steps in pursuing her options under the sponsorship package.
In addition to the NEC's Pitch for Good series, Jackson has participated in a series of entrepreneurship programs, including the NEC's Project Healthcare and Pitch for Good demo series; Launch Tennessee 36|86 Pitch competition; Co.Lab's "Will This Float?" competition and regional Co.Lab Accelerator, in Chattanooga; and, the Techstars Austin Accelerator.
Jackson's company was registered in Delaware two years ago as CPR Wrap Inc. (Earlier, it was a Tennessee LLC known as The CPR Lifewrap LLC, dba CPR Wrap LLC.) VNC
---
.last edited 1700 29 June 2021