Joe Cook has great hopes for Nashville, but sees impediments to overcome for the region's life-sciences industry and for the innovation community, generally.
Cook is co-founder of Nashville-based Mountain Group Capital, a private-equity firm, and its recently formed sister company, the TNInvestco-certified Limestone Fund.

Though the link is not well known here in town, Cook is also founder and chairman of Ironwood Pharmaceuticals Inc., which earlier this month executed an IPO that netted more than $200 million for the company (NASDAQ:IRWD).

Though Cook is based in Music City, Ironwood is headquartered in Cambridge, Mass., and is powered by intellectual property developed at Massachusetts Institute of Technology.

In a recent VNC interview with Cook about Nashville's entrepreneurial culture, Cook said he hopes the emerging Nashville

Entrepreneur Center (NEC) or other institutions will help create the "flywheel" effect he believes Nashville still lacks, particularly when it comes to the life-sciences industries in which Cook has spent most of his career.

While hoping for the best, Cook said he recognizes it is also possible that here, as in some other cities, the desires of leaders in various quarters for "control" will overshadow commitment to commercializing technologies and serving entrepreneurs.

Said Cook, "I believe it's possible for Nashville to do something that would be very meaningful to its young entrepreneurial companies."



Janet Miller (left) senior vice president of the Nashville Area Chamber of Commerce, apparently more than agrees on that point: In her recent blog post, Miller said that while working on the launch of the NEC, she and colleagues - and in at least one instance, Mayor Karl Dean - recently visited Atlanta and Houston.

Miller also reported that while visiting the Georgia Tech Advanced Technology Development Center, the Nashville travelers witnessed "what happens when you take intersecting disciplines in a university setting - say, Nursing and Robotics - and smash them together in an entrepreneurial environment." The NEC, Miller promised, will partner "with the other fantastic entrepreneur-focused organizations in the region" and will "truly accelerate the number of successful companies that are launched in Nashville."

Miller, it should be noted, is raising the bar before NEC has chosen its first executive director. A Chamber spokesperson told VNC this week that decision is not expected until after final candidate interviews are done, sometime in March.

Cook politely takes a show-me stance on such matters: "It'll be really interesting to see who they [at NEC] hire and how that organization sees itself... Is it going to try to 'control' things or is it going to try to cultivate community-wide entrepreneurship?"

Cook cautioned that in order to succeed the NEC and Nashville, generally, must first recognize the reality that "true innovation" is, in fact, not "a major component of [Nashville's] economic engine, at this time."

Nashville enjoys, Cook said, access to a variety of actual or potential economic drivers in the entertainment, healthcare services and academic sectors, as well as a relatively stable state-government employment sector.

However, if Nashville is to realize greater economic benefits from those sectors, Cook said, the city as as whole must become
more "open to helping young companies'; must establish among all parties a greater "degree of trust"; and, must galvanize and leverage the "desire of people to actually do something [about] cultivating value for the community [and who are] committed to the longer pull."

Overarchingly, Cook said, "there needs to be a very enlightened view of how innovation and intellectual property can be utilized effectively in creating companies" and the jobs they bring.

Regarding the recently recreated TNInvestco-chartered funds, including the Limestone fund he helped to found, Cook said he thinks that, while it remains to be proven, "we'll see a lot of cooperation among TNInvestcos."


"After all," he said, "we are stewards of this [TNInvestco-derived] money, it really isn't ours." As good stewards, he continued, the funds will be rewarded over ten years, to the extent they create both jobs, per se, and "an experience of people sharing with each other."

More broadly, he said, Nashville must cultivate "a vibrant financial community that can exchange dollars and invest in each other's deals." There's often "wisdom in knowing," Cook added, when broader "syndication of deals" is a better strategy than dominance by one or two investors.

As reported earlier by VNC, within his long career as entrepreneur and pharmaceuticals-industry executive, Chattanooga-born, University of Tennessee-educated Cook, now 68, successfully led San Diego-based Amylin Pharmaceuticals Inc. through a difficult turnaround period, but was able to navigate Amylin "through the Dark Ages," partly because, as Cook explains today, San Diego had "a community of leaders who were ready to help you when things didn't turn out the way you wanted."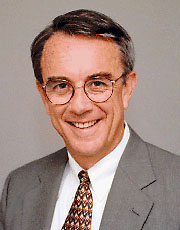 Cook (at left) stressed that beyond economic-development basics, the San Diego community was populated by the University of California-San Diego, and community and business leaders, lawyers, accountants and real estate executives - in fact, "everybody who benefited from having a successful economic engine going."

In addition to the broad and deep pool of life-sciences and technology advocates, he said, there were watering-hole organizations through which entrepreneurs could learn to avoid "stupid mistakes," or at least the "obvious ones you shouldn't have to learn" for one's self.

Much of that shared knowledge, he said, could be tapped into through 25-year-old San Diego Connect and the affiliated SD MIT Enterprise Forum, Biocom San Diego - where entrepreneurs often offered their knowledge and mentoring, as well as or instead of capital investment.

Meanwhile, on the campuses of local research universities, Cook said, this must translate into helping startups, beyond efforts to license intellectual property in exchange for merely taking "money upfront."

Instead, he said, Vanderbilt University and other research universities must become more willing to take a "piece of the action"
through equity positions in ventures.

Ultimately, Cook said, he hopes local scientists and academic administrators will develop a greater "comfort level" with entrepreneurs and investors walking their campuses, collaborating with ease on new ventures.

With such ends in mind, Cook said he hopes that the NEC and-or other local organizations will reach out to the entrepreneurial community through seminars, colloquia and other means to identify fresh opportunities in the life sciences, in particular, whether that translates into pharmaceuticals, medical devices or other technologies.

Such shifts in thinking, he added, breed "a sense of community around trying to build new companies." ♦

Related Articles