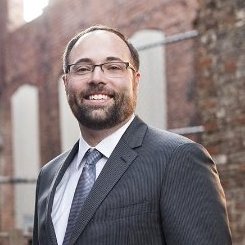 JOSH ROSENBLATT, previously general counsel and SVP Development of Nashville-based BTC Inc., is now general counsel and head of operations for Card for Coin Inc., which does business as Thesis*.
In January 2018, Rosenblatt left his previous law firm and joined BTC as the bitcoin and blockchain startup was accelerating its publishing, conferences, marketing, dev-studio and cryptocurrency Initial Coin Offering-related goods and services.
BTC has received capital from both institutional, principally Fenbushi Capital, and individual investors.
The Thesis* website says that company is backed by prominent venture capital firms in the Bay Area and Los Angeles, including Andreesen Horowitz, or a16z; Draper Associates; Polychain Capital; and, Danhua Capital (DHVC). Investors named on one of the Thesis* project sites also include Distributed Capital Partners and Fabric Ventures.
BTC has in the past year shifted its focus back to its original interest -- the bitcoin cryptocurrency market and related issues -- although, as Venture Nashville recently reported, BTC continues to consider partnerships related to blockchain distributed ledger technology that would not threaten the company's focus on bitcoin.
Rosenblatt told Venture Nashville today that he will remain based in Nashville. Earlier VNC Rosenblatt coverage here.
Both he and BTC Founder-CEO David Bailey today told VNC that their personal tech-pioneering relationship remains strong.
David Bailey
Bailey said he views Rosenblatt's move as further evidence that "crypto is slowly taking over this town, one startup at a time."
Asked about BTC's on-going legal counsel, Bailey said BTC relies on both Frost Brown Todd and on Bradley Arant Boult Cummings, while sister company Echo, now led by BTC Co-Founder Tyler Evans, relies on UK-based Ogier Group LP, which has a dedicated digital, blockchain, fintech team.
Thesis* is positioned as a cryptocurrency venture studio, and its pipeline currently includes products related to payments, privacy, e-gaming and in-platform tokenization.
Within its online footprint, Thesis* mentions two specific projects: One, Keep Network, is apparently focused on using "off-chain containers" to enable enhanced data privacy, while harnessing public blockchain implementations. (Related reddit.)
Thesis* says it is also building FOLD, a project that enables non-speculators to use cryptocurrency resources with a better user experience than afforded by earlier-generation crypto-blockchain pathways for earning, spending or saving.
Thesis* is a "virtual-first" company, which Rosenblatt said very effectively knits together its team members via remote conferencing services and other tools.
Thesis* is led by San Mateo-based Co-Founder and CEO Matt Luongo. VNC research indicates Rosenblatt reports to Boston-based Co-Founder and COO Corbin Pon. Co-founders Luongo and Pon, plus Atlanta-based Thesis* Chief of Staff Mary Knight are all Georgia Tech alumni, according to their LinkedIns.
LinkedIn entries suggest that other Thesis* teams members reside in metro areas including Atlanta, Boston, Denver, New York City and Atlanta, as well as in South America and Europe.
Rosenblatt said that, much as was true at BTC, his new role offers him a robust role as both legal counsel and in operations, and with regular involvement in one or more of the verticals in which he is most interested, including fintech, particularly payments.
The 34-year-old attorney reminded VNC that, even prior to joining BTC, he had been immersed in the financial sector, while working as managing director with a financial technology consulting firm, Blackline Advisory Group.
Blackline is closely allied with the Frost Brown Todd law firm, wherein Rosenblatt provided legal counsel.
Earlier, he was an associate at Waller Lansden. Still earlier, Rosenblatt had done internships with Atanta-based Blue Arc Capital, Sequoia Healthcare, and with two departments of Tennessee state government.
Rosenblatt earned his JD at Vanderbilt University School of Law, his MBA from VU's Owen Graduate School of Management, and his bachelor's in international affairs and economics at The George Washington University. His LinkedIn is here.
Rosenblatt, his wife and their two children reside in Nashville. VNC
.
---