Updated 4:11 PM, Sept. 21: Caris & Co. is the only non-underwriter who initiated coverage as the Emdeon quiet period ended. New raters with their names on the prospectus include Piper Jaffray, Goldman Sachs, Jefferies & Co., Oppenheimer and Citigroup. New ratings range from neutral to buy (Jefferies). Related Sept. 22 blogpost here. Our story as reported Sept. 21:
The analyst who put a "Sell" on Emdeon Inc. says the stock may get a boost, with the ending today of the obligatory quiet period that followed the IPO's debut.
"There are eleven banks on the cover of this deal," Bret Jones told VNC during a Thursday interview, referring to the Emdeon IPO prospectus. "We all know what happens when the quiet period ends," he added.
Jones acknowledged that his sell advisory was intended to provide guidance just ahead of the ending of the Emdeon quiet period today, so that investors could consider selling into the strength that might be generated by investment banks' support or defense of the stock, beginning today. In line with that scenario, Jones also cautioned investors considering shorting Emdeon (NYSE:EM) shares.

The institutions Jones referred to are Morgan Stanley; Goldman, Sachs & Co.; UBS Investment Bank; Barclays Capital; Citi; Credit Suisse; Jefferies & Co.; William Blair & Company; Oppenheimer & Co.; Piper Jaffray; and, Wells Fargo Securities.

Jones, 35, said he covers eight stocks altogether, including some Emdeon competitors, but Emdeon is the only "Sell" rating he's established since joining Brean Murray Carret & Co.
Jones report was characterized by Barron's as providing a "brusk greeting" for the fledgling stock, which priced-out at $15.50, then rose within two weeks to $18.25, about 17 percent above its IPO price. Barron's noted that Jones' firm was not among the underwriters of the Emdeon IPO.

Jones argues Emdeon (NYSE:EM) should currently be selling in the $12.70 to $14 range. The stock was trading at about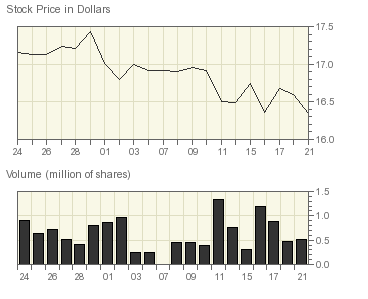 $16.59 at about 9:45 this morning. [The stock's NYSE-only close on Monday: $16.34. NYSE chart at close, at right.]
Although Jones says he does not rule out Emdeon outperforming his projections, he says flatly in his published analysis "there are more attractive investment opportunities."
An Emdeon spokesman told VNC Thursday that the company would respond to interview requests after the quiet period ended, but no word from those quarters, yet today. VNC will update coverage, as warranted.
Jones said Emdeon could outperform if policy reform produces greater-than-anticipated benefits for the company; or, if the
company becomes more effective in cross-selling between its claims-processing and potential revenue-cycle management customers.
That cross-selling could be improved by a third intervention: that of Emdeon – which, he notes, has been "fairly acquisitive of late" – expanding its product suite through acquisitions.
However, he notes that four previous acquisitions – including Nashville-based IXT Solutions – have not been "transformative," but brought only flanking product offerings or some operational scale.
Among other liabilities he perceives, Jones told VNC Emdeon "is really not well liked by either of its customer bases," which are insurance companies and providers.
Jones was only slightly more diplomatic in his report last week, when he said, in part, "Both providers and payors resent pay per click business models such as the clearinghouse," which typically charge per claim or inquiry.
"We believe," he continued, "the lack of [Emdeon] customer allegiance is the reason the company's cross-selling initiatives trail the respective growth rates in the markets [Emdeon] serves."
Jones offered that, in contrast, Brentwood-based and venture-backed Passport Health Communications is in a better position by dint of having avoided being tagged as a mere "middleman" that is "not truly aligned with the interest of either of its customer bases."
Instead, said Jones, Passport is positioned as bringing the value of new functionality each times it sells deeper into its customer base.

On Friday, Passport Health management considered, but ultimately chose to "politely decline" a VNC request for their comment on Jones' published "Sell" recommendation and the rationale underlying it.
However, Passport's online description of itself suggests recognition of the customer-facing advantage Jones believes the company enjoys.

Passport says it is "the health care community's partner of choice for revenue cycle intelligence which improves financial performance and patient satisfaction." Elsewhere, Passport says its administrative, clinical and financial tools "help health care providers determine eligibility and payment and get paid faster."
On more technical grounds, Jones' Emdeon sell signal is based on a case that includes the uncertain and potentially short-lived nature of benefits that might flow from healthcare policy reform, Stimulus spending on information technology and other policy-driven initiatives.
In both interview and print, Jones noted that he'd probably like the Emdeon stock better if the company and the Practice Services division that was Emdeon sister division within former parent Healtheon (also known as Emdeon) had remained linked.
The units were separated in 2006, when Sage purchased the practice-oriented business, including its key Medical Manager product, which now represents a competitive factor in the marketplace.
In addition, Jones notes that Emdeon now confronts such rapidly diversifying players as MedAssets (NASDAQ:MDAS) and behemoth McKesson Corp. (NYSE:MCK), which has broadened its e-health IT and related services under its RelayHealth brand.
In addition to competitive pressure, said Jones, Emdeon – with so much of its business dependent on claims-processing clearinghouse activities, and its revenue-cycle management business' growth lagging the industry average – the company's foundation is a "melting platform."
He argues that the emergence of regional health information exchanges, plus practice-management technology vendors' introductions of direct-payment features into their technology suites, are accelerating the disintermediation of claims clearinghouses such as Emdeon's, allowing, among other things, direct transactions between providers and payors.♦