Updated: On July 2, 2019, Leaf filed for a $145K raise involving 2 investors. On Dec. 12, 2017, Leaf learned that it had won a Sohr grant of $25K. Robinson pitched in the Sohr competition with teammate Tori Samples. Our 12/2017 story is below.-Ed.
SOCIAL-impact entrepreneur Nat Robinson's blockchain-powered fintech startup -- Leaf Global Fintech -- could put Nashville on the map by supporting financial transactions for international refugees and other unbanked populations -- if, that is, the startup doesn't relocate to Colorado.
The Leaf platform facilitates cash-to-virtual-currency conversions and payments, using applications resting atop blockchain technology, said the 37-year-old co-founder and CEO, who hails from Evergreen, Colo.
Asked about funding the new fintech company, Robinson said he naturally continues to pursue opportunities to pitch the pre-revenue company in sponsored competitions, non-dilutive grant programs, accelerators and the like.
He also confirmed he has had informal discussions about a prospective $500K "pre-Seed" raise that could enable the business to reach breakeven; and, beyond that, a potential $2.5MM raise.
Robinson currently holds 100% of Leaf's equity and his team comprises 10 currently part-time volunteers, some of whom are shown here.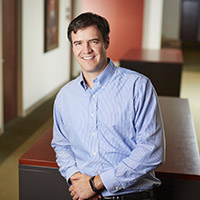 Founder Nat Robinson
The CEO said he believes future investment in Leaf is likely to originate with firms and investors that are already active in social impact investing.
Asked whether Ross Baird-led Village Capital of Washington, D.C., might be a good example of such funds, Robinson agreed, adding that he and Baird have known each other for years. Coincidentally, Baird spoke at the Nashville Entrepreneur Center earlier this week on topics including impact investing.
Robinson also cited Launch Tennessee's new social-enterprise IMPACT matching fund as another potential source of capital, adding that he has been in touch with the agency.
Asked whether or not he will keep the company's headquarters in Nashville, Robinson first acknowledged that basing in Denver would put him closer to his family of origin, and would afford access to the expanding fintech sector of Denver and Boulder, as well as access to a major airport for an international frequent flier.
VNC notes that until May 2018, when nonstop London service resumes after a 22-year hiatus, Nashville has direct crossborder flights only within North America.
Nonetheless, Robinson said that at this time he plans to "homestead" in Nashville "because, honestly, there is just so much opportunity here [and] a pretty great startup community," as well as growing ranks of techies, attractive costs of living and doing business compared with Silicon Valley or New York City, plus great quality of life.
With at least equal weight, Robinson added that in his view Denver has no university on a par with his alma mater, Vanderbilt University.
Explaining the Leaf business, the CEO said its model calls for refugees who are preparing to migrate to entrust their monetary resources with Leaf, retrieving them after the refugee reaches a place of safety.
Leaf's diligence thus far suggests that refugees are likely to entrust Leaf with about USD500 each. He said current thinking calls for Leaf to take a 2% transaction fee and seek returns by investing the financial float it generates.
The Leaf platform may at some point also execute transactions involving relief remittances sent by non-refugees to an individual refugee who is using the Leaf platform. With remittances in mind, Leaf might integrate with such platforms as Ripple, he said. Leaf is not likely to offer programs focused, for example, on increasing refugees' savings balances, because that could bring additional regulatory obligations.
Robinson's earlier career seems to have equipped him with the tools he needs to navigate the terrain he now surveys.
For example, he was once founder-CEO of Juhudi Kilimo ("effort in agriculture," in Swahili), a Kenyan microlending startup.
For-profit Juhudi won a World Economic Forum Award, garnered a Harvard Business Review case study, and attracted funding from such institutions as the Rockefeller Foundation, the Ford Foundation, the Soros Economic Development Fund, Deutsche Bank and Kiva.org, according to the VU Law School website.
Even earlier, one of Robinson's first employers -- Accenture -- put him to work in Kenya on a grassroots business initiative for its then-client, the International Finance Corporation (IFC).
Within Leaf, Robinson is putting that experience to work, once more.
In Spring 2018, he will make another trip to Rwanda, where his team will pilot their offering in support of refugees fleeing to that country in hope of escaping instability and violence in the neighboring Democratic Republic of Congo.
Displaced in Muganga, Uganda
He told VNC that the 2016 refugee flow in that region was about 750,000 persons, and his team's research suggests perhaps 20% of refugees use mobile money.
Leaf is within about 60 days of finalizing its pilot offering for Rwanda and intends to attract about 22,000 users to Leaf during its beta run, beginning in March 2018.
Beyond mid-year 2018, the company may begin to consider geographies other than East Africa.
The Middle East, Asia and such Latin American nations as Mexico and Colombia are already being studied as bases from which to serve refugees from other nations in the region, he said
In each region with heavy refugee flows, mobile telecom companies and banks are among Leaf's most salient potential partners. Robinson noted that other companies that have demonstrated interest in nontraditional financial services -- such as JPMorgan, Barclays and Facebook -- may also be solid partner prospects.
Selection of blockchain technology has been a major focus within Leaf the past four months, with development work currently proceeding in parallel within both the Ethereum and Stellar ecosystems.
Leaf's technology strategy and development work is being led by San Francisco-led Varick Schwartz, said Robinson. Varick was also involved with Juhudi Kilimo in Kenya, according to his LinkedIn.
As the reader may already sense, Robinson stays extremely busy.
Next week, he faces further final exams as a 3rd Year student in the Vanderbilt University Law School. (He earned his MBA in 2007 within VU's Owen Graduate School of Management, OGSM, and his bachelor's in Economics at Colorado College. His LinkedIn is here.)
But, that's just part of the picture:
Earlier this week, Robinson competed in the Sohr Grant startup-funding competition within the VU Owen School. Results of that pitch-off have not yet been formally announced, though Robinson and others associated with the contest told VNC that Leaf and other startups were well received. Previous Sohr competitions have typically won awardees grants of $25K each in nondilutive capital. The program is funded by serial entrepreneur and OGSM alumnus Jim Sohr, most recently associated with Powered Health. This story will be updated, as warranted.

Last summer, Robinson said he did some consulting with San Francisco-based Branch.co, a mobile lender that is led by his friend and fellow Africa hand, Matthew Flannery. Flannery earlier co-founded Kiva, the nonprofit microlender based in San Francisco.
Also last summer, the Leaf team obtained a $22K fellowship grant from the Turner Center for Social Ventures, resident at OGSM.
The Turner money allowed Leaf representatives to visit six countries on four continents for market research. He said those travels put him in touch with both investors and entrepreneurs, and left him with an even stronger sense of the prevalence of mobile money, spurred by the advent of such payments and sharing apps as Venmo (Paypal, San Jose) and Mpesa (Vodaphone, Mumbai).
Back in June, a Robinson pitch garnered a $15K prize awarded in the social-enterprise startup category during the Launch Tennessee 36|86 Student Edition startup competition.
Yuliva Tarasava
The Leaf advisory board includes the above-mentioned Flannery of Branch.co, as well as Yuliva Tarasava, co-founder of CNote (Bay Area); and, Yesha Yadav, professor of Law, Vanderbilt University Law School.

Mario Avila
Robinson said former fintech and lending entrepreneur Mario Avila, founding director of the Turner Center within the VU OGSM, has also been one of his most important advisors.
Turning to the subject of formal advisors, Robinson said he has received ad hoc help from attorneys at both Nelson Mullins and Frost Brown Todd. He confirmed that Trademarkia-linked attorney Heather Sapp supported its recent trademark application.
Drawing on resources available through the Vanderbilt Wond'ry innovation center, Robinson said he has relied on accountants with PYA. Robinson said Leaf banks with Bank of America, citing BOA's strong online banking resources.
Asked about eventual exit options for his startup, Robinson said exit via sale to a bank or a fintech or fintech-driven lending company now seems the most likely outcome.
This past summer, Robinson registered his company in his homestate as Cash Cow Global LLC, with the dba or trade name of "Leaf," connoting an offshoot of a "branch" of a traditional financial institution.
In 2016, Robinson self-published Creating a Cash Cow in Kenya - Adventures in Starting a Social Business and Living in Africa. More on that book here. VNC


. last edited 1316 14 Dec 2017
---