[Update: July 1, 2013] Contigo announced it has been merged with San Francisco-based Emerge Financial, following the two companies' restructuring by Serious Change, a social investment fund, with Avila now CEO of the combined Emerge firms, and Contigo a subsidiary.-Ed.
CONTIGO Financial, the Nashville startup that provides more affordable short-term loans to employed borrowers, moves out of the Nashville Entrepreneur Center (EC) this week, taking-up new offices at 530 Church Street.
The central location, on a busy intersection shared with the Nashville Downtown Library, reinforces Contigo's avowed aim of disrupting the short-term lending marketplace, in which "payday" lenders have, in his view, preyed upon the working poor, said founder and CEO Mario Avila, in a VNC interview.
The Contigo concept came into focus more than three years ago, said the 30-year-old founder, whose comments made clear that his personal journey has been farther than the few blocks from the EC on Broadway to Church.
The idea for Contigo, he explained, has its roots in watching loan-sharks at work, ensnaring hard-working butchers, bakers and workers in his hometown community, Cicero, the one-time suburban headquarters of Al Capone, just west of Chicago. Cicero was also often roiled by interracial violence in the Fifties and Sixties. His own family was financially responsible and was spared the worst, but the way money changed hands on those tough streets made a lasting impression, he said.
Avila was among last week's Jumpstart Foundry accelerator graduates, who have roosted since May in the EC's temporary quarters.
During Jumpstart investor day, Aug. 23, he told hundreds of investors, mentors, entrepreneurs and other observers gathered at Houston Station that he seeks to raise $1MM in seed capital, in the form of share purchases or convertible notes. He's also scouting for syndicate partners to create a $4MM-$5MM fund to finance its loans to consumers.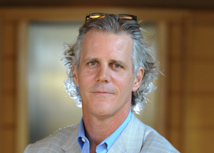 Jim Sohr
Contigo previously received $30K from founder Avila and won a $25K Sohr Grant, through a student competition endowed by entrepreneur and Angel investor Jim Sohr (VU BE '86, MBA '90) and his wife Leah, through the Owen Entrepreneurship Center at Owen Graduate School of Management, plus the $15K standard investment from Jumpstart.
"Mario is a guy I'd bet on in this business or just about any business," Sohr told VNC this morning. Sohr had not met Avila prior to the Contigo pitch at Owen last Spring, but has since met with him six to 10 times and finds that "every time, he just shows a lot of maturity and a lot of common sense."
Moreover, said Sohr, Contigo loans are a triple-win: Employers can help employees without having to choose recipients or risk non-repayment; employees get more affordable loans; and, Contigo gets to grow. (Sohr was among owners who sold 19-year-old AIM Healthcare Services to Ingenix/UnitedHealth for a reported $430MM or more, in 2009.)
Contigo's Web-based services are in private beta; they'll likely go a more advanced beta in September and formally debut in the Middle Tennessee marketplace prior to Black Friday, the day after Thanksgiving, which signals the beginning of Christmas shopping and mounting seasonal debt, he confirmed. Market entries in Los Angeles, Illinois and elsewhere in the Southeast will soon follow, he said.
Payday lending is legal in Tennessee (one of the top-five payday markets in the nation), but is prohibited in 16 states, he added. This makes Tennessee ground-zero in Contigo's effort to disrupt the payday model, he said. Last week, he told investors he views the payday industry as "a bully in the room" and asked them to join him in creating an alternative business.
Contigo lends money at a roughly 36 percent annual interest rate, rather than up-to-380 percent annualized rates typically charged by payday lenders, and does so only through programs that are sponsored by the borrowers' employers, who arrange payroll deductions to ensure repayment, thereby mitigating the consumer-default risk that payday lenders underwrite via higher interest rates and-or using automobile titles as collateral, said Avila.
Contigo loans up to $2,500 to each applicant through employer-sponsored programs; the only collateral required of program participants is a signature, said Avila. Employers sponsor the programs because they know that hard-working family-oriented employees with $35K-$70K household income can get hit with crises that could lead them to become obligated to loan-sharks or payday lenders, he explained. Contigo's customers are likely to make monthly interest payment averaging $15, versus the $156 Avila says is typical of payday customers. The loans allow customers to build good credit-repayment history and to take advantage of Contigo's planned educational offerings, he said. Tennessee is one of the "top 5" states for payday lending, he noted.
Earlier this year, Contigo's target raise seemed likely to be in the $500K-$750K range, but the decision was made to go for capital sufficient for 18 months of operation, rather than 12, with extended expenses for sales, marketing, office space and legal services among key variables, he explained.
Assuming its seed-round raise is closed by January, Contigo projects being at breakeven or better by mid-2014, Avila said. At the five-year point, it projects a 50 percent operating margin, he told investors.
Contigo competitors include, in addition to payday and title lenders and credit cards of every stripe, First Franklin Financial and Sun Loan System, he said. Progreso Financiero was a similar small company, but it has grown to more than $500MM revenue in under six years and its founder has exited, said Avila. Similar models exist in Latin America (CompartamosBanco in Mexico, SKS in India) and elsewhere, he noted.
Asked whether Contigo could become a public company, he did not rule-out an IPO, but said an eventual sale to a strategic bidder like Wells Fargo, PNC or Regions seems more likely, at this time. He also conceded that the notion of the company eventually spawning an actual bank was not far-fetched, although it's not on the drawing-board.
Avila's Contigo aspirations were kindled by experience, particularly by his years as an associate consultant with Chicago-based Campbell & Co., a fundarising, marketing and executive-search advisor to nonprofit organizations, he said.
His vision for the company was also influenced by his work as a Fellow in the Cal Turner Program for Moral Leadership at Vanderbilt University, and his earlier MBA internship in microfinance with The Shalom Foundation, which supports housing in Guatemala. Earlier, he spent two years teaching and coaching high school-age students in the U.S. and France. His choice of Owen for his MBA was influenced by friends and, not coincidentally, the fact that Vanderbilt-trained economist Muhammad Yunus had founded the renowned Grameen Bank in Bangladesh and had won The Nobel Prize.
Avila's co-founders include VP-Relationship Management Carlos Campos, a friend from childhood who has eight years' credit-portfolio management experience; Olu Falana, who has a decade of financial-modeling and treasury-management experience derived from ten years in commercial banking; VP-Business operations Ian Cotton, a fellow VU Owen alumnus who's been working alongside Avila for two years.
Advisors to Contigo now include attorney Steve Eisen (who did his undergrad at Chicago's Northwestern) at Baker Donelson Bearman Caldwell & Berkowitz; it banks with Fifth Third; and, it's close to signing with LBMC, for accounting, he said.
Asked about other advisors, Avila recalled Vic Gatto of Solidus/Jumpstart; Julia Polk, New Venture Consulting; Genaro Bugarin, a Los Angeles-based supply chain director for PetCo Animal Supplies; Clayton Nicholas, Change:Healthcare; Kevin Ross, Metova; Michael Ansel, PharmMD; Brian Shore, Zoom Intl.; Jose Gonzalez, the co-founder of Conexion Americas and an entrepreneurship instructor in the Belmont University College of Business; David Frederickson, co-founder of PatientCredit (the former tenant in Contigo's new offices); Kris Kelso, Kelso Group; David Lewis, an attorney with Wyatt Tarrant Combs; Doug Hudson, entrepreneur founder of Simplex; and, Don Leyrer of the Nashville Social Enterprise Alliance. Fifth Third's Luis Parodi, who heads community relationships, has helpful, he said, as has friend and fellow Dartmouth University football player Steve Buhrman, whose Wannado startup is also a Jumpstart grad, he said.
Avila earned his bachelor's in Spanish language, history and culture, at Dartmouth in 2004. Asked how he fit in on the campus generally regarded as conservative, he smiled and acknowledged he was a bit of an "outlier."
He said the Contigo experience has been both exhilarating and challenging, noting that he went sleep-deprived most of this year, and gained 15 pounds this summer, alone. VNC