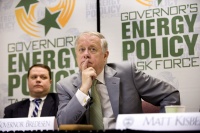 Updated Feb. 11, 0709: In an AP story appearing this morning in the Times Free Press, ORNL Director Thom Mason indicated ORNL will prepare a proposal for the Solar Institute, very soon. The story as originally published Feb. 10:

In his State of the State Address Monday, Gov. Phil Bredesen called for invention of a Solar Institute in Tennessee to advance renewable-energy technologies.
The governor made clear in his remarks that discussions with Oak Ridge National Laboratory and University of Tennessee officials have already begun.
In a speech that inevitably gave priority to the fiscal-economic crisis, education and healthcare, Gov. Bredesen explained Monday evening:

"Solar power today is a tiny part of the power equation. It remains far too expensive, and it's ripe for breakthroughs, there's a lot of basic science to be done. We have the pieces – the building blocks here in Tennessee to be major players in this area. Thanks to [support from the Legislature, Tennessee is becoming a] national leader in cellulosic ethanol – which is a form of solar power. We have major industrial companies in our state with expertise and capital; Sharp in Memphis and here in Middle Tennessee, the multi-billion dollar new investments of Hemlock, which is the world's largest supplier of polycrystalline silicon – the basic raw material for solar cells."
The governor continued, adding, "...we have in Oak Ridge – in combination with UT Knoxville – the research tools like the supercomputer complex and the spallation neutron source that can provide the draw and gravitas not only for scientists from all over the world to come work here, but also for Tennessee's brightest young math and science students to stay and contribute in the years ahead. I have spoken to the leadership at the lab, and believe they are up to the challenge.

Bredesen energy aide Will Pinkston told VNC following the governor's address, "The governor has had preliminary discussions with the leadership of ORNL and UT about how we can pursue strategies for making Tennessee a thought leader and research leader in the emerging solar sector."

Pinkston added, "For a state that sometimes prays for a break in the clouds, we've actually found ourselves in the unique position of having strong building blocks in the clean-tech sector, and in particular the solar sector."

Continuing, Pinkston said, "From Sharp in Memphis, to Hemlock in Clarksville to [AGC Flat Glass in North America Inc.] in Northeast Tennessee – and other projects that are in the works – Tennessee is poised to capitalize on this growth sector. Establishing a larger footprint in solar research is a natural extension of the activities already in motion, and will position Oak Ridge well to capture Tennessee's share of new federal investment's as President Obama looks to double alternative-energy production in the next three years."

Gov. Bredesen is encouraging Tennesseans to think big in approaching design of the institute: Lest his lofty aims be missed, the governor likened the proposed Solar Institute to historically renowned facilities at Princeton (Institute for Advanced Studies) and Cambridge University (the Cavendish Lab).

There is little doubt the institute, if it comes to pass, will be centered at ORNL. VNC research suggests the prospects for the idea coming to fruit seem heightened by the numer of related initiatives already underway in the state, and many of those initiatives might be somehow combined to contribute to forming the institute.

A series of events has perhaps emboldened the governor: He and ECD Commissioner Matt Kisber have lately been citing the need to capitalize on leverage inherent in the recent Hemlock investment announcement, as well as the broader Green movement, propelled by last summer's oil-price shocks, Sharp Electronics in Memphis being poised to expand, Nashville-headquartered Nissan moving toward e-car production, the state's pioneering ethanol project, and other energy initiatives. ♦

Related Articles