Update 16 Dec. 2015: UnitedHealth Foundation ranking: Tennesseans' Health dropped further to 43rd among states.-Ed.
GOV. BILL HASLAM's online performance dashboard was at first just barebones. But, it had telegraphic impact when launched nearly four years ago.
Okay, maybe the buzz was mainly among the wonkish. But still, here was State government actually promising to digitally lay-bare some important facts of Tennessee life.
When unveiled in Winter 2012, Tennessee's first-generation key-metrics website was a modest, but encouraging sight, though staff were still filling-in data when it was unveiled.
That earlier fledgling site popped with status buttons in portentous green, yellow or red -- the latter suggesting cause for alarm about Tennessee infant mortality, ACT scores, violent crime, obesity and other factors. Wayback archives the old site here (scroll up, click categories).
As reported by Venture Tennessee at the time, the chief executive's staff promised continual improvement of the website, establishment of which was welcomed by most of the informed observers who were queried for the VTC article.
Today, site visitors -- whether Tennessee taxpayers or industry execs looking to relocate -- are no longer hit between the eyes, so quickly, with graphic datapoint pro's and con's. Buttons are no more.
Instead, at its new web address, visitors find a voluminous site on which navigation is inevitably more of a challenge, and which has new interstitial pages that burst with upbeat factoids that highlight each department's achievements. Haslam staff told VNC the promotional bits give credit to agencies for their work, but do not supplant presentation of vital data.
Those who are accountable across government for the website have their hands full keeping it current, accurate and relevant, in the face of unforeseen contingencies, as well as the standard metrics against which each State agency is evaluated.
For example, Tennessee flags are flying at half mast today, because of the Paris terrorist attacks.
If those atrocities make Tennesseans wonder what their tax dollars are doing on that front, they may go searching online for potentially life-saving emergency protocols and information on critical-infrastructure projects, which are represented on this and other websites.
Late this afternoon, Gov. Haslam announced state officials are in contact with FBI and Homeland Security, and the governor asked that, in the wake of recent developments, placement of previously contemplated Syrian refugees be suspended, until Tennessee and other states can become more involved in vetting and approving settlement of individual refugees.
Perhaps that immigration vetting process will soon appear on the TransparentTN website.
In addition to the unexpected, website staff have to keep up with the Governor's periodically shifting policy agenda.
Take highway funding, for example. Though prospects for meaningful debate of increasing gasoline taxes are uncertain for Spring 2016, the Governor hasn't thrown in the towel.
TransparentTN shows some highway highlights here, and concrete goals here. But, if the governor wants to get more funding to reduce the backlog in long-term highway infrastructure projects, he may need to look at beefing-up data available on TransparentTN, much as does the Transportation Coalition of Tennessee, an industry group, in pressing its case for addressing an $8BN project backlog.
There's certainly plenty of data to mull on the website, and there's evidence that individual agencies are trying to add both interest and value to it.
For instance, one small item on the site describes the step-by-step timeline on which the Governor will be submitting his FY2017 budget to the General Assembly.
Also, Tennessee Economic and Community Development, led by Commissioner Randy Boyd, lists among its objectives the creation of a new ECD dashboard to provide public information about its pipeline of "landed and projected jobs by county, with job type," in the next year or two.
Inevitably, there will always be more work to do on the TransparentTN site.
For example, on it and other State sites, the Administration talks of managing economic development, education and training, etc., to help our communities grow "quality jobs."
Indeed, the TransparentTN site says the state wants to become the "first in the Southeast for high quality jobs to reach 55% by 2025." But, VNC has yet to find on the site a definition of what constitutes a "quality job." (Georgia talks about related issues, here.)
Also: On the original site (excerpt at right from 2012) the incidence of Obesity stood out more prominently as a Health problem in Tennessee. In the new version of the site, one of those new promotional pages leads with our relatively good infant mortality numbers. A related goals section emphasizes the State's efforts -- rather than results -- in pushing obesity-related programs (e.g., programs promoting increased student physical activity).
Meanwhile, Tennessee is ranked 45th on Health; and, WalletHub and CalorieLab rank Tennessee either 4th- or 7th-fattest stage.
In the face of that, the Governor's published "Vision" is to make Tennessee "A recognized and trusted leader, partnering and engaging to accelerate Tennessee to one of the nation's ten healthiest states."

So, naturally, there's a gap between Health vision and reality.
Many in the Administration may have heeded a recent statement by Manny Sethi, M.D., an orthopedic and trauma surgeon at Vanderbilt University Medical Center and the founder of nonprofit Healthy Tennessee.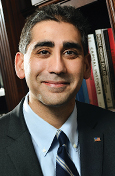 Manny Sethi, MD
Sethi said, "There is no issue more important to the future of Tennessee and the development of a thriving business community than the health of our citizens. Companies seek environments in which employees are not only educated, but also healthy. Currently, Tennessee ranks 45th nationally in terms of healthcare with rates of diabetes, heart disease and obesity at all-time highs. Unhealthy employees cost companies billions in healthcare dollars on an annual basis and discourage major corporations from moving to our state. That cannot continue."
By the way, while TennCare is treated separately from Health, the site does show that the Governor still intends to secure a solution for Medicaid expansion that satisfies the Federal government, by June 30, 2016.
It may be helpful for readers to know upfront that links for a deeper dive into the TransparentTN site are organized in three sets: Highlighted achievement areas on the TransparentTN home page; department-by-department metrics; and, selected thematic metrics (lefthand column here).
The changes have been underway for months, all led by the Haslam Administration's "Customer-Focused Government" (CFG) staff and its TransparentTN crew, and others throughout the Administration.
Terry Cowles
The CFG initiative is directed by Terry Cowles, who spent nearly 30 years with Deloitte Consulting before joining the Administration nearly 18 months ago, according to his LinkedIn. CFG manages the Governor's TransparentTN program, day-to-day, according to a Haslam spokesperson.
Will Cromer
The manner in which the Governor's Office is organized suggests that Will Cromer, the Governor's special assistant for strategy and his policy director, may also be among those keeping a close eye on these and related matters. Cromer was a Haslam campaigner and a former Fellow with the Koch-backed Americans for Prosperity. He's a son of veteran Capitol Hill journalist Ed Cromer.

Asked whether the Governor was personally aware of the nature and extent of changes in his Administration's dashboard, a Haslam spokesperson said the governor "aware that TN.gov was being redesigned to be more customer-focused and that Transparent Tennessee was part of that."
For more on our sources' earlier responses to the 2012 launch of the dashboard, and links to other governmental dashboards, please visit our previous story on VTC.
Haslam staff who were helpful in preparing this report included Communications Director Dave Smith; Michelle Martin, a CFG senior manager; and, Deputy Communications Director Laura Herzog, among others.
Our story on the further development of the TransparentTN website was triggered by trying to find the original site, and finding it had gone missing. In preparing this story, our review of specific issues addressed on the site was not cursory, but relatively shallow. We'll follow the issue further, as warranted.
Meanwhile: The new link to the TransparentTN website in this story may not be "forever," either.
For, VNC research shows that State government's Office of Information Resources is exploring a vast re-do of the state's online presence, RFI 31701-03136 here. VNC


---