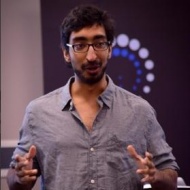 UPDATED 9 Aug 2022 - Nashville-centric CEO Teja Yenamandra, 33, announced completion of a $5.2MM Series A raise that drew investor Tampa-based Ballast Point Ventures. The vintage 2012 company has an all-remote workforce and a presence in Nashville. BallastPoint Partner Robert Faber joins the Gun.io board as director. Release here. SEC filing here. Gun.io is a global digital tech talent player. Our in-depth 2015 story on Gun.io is below.-Ed.
ENTREPRENEUR Co-founder and CEO Teja Yenamandra may not need outside investment for Gun.io for quite awhile, even though he has designed his startup to become an important part of "the world's infrastructure for modern work."
Nashville-based Yenamandra told VNC that, while keeping his feet planted firmly on the ground, he's committed to creating an enterprise analogous to e-commerce giant Amazon.com, though it will focus on the domestic and international exchange of money for "elite" talent to meet global demand, across many knowledge domains.
Though he'd seek debt or equity capital if absolutely necessary, Yenamandra said he believes that beyond the venture-capital option, there are "more inventive ways to hack cash flow" -- including increasing sales -- and he's spoken with local lenders and others about financing options.
He readily acknowledged that funding a startup that aspires to become an Amazon.con-style business will require "massive amounts of venture" along the way, as well as gradual adjustment of the budding company's culture. For now, though, preserving its current culture is more important that outside capital.
Gun.io will have a better view of the road ahead and its capital needs, after it hits the roughly $10MM revenue mark, he said, declining to provide a timeline for reaching that milestone.
Asked about exit plans, he said his plans are solely about creating value and growth that enables talented workers to adapt and seize opportunities in the new world of work. "Under no circumstances would we sell, just to sunset into a company that would kill the brand" and abandon its transformative role in the global workplace, he said.
Besides, he emphasized, it's not time for such disruptions -- particularly given that he subscribes to the theory that a reverberating shakeup lies not far ahead in the Tech sector.
Yenamandra, age 26, said he believes that, despite good intentions in most cases, too many investors and the Tech sector, generally, are digging a deep hole by investing in untried companies built around relatively trivial and over-valued applications that do not solve important social, economic or political problems or challenges. One result is pockets of what Yenamandra said he can only consider a form of "charlatanism."
Consequently, Yenamandra said he remains laser-focused on organic growth in the software-development sector: There, Gun.io matches world-class open-source developers with customers who quickly need additional resources to imagine and create websites, applications and related assets.
Yet, the Software gambit is merely Gun.io's opening move. Yenamandra told VNC that once Gun.io achieves desired scale in the Software talent market, the company is very likely to launch additional service lines -- for example, matching top-level developers in Virtual Reality or 3D Printing, or in subsets thereof, such as in the 3D production of prosthetics devices. Or, stepping into education (perhaps tutoring) or into the Sales field, where elite sales leaders are always much in demand.
Chartered as a Delaware company in November 2012, Gun.io has six FTE's, who often work typical brutal startup hours, and who all receive competitive compensation, said the CEO. Paying both its staff and the developers Gun.io hires very well is a primary goal, he said. The company has ready access through its own network to virtually unlimited talent, but is also considering incremental hires.
"It's insane really what we've been able to do with a team of six people," said Yenamandra, adding that the group spends much more energy thinking about landing customers than on recruiting investors.
The Gun.io website boasts such clients as Amazon.com, Lonely Planet, Wikipedia, Zeumo and others, based locally and nationally. The company also says it has completed nearly 1,000 projects for as many customers, and has paid-out more than $16,000,000 to proven open-source developers drawn from its talent database of more than 15,000 developer entrants, all of whom are thoroughly vetted by his team before being offered-up for customer consideration.

Nick Holland
Nick Holland, the founder of Nashville-based CentreSource and Populr.me, who has been an informal Gun.io advisor and a customer, told VNC that his clients have embraced working with remote talent, and he has now formally incorporated Gun.io into his business plan, and projects a minimum number of man-hours per month being supported by Gun.io resources. Among other benefits, Holland said having Gun.io augmentation on-demand has given his team greater confidence in pursuing ever-larger assignments.
"Nomads" is the term Yenamandra uses to describe the workers on whom Gun.io relies. If they choose to embrace freelancing, the world's most talented workers have many opportunities, regardless of their location, education, language and other characteristics. Gun.io staff intensely vet would-be freelancers, including examining open-source code the candidates have previously authored, to get a sense of both their passion and their proficiency.

Each of the projects it deals-out to developers is worth an average $8K, or roughly 16x the average project value achieved by less selective developer-recruitment platforms, said Yenamandra. He explained that employers' project requests are now running about 20 to 30 a week, and each assignment opportunity draws dozens of developer responses, out of which a handful are selected and thoroughly weighed against the job's criteria, for employer consideration. After an agreement on talent, most assignments and payments are under direct control of the employer, though Gun.io will also accept responsibility for running the entire project, if that's what the customer needs.
Talent plays free in the Gun.io model, while employers pay 10% percent of their project's estimated value for access to make direct posts. On request, Gun.io staff provide "bespoke" assistance in developing job requirements and descriptions for complex or strategic roles, for additional fees. That value-added service broadens the Gun.io suite, and improves cash flow.
Though Gun.io's founders waited a good while for regular paydays, the startup has been check-book profitable since shortly after it switched-on its matchmaking platform, he said, declining to discuss financials in any detail.
Yenamandra did acknowledge, however, that he sets "very audacious" revenue goals, which he believes are realistic, given Gun.io's sales velocity to-date; and, given that "frothy" waves of corporate spend and investor capital are chasing technology upgrades and innovation, with the best software talent in white-hot demand around the world.
He explained that his resistance to the notion of taking outside capital at this time is rooted not only in a desire to avoid unnecessary dilution of owners' equity; but, also in the fact that tech failures seem rampant among those who have gotten too much money, too soon.
"The new entrants in our space, they all seem to have a pattern," he said. "They build their MVP [minimum viable product], raise one to two million dollars, and then they can't seem to build a profitable model, because they built-up their cost structure, too quickly. So, Gun.io's not raising money has led to incrementally building a real business," he added.
Citing a more ominous factor in his aversion to raising capital near-term, Yenamandra said he thinks it likely that during 2015-16 "there might be a technology-wide haircut coming up."
Such a collapse of valuations would cause many previously funded startups that once had 18 months' funding for "massive infrastructure," but which achieved little traction, to shut down, unable to raise further capital, he said.

Chris Sloan
Veteran Tech startup advisor Chris Sloan, an attorney with Baker Donelson, told VNC that he likes Gun.io's high-end market positioning and discipline. He said, in part, "The space they are in is very competitive, but it's a growing area, overall; and, Gun.io has carved out a distinct niche within the marketplace, which gives them a way to differentiate from their competitors. They have also done a good job of bootstrapping along the way, such that they are in no rush to raise money, and if they do, they will find a lot of interest and more attractive valuations than if they had been forced to raise right out of Jumpstart."
In addition, as a practical matter, Gun.io has nearly unlimited "free" access to a global pool of the type of capital that money often cannot buy, but can only rent: Human Capital -- talented men and women who embrace working remotely, taking ad hoc assignments, rather than opting for the corporate cube farm and a stationary billet.
Asked whether the company might consider Nashville its long-term headquarters, Yenamadra noted that could well be, but he added that for a company that is so heavily virtualized, workforce location need not be a determining factor.
For example, Yenamandra said that Rich Jones, CTO and co-founder, maintains the OpenWatch citizen-activist/journalism platform, splitting his time between Berkeley and Los Angeles. And, Co-Founder, strategic bizdev leader and CFO JohnPaul Bennett, lives in Harrisburg, Pa.
In addition to Yenamandra, Nashville-located staff include VP-Business Development Tyler Newkirk and support lead Elizabeth Royer. Local design consultant David Head, dba Digify, has also been "crucial to the business," he noted.
The sixth team member is Jake Jorgovan, a former Nashville entrepreneur, now an author who freelances on marketing, and is focused on growing Gun.io's value-added services.
Though Gun.io's a distributed company, Nashville is a true geographic hub, and it has less "noise" than such places as the Bay Area, he said. It also has adequate-and-growing resources, including the Nashville Entrepreneur Center's facilities, he said, adding that no startup community is without flaws.
The Gun.io brand, Yenamandra explained, was carefully chosen to associate the firm with the Wild West lore of the United States -- where top talent were once called "hired guns" -- as well as with today's "global digital frontier." He said he's confident the brand travels well, internationally.
Gun.io's retained advisors include Sloan and other attorneys with Baker Donelson; and, Rich Lockwood and other pro's at Decosimo CPA. The company banks with Avenue Bank.
In 2013, Gun.io received $15K in equity investment from Jumpstart Foundry and a $10K grant from its participation in LaunchTN's The Tenn cohort. Advisors who came aboard during its participation in Jumpstart Foundry include Julia Polk and Shawn Glinter. The CEO listed numerous other locals who have over the years given the company good advice and support, sometimes taking time for coffee, or answering emails in the wee hours.
Yenamandra's parents emmigrated from India to the U.S. He was born in New York, relocating to Nashville with his mother when he was 15, after his father's death. His mother is on staff at Vanderbilt University Medical Center.
Yenamandra earned his bachelor's in Liberal Arts & Sciences at Boston University, after graduating from Nashville's Hillsboro High School. VNC
---