Updated 20 February 2013: Hall Andrews is now CEO of revenue-cycle player nTelagent, said a company press release today. Long ago, Healthbox pivoted, Styers departed. No sign of it. Original 2011 story follows.-Ed.

THE LAUNCH scenario for Healthbox Technologies and its HealthboxIT division includes leveraging the Cloud, aggressively recruiting tech talent and developing proprietary applications, said President Ron Styers.
Styers, who previously spent 11 months as VP-sales and marketing at Atiba Software, holds a minority interest in the new firm, with majority interest held by healthcare and real-estate entrepreneur Hal Andrews, who is the new firm's chairman. A third owner will soon join the firm from the technology field, Styers confirmed.
Andrews interest in having a healthcare-oriented Cloud-linked venture in his portfolio and Styer's itch to return to the founder-entrepreneur track brought the two together, Styers explained. They met years back when an Andrews company became a tech client of Styers.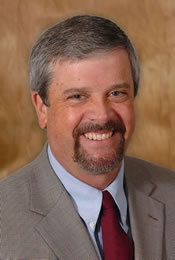 President Ron Styers
HealthboxIT will offer technology staffing services, professional services (probably project-based, initially) and custom tech solutions, including software applications, Styers explained. A longer-term goal is to develop one or more proprietary software products that would generate recurring revenue, he said, adding that the company is unlikely to create an entry in the electronic medical records (EMR) segment.
Healthbox is to some extent seizing on Nashville's tech talent shortage to catapult its business; and, said Styers, he intends for the firm to become part of the solution to that IT talent scarcity. Among other efforts, he'll soon begin calling on local universities, with an eye toward increasing tech enrolment and recruiting sharp grads, he said.
The company's immediate priority is recruiting .Net programmers, iPad developers, SQL veterans and others, he said. Within 12 months, it could have 50 staff members.
Styers said his confidence in the business is heightened by the success of such ventures as Box and Dropbox, the freemium-modeled content-sharing collaboration platforms. Asked about local firms that have achieved the kind of rapid scale-up he envisions, Styers noted Brentwood-based WSquared and Nashville-based C3 Consulting.
Styers and Andrews have discussed the role of M&A in Healthbox's future growth, but they have not yet approached targets, said Styers. Styers and Andrews began discussing their latest venture only about 30 days ago, said Styers, adding that they commenced business on Dec. 5.
In ramping-up, Healthbox will rely heavily on Andrews' and Styers' wide personal networks, said Styers.
Andrews, 45, currently serves as founder, co-founder, board member and-or advisory board member of at least eight firms; and, he earlier held executive roles with seven other firms, according to his LinkedIn profile. His Healthbox bio says he developed the business plan and investment thesis for the Heritage Healthcare Innovation Fund. Andrews' current affiliations include, in addition to Healthbox, Surgichart, Tigertext (medical secure messaging), Shareable Ink, Medify and CareTeam Connect. His holding company is Mainland Morgan and his advisory services are provided via subsidiary Cruden Bay Advisors.
Earlier, Andrews' C-level visa was been stamped at The Martin Companies, Cogent, DataAdvantage, Inphact, Essent Healthcare and Arcon Healthcare. He is an alumnus of Southern Methodist University (bachelors' degrees in history and in real estate) and a 1992 magna cum laude graduate of the University of Tennessee College of Law. He began his career with four years as an associate at Waller Lansden Dortch & Davis.
Prior to Atiba, Styers, 59, held sales and consulting posts with Peak10, which had acquired RenTech, Styers' earlier employer. Still earlier, Styers founded and eventually sold Cottonwood Technologies. He spent several years after the Cottonwood sale pursuing a venture dubbed Selling Assistant, which developed and took to market a CRM software offering. Styers is a founding member of the board of the Nashville Technology Council and is currently chair of the board's Membership committee.
As of this morning, neither Healthbox Technologies nor HealthboxIT were yet shown as registered in those names within the Tennessee secretary of state's database. VNC