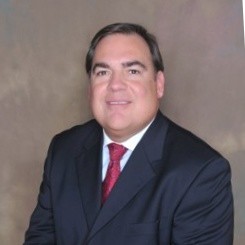 VETERAN healthcare and healthIT entrepreneur Ken Perry has been pretty quiet about his plans for raising capital for his new Servicesdot Inc. startup based here.
But, now that he's taken the wrapper off his new venture, it's clear that his vision for the company -- visit Servicesdot.com -- draws upon lessons learned since 1985, when he was a freshly minted MBA out of Mississippi State University.
In 1998-99, Perry was one of five co-founders of Franklin-based Iasis Healthcare, which he exited in 2004 upon private-equity firm TPG Capital's control investment. (In 2017, TPG sold Iasis to Cerberus-backed Steward Health Care.)
Well ahead of his Iasis gambit, Perry was AVP-finance for physician practice consolidator Symbion and served an HCA operating division and HCA affiliate HealthTrust.
Subsequently, he was a co-founder of hospital healthtech vendor BulldogIT and briefly led would-be hospital consolidator Symphony Healthcare.
Now, the 56-year-old Nashville native is co-founder, president and CEO of Servicesdot and is preparing to roll-out in stages a digital suite of Cloud- and Mobile-centric products, including:
an electronic health record and automated billing systems (Omnipresent HIS);
a healthcare supply chain optimizer (Supply Wizard(c));
a self-service patient-scheduling application (Physicianvisit.com);
an automated full-accrual accounting system (Virtual Financials).
The company website also explains that it plans to provide consulting and back-office services in support of certain IT, infrastructure, billing, revenue cycle management and related functions.
Servicesdot has thus far been funded almost entirely by the CEO's $800K investment of cash and sweat equity.
In March, Perry filed with the SEC for a Seed-capital raise. He said the Seed seems likely to yield a minimum $750K and could expand to 2MM, if warranted.
By 2H 2019, a growth round of capital is likely to be sought. No target amount has yet been set for that raise.
He said he's likely to have a close on the Seed round prior to the emergence of the PhysicianVisit and SupplyWizard products, which are to debut within the U.S. in beta and then commercial form during 2H 2018.
The company's Android mobile app has been completed (but not yet offered) and its iOS app is due out later this summer. Conversations with prospective distributors are underway.
The company has no plans to build its own blockchain ecosystem to achieve "network effect" among blockchain users. But, Perry said he does plan to build blockchain-friendly APIs (application programming interfaces) to facilitate development of and access to blockchain-centric applications that work with Servicesdot resources.
Step-by-step during the next 18 months, the company will initially offer its wares exclusively in the U.S., and then move toward United Arab Emirates and selected other nations in the Persian Gulf region, and then on to India. Perry is already working with some offshore resources to facilitate cross-border market entries.
Notably, Perry spent more than three years serving Corniche Hospital, in Dubai, according to his LinkedIn. Read more here about how he began creating Servicesdot, while in the UAE.
Asked about exit options within three to four years, Perry said options fall broadly into two categories -- sale to a strategic, with Amazon one of many hypothetical examples; or, IPO.
Asked about outside advisors, Perry said he relies on Bass Berry & Sims lawyers Angela Humphreys, Leigh Walton and Susan Sidwell.
He banks with Bank of America. Though he's been using his own CFO skills on the company's F&A, he's now open to talking with accounting firms.
Pramod Balakrishan
On Crowdfunder, Perry notes six team members, including Pramod Balakrishnan, who according to his LinkedIn is the CEO of Vanguard DWC in Dubai, as well as the former CEO of Emirates Healthcare. He is shown as Servicesdot's senior advisor and board member.
Also listed is Randall Pomeroy, a Nashville marketing expert and also a co-founder of Iasis with Perry and others.
Perry also lists among advisors locally based Frank Platt, an enterprise security architect and cyber-defense strategist.
The company also lists on Crowdfunder key industry partners Amazon's AWS Cloud service, and Cloudticity, an AWS advanced partner.
Perry also confirmed that Krystal Brown, CEO of ASC Medical in Nashville, is expected to join the firm later this year to help advance business centered on the supply chain application.
Perry and his family reside in Belle Meade, Nashville. One of his three daughters, Sarah Beth Perry, is CEO and founder of With the Band, a fan experience and artist marketing community online.
The younger Perry won a Belmont University student pitch competition in 2017 and participated in the Student Edition pitch session of last year' 36|86 Entrepreneurship & Technology Conference. VNC
.
---