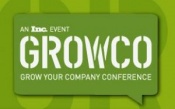 GROWCO, the "Grow Your Company Conference" from INC. Magazine arrives Nashville, May 20-22, 2014.
Registration doesn't open til January, according to an INC. Magazine spokesperson, and headliner speakers have not yet been announced. Previous years' programs are not necessarily the template for the Nashville event, and details will be out by early January.
In addition to prominent speakers, this year's (2013) event in New Orleans included an "Enrich Your Pitch" contest, in which entrepreneurs' presentations on their companies were scored by a panel of judges. Prizes in that competition included private mentoring by one of the GROWCO speakers and free registration to the subsequent Fall's annual INC 500|5000 Conference, which was two months ago in Washington, D.C.
INC. has already begun recruiting corporate sponsors to exhibit during the event, which is expected to attract "600-plus," according to its website.
The three-day event is set for the Omni Hotel Nashville on 5th Avenue, Downtown. The Omni opened less than 90 days ago. It sits across the street from Music City Center and adjoins the Country Music Hall of Fame.
Previous GROWCO conference agendas have been studded with presenters including Richard Branson, founder of The Virgin Group; former President Bill Clinton; Tech entrepreneur and author Guy Kawasaki; John Mackey, co-founder of Whole Foods; FUBU Founder and "Shark Tank" (ABC) regular Daymond John; a bevy of moneymen and CEOs; and, among many others, Startup America Partnership CEO Scott Case, whose recent visits to Nashville for the launch of Startup Tennessee introduced him to Nashville's entrepreneurial effervescence. VNC