Barron's Michael Santoli and executives from Tractor Supply and Corrections Corporation of America will highlight the INVEST Tennessee Equity Conference, May 27.
The unprecedented public-company showcase at the Nashville Convention Center is managed by Louisville-based consultant Mosaic Investor Relations, with local title sponsors Corporate Communications Inc. and Crowe Horwath LLP.
The invitation-only forum is aimed at bringing money managers, analysts and professional investors together with about a dozen regionally based public companies, according to Mozaic IR owner and event Chairman Terry McWilliams. He declined to provide names of all eight listed companies that have already committed to the May event in Nashville, and explained those will be revealed when the field is complete.
For the event's organizers, McWilliams said, priority is given to attracting money managers and analysts. He explained that local executives who wish to attend, but who have not received invitations, will be admitted for the few unreserved seats "on a case-by-case basis."
In addition to session presentations, executives with presenting companies have opportunities for one-on-one meetings with analysts and money managers.
Barron's Senior Editor and Columnist Santoli will speak during the conference luncheon session. He has been with Barron's nearly eight years, and previously worked with sister media outlet Dow Jones News Service; and, earlier, with Investment Dealers' Digest. He appears regularly as a guest on CNBC.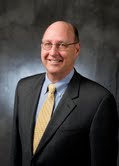 McWilliams (at left) said that the INVEST model event has previously been conducted three times in Kentucky and once each in Ohio and Indiana, with another event set for Indianapolis in September.
When executed elsewhere, McWilliams said, the range of presenting companies typically ranges from small-cap to larger companies, such as Brown Forman, Papa John's and YUM Brands. Attendance has consistently be more than 220 executives, he noted.
Title sponsor Corporate Communications is the 35-year-old Third Avenue-based investor/shareholder communications and public-relations firm formed by President Charles E. "Eddie" Jones Jr., CFA.
Among other interests, Jones, 65, is a member of the board of directors of CBRL Group Inc. (NASDAQ:CBRL), the holding company for Cracker Barrel Old Country Store. Before founding CCI, Jones was director of research for J.C. Bradford & Co., after having served JCB eight years as a securities analyst. He is a former member of the Issuer Affairs and Marketing Committees for the National Association of Security Dealers (NASD).
CCI is represented in the INVEST Tennessee event by Patrick Watson, a partner in CCI. Crowe Horwath is represented by Nashville office partner Dwayne Dillard.

According to McWilliams, other sponsors of the event include Corporate Board Member magazine, which is published by Board Member Inc., the Brentwood-based firm run by Founder-Chairman Bill King. King is also the erstwhile chairman of Private Business Inc. and FISI Madison Financial Corp., and he is a member of the board of Ingram Entertainment, among numerous other local ties.
McWilliams said that CFA Institute-affiliated CFA societies in Nashville and Memphis have helped to pick companies invited to present during the May event, and the societies are considered "organizing sponsors" of the affair.
In addition to CBM, CCI, Crowe and Mozaic, firms supporting INVEST TN in various ways include PNC Bank, Hilliard Lyons, NASDAQ OMX, Frost Brown Todd, The Wall Street Transcript, Curran & Connors, Globe Newswire, Optimum Print Solutions, Makespace Media and O'Neil Arnold Photography. ♦