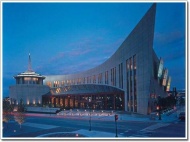 Update: Brian Moyer became CEO of NTC in September 2016.-Ed.
NASHVILLE Technology Council (NTC) last night unveiled winners of the 2014 NTC Awards during its 6th Annual event, again set in the Country Music Hall of Fame.
The beautiful Hall, with its banquet room overlooking a cityscape surreal on a clear night, is a fitting venue for looking back and honoring greatness. The Hall could also be described as Ground Zero for a Music industry deeply disrupted by technology.
Presiding over the evening with both pride and sometimes comic exhuberance was Bryan Huddleston, CEO of NTC, a nonprofit trade association that is also led by Chairman David Klements, CEO of Qualifacts; and, Chairwoman-Elect Nicole Tremblett.
Marty Paslick
Tremblett is HCA's VP IT&S, and on July 1 she is to become chairwoman of NTC's 41-member board of directors (all of whom are also listed below). Her predecessor in her HCA role is last night's CIO of the Year Winner, Marty Paslick, who is a former NTC chairman and is now HCA's SVP/CIO. HCA IT&S won the Team Award.
The evening brought authentic, sometimes moving commentary from awardees and presenters alike, a sample of which is here.
► With 592 registered attendees, plus 30 on-site volunteers, this year's awards seem to reflect increased energy, maturity and diversity within Greater Nashville's technology sector. Yes, all CIO of the Year nominees were from Nashville's powerful Healthcare sector; and, true, two key awards (all awards are below in this article) went to outsourcing firms, but those services firms make interesting claims to special IT sauces.
Founded in 1999, nonprofit NTC operates much like an industry-specific chamber of commerce, focusing on the digital-technologies sector of Middle Tennessee. Its office is in the Nashville Entrepreneur Center.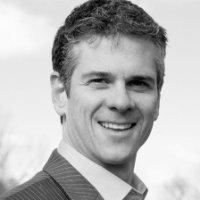 Bryan Huddleston
Huddleston, now 44, became CEO of NTC in September 2013, after nearly eight years with Microsoft in a variety of product, product management and sales roles.
Like NTC CEOs before him, he's had his hands full.
Huddleston took the six-figure helm of NTC at a time when it seemed, as small nonprofits periodically do, to have lost some momentum, amid an increasingly crowded field of events and advocates in booming Music City. He immediately set about basic blocking and tackling, visiting dozens of stakeholders to assess the region's Tech-related needs and aspirations.
Today, NTC says it has 351 member companies -- higher than the roughly 325 members it reported in mid-2014 -- including Tech and tech-enabled companies, service providers, educational institutions and non-profits, representing a wide spectrum of industry.
In preparing NTC's January 2014 IRS Form 990 filing, it fell to new-on-the-job Huddleston to report NTC deficits. However, he also clearly asserted in that filing that NTC's mission is to help the region's Technology community succeed by "providing significant return on our members' time and resources [and by] increasing the pool of skilled technology professionals to meet the current and future needs of Middle Tennessee's businesses."
Months later, in December 2014, NTC learned that a grant proposal submitted with partner Nashville State Community College had been awarded to the partners. It brings an $850,000 grant via Gov. Bill Haslam's Labor Education Alignment Program (LEAP), paid for with $10MM allocated by the Tennessee General Assembly.
Though NTC boasts only a four-person staff (with three additional grant- and operations-related hires under consideration and open), it has traditionally maintained a robust schedule of conferences and other events, and often partners with other groups in the multi-county region. Other tech-centric nonprofits in the region include LifeScience Tennessee, a reviving Digital Nashville, numerous Tech user groups and such unconferences as Barcamp, as well as a Tech workforce-centered interest group recently convened in Murfreesboro.
Warren Ratliff
Since its inception in 1999, NTC has been led successively by these chiefs: Attorney Warren Ratliff; David Condra (first to bear the CEOtitle, and longest-serving thus far; Amplion, Dalcon), Ray Capp (ConduIT Corp.), Jeff Costantine (previously HCA, now Liberty Street Partners); Tod Fetherling (Perception Health); Liza Massey (project management consultant), and now Huddleston. All those chiefs remain in Middle Tennessee, except Ratliff, who now lives in Seattle.
The Presenting Sponsor for last night's event was VACO and Digital Reasoning was the Platinum Sponsor. The latest 2014 NTC Awards winners, other nominees and (Award presenters) are listed immediately below (click here for 2013 winners):
COMPANY OF THE YEAR (Ciber)
Medalogix
Rustici Software WINNER ceo: Mike Rustici
Digital Reasoning
TEAM OF THE YEAR (Nissan)
Digital Reasoning
Emma
HCA IT&S WINNER
EARLY STAGE COMPANY OF THE YEAR (Comcast)
InvisionHeart
kalatech WINNER ceo: Brittany Wegusen
Kindful
CIO OF THE YEAR (Peak10)
Guy Barnard, Healthways
Andy Corts, Sarah Cannon
Marty Paslick, HCA WINNER
CISO OF THE YEAR (Cisco)
Dirk Maxwell, Sitel WINNER
Bob Quandt, Healthways
Tom Ratz, Dollar General
CTO OF THE YEAR (World Wide Technology)
Edmon Begoli, PYA Analytics
Bryan Mosher, Medalogix
Jim Siegienski, iQuantifi WINNER
[NEW] DATA SCIENTIST OF THE YEAR (Market Street Solutions)
Brian Johnson, Donor Bureau
Damian Mingle, WPC Healthcare
John Wagster, Digital Reasoning WINNER
SOFTWARE DEVELOPER/ARCHITECT OF THE YEAR (Asurion)
Alex Berta, NSG LLC
Chris Collins, Dollar General
Doug Hurst, Emma WINNER
INNOVATOR OF THE YEAR (Trizetto/Cognizant)
Dan Hogan, Medalogix
Anthony Montgomery, LPS
Tiffany Woosley, Homeland WINNER
MARKETING INNOVATOR OF THE YEAR
Erin Desman, United Structural Systems
Jeffrey Horne, Rustici Software WINNER
Anne McGraw, Nissan North America, Inc
VOLUNTEER OF THE YEAR (HCA)
Colleen Hoy, Emerge Financial Wellness WINNER
Susan Lewis, Deloitte
Pryor Manning, Nissan North America, Inc
EDUCATOR OF THE YEAR (Microsoft)
Charles Apigian, MTSU
Fortune Mhlanga, Lipscomb University
Mary York, John Overton HS WINNER
STUDENT OF THE YEAR (HP)
Ellie Fitzpatrick, Harpeth Hall
Geoffrey Gross, Belmont University
Cameron Lowry, Lipscomb University WINNER
Executive Committee of the board
Chairman David Klements, CEO, Qualifacts Systems
Chair-Elect (1 July) Nicole Tremblett, VP IT&S, HCA
Katherine McElroy, C3 Consulting
Kent Fourman, The General
Melinda Curran, RCG
Jeff Fields, ServPro Industries
Glenn Perdue, Kraft Analytics
Kate O'Neill, KO Insights
Ex Officio
Michael Burcham, CEO, The Nashville Entrepreneur Center
Beth Hogan, President, WiTT (Women in Technology TN)
Connie McGee, President, HIMSS-Tennessee
Courtney Ross, Chief Economic Development Officer, Nashville Area Chamber of Commerce

Other members of the board of directors:

Laura Aylward, Director-Product & Strategy, Emdeon
Ryan Boone, CIO, Dollar General
Tony Bradshaw, CIO, The Lampo Group
Mark Davison, CIO, Delek US Holdings
Kyle Duke, CIO, TennCare
Cory Edwards, Director, Comcast Business
Timothy Estes, CEO, Digital Reasoning Systems
Andy Flatt, SVP-CIO, Cigna-Healthspring
Vic Gatto, CEO, Jumpstart Foundry; partner, Solidus
Travis Gregg, Principal, Trinisys
Tracy Guarino, CEO, ForceX
David C. Hanna, Director, Microsoft
Greg Huddleston, Team Executive-Healthcare, IBM
Amy Henderson, CEO, Firefly Logic
Vanessa Hickman, CIO, Nashville International Airport
John Kepley, CEO, teknetex inc
Matt Largen, CEO, Williamson County Chamber of Commerce
Fortune Mhlanga, Director-Computing/Informatics School, Lipscomb University
Sal Novin, Director of Product Development, Cognizant (fka TriZetto Group)
Jerome Oglesby, Global CTO, Deloitte
Raymond Ritz, President, Night Running
Peter Rousos, Sr. Business Development Exec. (tech transfer), Vanderbilt University
David Smith, VP/GM, Peak 10 Nashville
James Soto, Founder/CMO, Industrial Strength Marketing
Barry Vandevier, CIO, Asurion
Tim Walsh, CIO, Bridgestone Americas
Curtis Watkins, VP-Chief Strategy Officer, Parallon (HCA)
Mike Wesolowski, Acct. Opns. Exec., HP Enterprise Services
Steve Yazell, VP/GM, tw telecom

The article will be amended or updated, as warranted. VNC
last edited 20 Feb 2020