July 8, 2015 - Goodman was named chairman and CEO of SONY Music Nashville. The announcement was made by Doug Morris, CEO, Sony Music Entertainment.-Ed.
RANDY GOODMAN, a CMA board member and Mayor Karl Dean's Music Council co-chair, has joined Lipscomb University College of Business as executive in residence.
Goodman, 56, a Lipscomb alumnus and a Nashville native, was tapped by Dean to lead the Council in July 2011. At the time, Dean said Goodman is "the right guy to convince companies that Nashville is the place to be if they want to do business in the music industry."
Based on VNC's earlier report on the Council, Goodman is likely to report, soon, on the action agenda he announced as he took the helm of the Music Council. His plan included increasing the Council's credibility, bringing the GRAMMY's to Nashville in 2015 and putting the Council on a par with the Nashville Health Care Council, in terms of resources, performance and sustainability.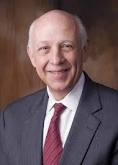 Turney Stevens
In a release from Lipscomb, Business Dean Turney Stevens said, in part, "Randy brings a tremendous amount of experience in the entertainment and music industries. He has a keen business sense and has a good understanding of the mission and scope of Lipscomb University. We are very fortunate to have him lend his knowledge and expertise to us and to share it with our students."
The new role puts Goodman elbow-to-elbow with Stevens, who is himself a 1972 Lipscomb grad. Stevens co-founded and led Nashville's Harpeth Capital as CEO, for seven years prior to his appointment as the Lipscomb dean, in 2007.
Thus far on Stevens' watch, Lipscomb has also initiated a new business-plan competition cycle, and is ramping-up a Leadership Council populated with local senior executives; it is also expanding mentorships and internships for students, and in 2011 appointed Joe Ivey to serve as executive director of its Center for Entrepreneurship, which focuses more on family-owned and "lifestyle" businesses seeking long-term organic growth, rather than on rapidly scalable tech-enabled businesses.
Also with apparent Stevens impetus, in 2011 Lipscomb named its first Entrepreneur of the Year: Phil Pfeffer, a former Ingram exec and Random House publisher and now Tremont Capital investor well-known in Nashville business circles.
Announcing the appointment, the university recalled that Goodman launched Nashville-based Lyric Street Records for the Walt Disney Co. in 1997 and was its president until it ceased operations in 2010. By coincidence, or not, the news of Goodman's appointment comes during a week of events including a Jazz concert series, a music clubs festival, music scholarship auditions and a University Wind Ensemble performance.
Lyric artists included Rascal Flatts, SHeDAISY and American Idol alums, Josh Gracin and Bucky Covington, among others. Also during his 30-year career, Goodman worked in artist development, marketing and sales and supported such talents as Waylon Jennings, Dolly Parton, the Judds, Alabama, Clint Black and the Dave Matthews Band and held a variety of positions in artist development, marketing and sales.
In 1990, Goodman moved to RCA NY to work as senior vice president in marketing for RCA Records globally. He also served as executive vice president and general manager of the RCA Label Group in Nashville.
Goodman served as the Country Music Association president and board chairman in 2008 and 2009, and remains a member of the CMA board; he is also a trustee of the Country Music Hall of Fame and Museum. He began his career in 1980 at Top Billing.
As a Lipscomb student, Goodman earned a bachelor's in political science and economics. As previously reported by VNC, he also attended Belmont University, during the formative years of that university's School of Music program. VNC