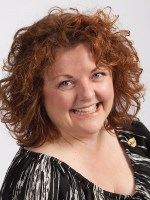 KECIA RAY, Ed.D., a veteran of Nashville education technology space, has been chosen to lead the Center for Digital Education (CDE) unit of e.Republic.
Ray takes-up her new executive-director duties July 13 and will remain based in Nashville, with regular trips to parent e.Republic, which is based in Folsom, Calif., near Sacramento, and other destinations.
She told VNC that she understands she is the first person hired by e.Republic to focus exclusively on the CDE, which has been underway for quite a few years. In her new role, she reports to both e.Republic EVP Cathilea Robinett and SVP-Publisher Alan Cox. The CDE's current event schedule is here.
Ray said she is convinced that CDE and e.Republic, as the company frequently declares, are truly committed to fostering innovation and "giving back" to the sectors they serve.
Ray is currently chairman of the board of directors of the International Society for Technology in Education (ISTE), based in Arlington, Va. She recently completed a total ten years with Metro/Nashville Public Schools, where she most recently served as executive director for learning technology and library services.
Ray also confirmed that her duties include building-out within the Education sector CDE services, in a manner similar to those of e.Republic's Center for Digital Government (CDG). She said that, among other things, she'll begin immediately assessing CDE's relationships with educators and other officials, event underwriters, media and others.
While the CDE that Ray will lead is EdTech-oriented, sister CDG is the e.Republic unit that has for 12 years conducted an annual Tennessee Digital Government Summit in Nashville, the most recent iteration of which was a month ago. It's officially an e-Republic event, though done in close collaboration with State officials -- as in other states in which e.Republic operates and conducts similar summits.
That CDG event for Tennessee execs provides a rare opportunity for major infrastructure and technology providers, local and state government IT professionals and some state and local government officials to come together to compare notes and hear presentations. VNC understands many of the event's sponsors also advertise in e.Republic's Government Technology magazine, and states' tech leaders are often featured in its stories.
Quoted on an e.Republic webpage, State of Tennessee CIO Mark Bengel described the recently completed e.Republic Tennesseee Summit last month as "the premier event in Tennessee for bringing government leaders together to focus on how technology can help us address the challenge of improving the efficiencies of government services while improving services to our citizens. The Summit provides the ideal forum for us to meet and discuss our common challenges, share best practices, network with our government and industry peers and have fun learning about new technologies and ideas."
The CDE is but one of several platforms created by e.Republic and its founder and CEO, Dennis McKenna, since the company's founding about 32 years ago.
Among recent developments, McKenna launched e.Republic Labs, which supports government innovation; and, e.Republic Ventures, which mentors and makes selective investments in early-stage companies, according to the e.Republic website.
Ray's LinkedIn profile reflects her numerous other past leadership, staff and faculty roles, with organizations including Gov. Bill Haslam's Advisory Council on Alternative Education, The Frist Center for the Visual Arts, Middle Tennessee State University, Vanderbilt University, Johns Hopkins University, Learning Bird, eLearn Institute, University of Maryland and Lipscomb University, among others.
Ray graduated from the University of Memphis in 1988 with a bachelor's in education, and subsequently earned her Master's in education administration at Trevecca University and her Ed.D. doctorate at Tennessee State University. VNC
---