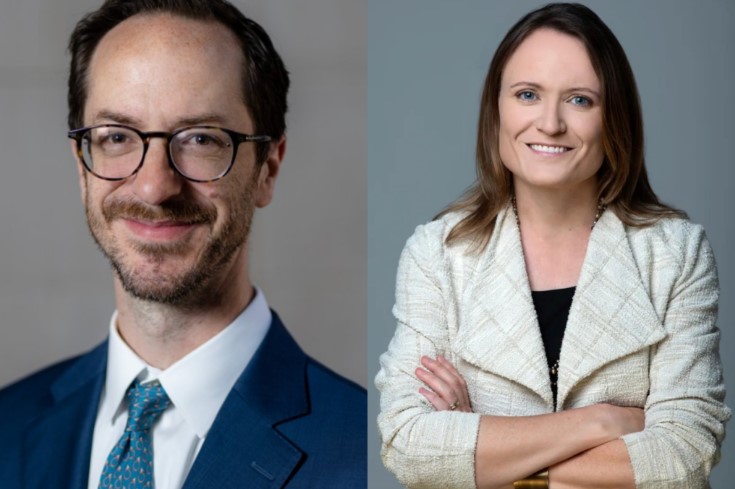 AMID WHITE-HOT campaigning to succeed incumbent Mayor John Cooper via Sept. 14 run-off voting for mayor of Metropolitan Nashville Davidson County, candidates Freddie O'Connell and Alice Rolli today took valuable time to answer three questions posed by Venture Nashville.
The three questions Venture Nashville simultaneously sent to the candidates, only yesterday:
❶ CAPITAL: As Mayor, what action would you take during your first term to encourage more of Nashville's accredited individuals or institutional investors to invest in startup or early-growth companies controlled by Nashville-based founders?
❷ IDEAS: As Mayor, what action would you take during your first term to encourage corporate, university and founder-driven technology commercialization within our market by new or existing entrepreneurial businesses?
❸ TALENT: As Mayor and with an eye toward economic impact, what targeted efforts would you make during your first term to encourage talented individuals to remain in, come to, or return to Nashville?
The candidates' campaign websites are linked in the opening paragraph of this story.
Alice Rolli's LinkedIn is here. Freddie O'Connell's LinkedIn is here.
In asking for responses to VNC's questions by midday today, brevity was suggested, but no word length specified.
The candidates' respective verbatim responses are posted below.

FREDDIE O'CONNELL:
1. CAPITAL
Having represented the economic heart of the city and state for the past 8 years, I've worked to ensure that part of our commitment was to support the Entrepreneur Center. More recently, I was proud to support a $10m investment in an incubation center at Fisk University. And I hope to overhaul our small business incentive program to make it easier to access. I expect to create an Office of Opportunity that's a home for our youth opportunity program, workforce development initiatives, and long-range economic plan.
2. IDEAS
I'm encouraged by conversations I've already had with multiple of our colleges and universities and private sector partners to turn academic innovation into market success. I expect the mayor to be a partner in chief and hope to accelerate these opportunities.
3. TALENT
My first obligation is to showcase our talent by building a great administration and ensuring that Metro leads in recruitment and retention, as well. But, every city that focuses on core livability policies becomes an even greater magnet for talent. We've got a great basis of industry and innovation, and Metro's job is to enhance that platform. [###]
ALICE ROLLI:
1. CAPITAL
Rebuilding the city's relationship with the state is critically important in the work of ensuring access to capital programs for Nashville-based entrepreneurs.

Building a business in Tennessee you need all the help you can get - and getting the ego out of the work and avoiding duplication is critical. The newly launched Fund Tennessee builds on an idea we executed in the Haslam administration when we created the LaunchTN plan, which included $29MM SSBCI funding to create the INCITE fund. Both used large federal stimulus programs to creatively approach the federal government with a plan specific to Tennessee. LaunchTN did that successfully and there is now $117MM available for Tennessee-based entrepreneurs.

As Mayor we will model the way for working productively with our partners at the state to bring these critical resources here -- because they benefit Nashville and they benefit Tennessee.

As Mayor I will be a fierce champion for the start-up community. Business people are people of action - they don't want words, they want results. Personally I've made significant investments in two Nashville-based startups, one owned by a disabled veteran and one a woman of color. I mention this to say that I've walked the walk of the challenges of raising capital for businesses in our city - and I will always be a fierce advocate that Nashville is the best place to start and grow a company.

We will get the ego out of who gets credit at the city or the state level - because at the end of the day the credit belongs to the risk takers who build their businesses right here in Nashville.
2. IDEAS
The Nashville entrepreneurial community is strong and led well by the Nashville EC. Sam Davidson, the organization's new CEO, is perfectly positioned to lead the city through this next chapter.

Most of my career has been spent as an entrepreneur and investor, with some meaningful experience in state and federal government. This means I'm keenly aware that the government does not work at the speed of business - and Sam and his team are positioned to bring the creative ideas and energy needed to innovate here for our city.

Some examples of promising work includes TheFrontDoor.co, a terrific EC site coming online soon to help individuals build businesses in Nashville. The EC itself is an example of a productive relationship with the State and Metro. The financing of the building, itself, was achieved using dollars allocated by TN-ECD, metro, and private investors.

After speaking with EC CEO Sam Davidson, I'm confident that he will advance creative programming -- including potentially revisiting a reverse-pitch concept that brought large corporations and government buyers to pitch their pain points to local entrepreneurs and inventors. I'm excited about the early progress for the Freeman Center at Fisk University and the collaborative work between the EC and the State on the TWENDE program.

The EC doesn't need a Mayor who gets in the way or tries to rebuild within the city government what is better suited to be managed by experienced entrepreneurs like Sam Davidson. He has my phone number and can call me when he needs me, and in the meantime I'll be sure that our streets are safe, our kids can read, and that we pick up the trash so that business owners have one less thing to worry about.
3. TALENT
The war for talent is real. To attract and retain high growth companies requires hiring a mayor who thinks like an entrepreneur. What do we need to get busy doing, and what do we need to stop doing.
That means running the city responsibly and without agendas that get in the way of doing the work. Namely, we need a Mayor who isn't afraid to say that we must support and fund our police so that when you call 911 an officer comes, quickly. Business owners want to know that there are high quality school options for their own kids and those of their employees - and that our schools are safe and open for kids to learn.
Business owners want to be sure the city isn't a strangled mess of regulation that impedes the work of attracting talent because employees can't find an affordable place to live. For example, how do we use our available economic development tools to contribute to the capital stack required to support the creation of more affordable housing units?
Keeping talented individuals in Nashville means ensuring that we are running the city well - so that business leaders can focus on running their business. [###]
_________________________
READERS' comments are invited on the issues noted above via LinkedIn here.
Venture Nashville appreciates the candidates' responses, which were provided in the course of myriad other demands on their time and that of their families. VNC
. last edited 1611 7 August 2023
Related Articles