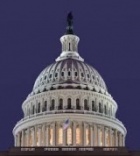 NASHVILLE Technology Council (NTC) recently became affiliated with a grassroots industry coalition that advocates federal, state and regional policies that it asserts are "important to growth, innovation and entrepreneurship throughout the country."
Though it's just an initial exploratory step, NTC CEO Bryan Huddleston confirmed for VNC that he and one or more other NTC representatives plan to participate next week in a two-day "DC Fly-in" program in Washington, D.C.
According to a Jan. 28 announcement by event convenor TechAmerica (a division of the CompTIA trade association), NTC and many of its peers are members of the Technology Councils of North America (TECNA), and they are collaborating with TechAmerica to inform and mobilize executives within the councils' combined 14,000 member companies.
TechAmerica Fly-in materials online say the priority for next week's Capitol Hill visits is to advocate for legislation to extend and strengthen industry protections now contained in the Internet Tax Freedom Act (ITFA), which sunsets Oct. 1.
The ITFA precludes "federal, state and local governments taxing Internet access charges, as well as from assessing multiple taxes on electronic commerce." The current moratorium on such taxation has only been preserved through five successive extensions of the law, and TechAmerica would like to see such taxes permanently prohibited.
That position has some bipartisan support in both the U.S. House and Senate, according to MultiChannel News. U.S. Senator Steve Cohen (D-TN-9) has signed onto legislation backed by the Congressional Internet Caucus.

Bryan Huddleston
After the fly-in, said Huddleston, NTC plans to install on its site a plug-in application called Capwiz, which will afford NTC members access to a frequently updated database of legislation and policy issues. Use of the Capwiz app is a benefit of coalition membership, he said. [Update: Capwiz is now live, NTC said after publication of this story. The link is here.-Ed.]
However, beyond adopting Capwiz, the extent of any future NTC advocacy focused on Congress and/or the Tennessee General Assembly is yet to be determined, said Huddleston.
NTC's deliberation regarding possible issue-management or advocacy activity is likely to be conducted within the Programs & Governance Committee of the NTC board of directors. VNC understands that committee is led by Chairman Kent Fourman (VP-CIO Permanent General) and Chair-Elect Kate O'Neill (KO Insights; prior company MetaMarketer).
Fly-in's are a common tactic used by U.S. interest groups in an attempt to "shape" debate of issues that are important to their constituents.
Next week's Fly-in creates a focal-point for regional tech councils' visits with members of Tennessee's congressional delegation and other policy influentials, during which council executives are encouraged to advocate for "federal policies that benefit the IT community," according to event information online. Attendees will also receive a briefing on the IT industry's policy environment.
In addition to ITFA preservation, TechAmerica says that its policy priorities this year include passage and/or promotion of legislation related to Cybersecurity and threat data-sharing legislation; Federal data breach notification; immigration reform for high-skilled workers; patent litigation reform; rules to protect the Open Internet (a regulatory-burden emphasis, and closely related to Net Neutrality); freeing-up more spectrum for innovation and rural broadband; comprehensive tax reform; and, expansion of international free-trade agreements.
The NTC 41-person board of directors includes representatives of such major policy stakeholders as Comcast, tw telecom, Microsoft, IBM and HP, as well as local and regional IT channel players. (Full NTC board listed here.)
The need to sort-out NTC member policy interests -- and to determine how much energy to give, e.g., tax matters versus proposals for enhanced Startup visas for would-be immigrant-entrepreneurs, or for special support for Research-intensive startups -- measures also backed by TECNA and others -- makes setting policy priorities a non-trivial task for Huddleston and his board.
CompTIA formally projects worldwide IT industry growth of 5% in 2015, to $3.9 Trillion, representing a $185BN increase in revenue.
CompTIA also asserts that higher-wage IT (computer systems) jobs have a cascading effecting, with each such job helping to anchor local economies and contributing to creation or support of an estimated five other non-IT jobs in the U.S. economy.
In its 2015 industry overview, CompTIA actually says this year's worldwide growth could be as high as 7.3%. Despite business expansion, CompTIA says it finds no clear evidence of either expansion or contraction within the IT channel.
Capwiz, a campaign-management tool, was developed through the Capitol Advantage division of CQ-Roll Call, which is owned by London-based The Economist Group, which is 50% owned by UK-based Pearson (through its Financial Times newspaper), with the balance owned by a number of prominent British family offices and some otheres.
The Capwiz tool integrates with users' CRM tools, directly or via an API facility. VNC


---