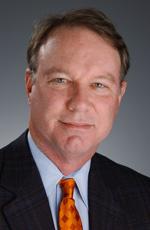 Nashville-based Tennessee Technology Development Corporation's board of directors has appointed William Evans, CEO of St. Jude's Children's Research Hospital in Memphis, to succeed Dan Marcum as chairman of the TTDC board.
Evans joined St. Jude's 32 years ago, and was named director and CEO of the institution in 2004. St. Jude's has more than 2,500 faculty and staff, and a research and education budget of more than $150 million.
The installation of a life-sciences heavyweight as TTDC board chair broadens TTDC's tech credibility and could help generate additional resources and momentum within the state's fledgling biotechnology sector and the Tennessee Biotechnology Association, in particular.

Representing St. Jude's, Evans is often found in the circle of Memphis institutions, entrepreneurs and venture capitalists who have been working the past decade or more to develop that city's standing in emerging biotechnology and life-sciences fields.
The transition from Marcum to Evans comes at a pivotal juncture for an organization that has spent much of the past five years in uncertainty.

Marcum, founder of venture-capital firm Marcum Capital LLC in Tullahoma, had led TTDC more than five years. TTDC was chartered during the administration of then-Gov. Don Sundquist. The organization enjoyed weaker standing during the first two years of the Bredesen Administration, during which Economic and Community Development Commissioner Matt Kisber took steps to increase ECD's own role in tech strategy.

Marcum told VNC this morning, "It was my honor to be able to chair TTDC through some tough times. There was some frustration along the way, but the perseverance and the hard work of the staff got us through it, and we now are poised for great things." Marcum, who remains on the TTDC board, expressed strong confidence in Evans, other recent board members - including Knoxville Mayor Bill Haslam, a Bredesen appointee - and the TTDC staff.

TTDC's resurgence could be marked at the point in 2005, when despite scant resources TTDC and Marcum set into motion a study of Tennessee's strategy for high-growth economic-development. That effort gained Kisber's support. The resulting 2006 report called for strengthening the state's research and tech-commercialization infrastructure and institutional collaboration, as well as Tennessee's entrepreneurial culture.

In 2007, the Bredesen Administration provided an infusion of about $5 million working capital for TTDC's pursuit of what is often referred to as technology-driven economic development. By whatever label, TDED aims to create better-paying jobs in sectors characterized by innovation, high-growth, private-equity investment and strategic use of knowledge that flows from basic and applied research.

Toward such ends, 15 months ago TTDC announced its selection of Eric Cromwell (left) as its president. Prior to that, Cromwell had been recruited in late 2003 by Kisber from the staff of the Fedex Institute of Technology at the University of Memphis, and tasked with launching what was soon dubbed ECD's "Innovative Tennessee" initiative. After a number of changes-in-course, the state and TTDC agreed TTDC would, once again, officially carry the state's portfolio of knowledge-driven economic development. Subsequently, Cromwell, who had left state employment to explore launching a tech venture, was recruited to lead TTDC.
Since then, Cromwell's TTDC has been refurbishing the organization, defining its strategy and priorities, reaching out to stakeholder groups, providing small grants to stimulate technology development among small businesses and supporting events around the state, including the Innovation Valley venture forum, convening Oct. 8. TTDC also owns shares in Cumberland Emerging Technologies, a Nashville incubator co-owned by Cumberland Pharmaceuticals and Vanderbilt University.

TTDC's flagship event is on the horizon, also: TTDC will conduct its first innovation conference, Nov. 20-21. The event will convene university-based researchers, technology-commercialization experts and private-equity investors.

Worth noting: The Bredesen Administration continues to push such things as energy initiatives without much direct TTDC involvement, including the Oct. 18 Clean Energy Technology Summit at Knoxville.

Cromwell and his staff have repeatedly stressed TTDC must achieve quick and substantive gains, particularly given there are, as yet, no state follow-on commitments for additional TTDC funding and no private-sector fundraising is underway.

Evans' research at St. Jude has focused on the pharmacogenomics of anticancer agents in children, with a focus on acute
lymphoblastic leukemia (at right). His research team studies the dynamics of drugs employed in treating children, analyzing genetic and related factors. His research at St. Jude's is funded by the National Cancer Institute, the National Institutes of Health and others.
Among many other distinctions, Evans, who is 58, is chair-elect of the pharmaceutical-sciences section of the American Association for the Advancement of Science, and will serve as section chair in 2009. Evans is a native of Clarksville, Tenn. He earned his B.S. and Pharm. D. degrees at the University of Tennessee and spent a year in advanced laboratory-based work at the University of Basel, Switzerland.
In addition to new leadership, TTDC will soon announce expansion of its staff, including mid-level executives who are being recruited to manage development of investment-capital resources, creation of an entrepreneurs network, management of policy and administration, and other functions. ♦