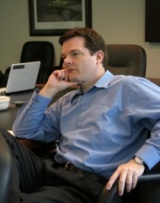 Tennessee Technology Development Corporation has awarded a $270,000 grant to support biotech entrepreneurs and commercialization of technologies.
Grant recipient Memphis Bioworks® Foundation announced the funds will be used to launch TECworks, which will be led by Executive Director Jan Bouten.
Bouten was formerly a venture partner with Aurora Funds, based in the Research Triangle area. He is the second Aurora Funds executive recruited to Tennessee in recent months, following Grant Jackson, who recently became a general partner at Nashville-based Council Ventures.

The grant for TECworks was approved in principal during Nashville-based TTDC's November board meeting. Since then, VNC conversations with tech-development executives indicate that knowledge gained through Memphis-based TECworks is likely to find its way, quickly, into education and related programs being offered statewide by TTDC and allied organizations.



In another bio-related effort, TTDC is also supporting efforts by Nashville-based Tennessee Biotechnology Association (TBA), with current emphasis on strengthening TBA's planned participation in the BIO International Conference, in Atlanta in May.

TECworks is charged with helping entrepreneurs succeed in developing and bringing to market their knowledge-based products and services. Toward such ends TECworks will provide education and mentoring for executives participating in its programs and plans to launch a closely aligned angel-investors network to support bankable ventures.
Among other aims, TECworks will create a grantsmanship institute to prepare executives to successfully pursue grants, with particular emphasis on federal Small Business Innovation Research (SBIR) and Small Business Technology Transfer (STTR) funds. Tennessee is the reportedly lowest-ranked among states competing for SBIR/STTR grant.
TECworks' plans for an angel network in West Tennessee would seem to foreclose, for now, a similar initiative previously

contemplated by Hendersonville-based Angel Capital Group. ACG Founder-CEO Rachael Qualls (right) recently told VNC her previously plans to create an ACG investor group in Memphis were "on hold."
Formation of TECworks signals further progress in TTDC's strategy of securing or creating tech-commercialization, investment and entrepreneurship-education partners to populate the state's technology-driven economic development ecosystem.
In Middle Tennessee, TTDC is working to devise partnering strategies with Nashville Capital Network (which has an angel network, with a parallel fund), Tennessee Biotechnology Association and Nashville Technology Council, among others.
As previously reported by VNC, newborn TECworks also complements a bevy of existing Memphis-area organizations and programs, including EmergeMemphis and its Technology Institute; LaunchMemphis; the Memphis Minority Business Council and its entrepreneur programs; and, other programs offered by the FedEx Institute for Technology and the University of Memphis College of Business, among others. (Related story on Memphis tech-development players, here.)
Bioworks President and Executive Director Steven Bares (at right) said in a statement Friday regarding the TTDC grant that those and
other Memphis actors intend to create "a dynamic, rewarding and forward-thinking environment for entrepreneurs, researchers and investors that will compare to the very best in the country."

Bares added that he believes "TECworks is a natural progression from the 2007 launch of our investment fund organization, [Innova Memphis]."
Ken Woody (at left), who is a Bioworks vice president and is president of early-stage-oriented Innova, said in the same announcement, "In leading an investment organization, one of the key measures of a potential investment's viability is the quality of entrepreneurship education available to those running the new company... TECworks will give us many more tools to help bring Angel money together with good ideas in a way that increases the investor's comfort that the business has the management power and expertise to make a successful run."

Bouten was with Aurora more than six years, where he developed a portfolio and served as board member or observer for several venture-backed companies. Early in his career, he was a sales engineer for Larscom, a telecom equipment manufacturer in Europe, and directed technical support for startup K-NET R&D, a videoconferencing manufacturer. While an undergrad, Bouten founded and led a software and hardware-engineering services business.
Bouten earned his bachelor's in software engineering at Fontys University in Holland; a master's in human-computer systems in the realm of artificial intelligence, from DeMontfort University; and, an MBA from Duke University's Fuqua School of Business. ♦