TripRaiser may have legs: Nashvillians Lauren and Wade Honeycutt (left), both age 23 and 2009 Auburn grads, told VNC they plan a May launch for their software as service for crowd-funding special travel expenses (think mission trips, honeymoon, study abroad). They raised about $20K in friends and family money late in 2010 and plan to vet their business model during 48HourLaunch in Chattanooga. (Nashville's Nashville Startup Weekend is April 15-17.) TripRaiser's income will come from a percentage of donations. A layer of social community for keeping track of fellow travelers is likely to come later. TripRaiser gets a test flight later this month, when the Honeycutts attempt in a limited beta exercise to support two friends with a $10K travel goal. If TripRaiser continues hitting its milestones as it has, F&F may be tapped for a further support, but no other raise is now planned. Wade Honeycutt is an associate analyst with Brentwood-based New Constructs, an investment research firm.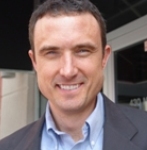 Stephen Culp
Delegator, created two years ago by executives with Smart Furniture (SF), offers to do for "rapidly growing" companies vital business tasks or executives' important personal to-do's. Whether it's SEO or press releases, ad-campaign management or screening employment candidates, they're apparently ready to tackle it. Smart Furniture Chairman Stephen Culp is Delegator CEO; SF's CEO T.J. Gentle is a Delegator board member; and, SF market analyst Andrew Scarbrough is Delegator's VP-ops, according to online information. Culp is also an investor in Chattanooga's recently launched Renaissance Fund and has been designated a member of the Lyndhurst Foundation board, which will be reconstituted in 2012, in the wake of the splitting of the wealth of the family of Coca-Cola magnate Thomas Cartter Lupton. Culp is also a speaker next month for the U.S. Chamber's small-business summit.
► Joey Jacobs-led Acadia Healthcare announced this morning they bought Austin-based Youth and Family Centered Services on undislosed terms. Release here.
NashvilleCubed [N³] reflects the industry, inspiration and innovation within the 500-plus square miles that constitute Metropolitan Nashville/Davidson County, the engine of the local economy. Find a list of N³ events here, and send us more, k? Our thanks to Michael Reader for the N³ concept at left.
► IPO: Advanced BioHealing, which maintains a Nashville presence, amended its S-1 shelf registration for a public offering. The local ops of the Connecticut company are run by a former Biomimetic exec, NBJ reported earlier.
► TNInvestco is cited as bolstering the case for funding InvestMaryland, a similar program being considered by that state's legislature.
Pfeffer
Phil Pfeffer, the former president of Random House and CEO of Ingram Distribution and the first Entrepreneur of the Year chosen by the Lipscomb University Center for Entrepreneurship, recently offered advice to a Lipscomb audience. First, he said, "size what you're going to do with what you're capable of doing" operationally and financially. Second, "pick good people," for all else depends on them. Third, "know your partners," a point he underscored with a reference to the "vulture capitalists" portrayed in the movie "Social Network." Having identified a decent and capable investor, he said, "make the person your best friend" and keep them "informed of everything you're doing." Pfeffer is now CEO of Treemont Capital (a Tennessee company), and splits his time between Nashville and St. Petersburg. A Lipscomb release noted 'semi-retired' Pfeffer's activities also include serving on the board's of Nashville Essex Technology and PureWorks (dba PureSafety).
► Advent Health Partners, a revenue-cycle management company based in Chicagoland, may relocate to Nashville following investment by a band of Nashville's usual suspects, including Fred Goad, Jim Kever, Dave Swenson, Rock Morphis, Joel Gordon and Jim Sohr. The Tennessean (link via NBJ) had fullest coverage, thus far.
► Experiential Learning: Know a 16- or 17-year-old with a business vibe? Tell them the deadline is April 22 to apply for an unusual experience, the ManagingOurselves conference in July at Scarritt-Bennett (at right). Leadership, mission design, priorities, budgeting, team-building and more. In addition to national experts, the program includes Jeff Cornwall, director of the entrepreneur center at Belmont University. Release here.
► Downtown-based Applied Health Analytics is profitable, is contemplating growth that might include acquisitions; and, has "begun discussions with VC and Mezz firms merely to apprise them of our company, status and plans," said founder-CEO Robert Chamberlain. Our earlier full report on Applied is here.
Education: Vanderbilt's School of Engineering and College of Arts & Sciences have launched a new minor in scientific computing to help future economists, sociologists and others use tech tools more familiar in the natural sciences and engineering. UMemphis' Fogelman College of Business and Economics secured its accreditation. K-12: A Knoxville robotics competition ignites passion for learning among teens. KNS stories before and after, and a bit on the program's founder.
► InvestKY: On June 9, Kindred Healthcare, Yum! Brands, S.Y. Bancorp, Texas Roadhouse and other listed companies present during this event at Churchill Downs. Details here.
► Growing tensions betweeen Angels and Venture Capitalists? Morgenthaler Ventures Partner Bob Pavey says competitive tensions aside, there's room for both.
► Incentium: More on the debacle that followed venture-capital investors' takeover and alleged bobbling of a once-successful gift-card company in Chattanooga, the TFP reports.
► MusicCity Interactive contributors seem a "zesty" group, judging by their website and their FB page.
Gone Green: ORNL is working with Mossey Creek Solar of Jefferson City, Tenn. and others to solve problems related to solar energy usage. Knoxville sustainability initiatives are reviewed by the KNS here. Also: Two Knoxville solar and sustainability companies, Sustainable Futures and Efficient Energy of Tennessee are fully committed to their businesses, despite risks, the KNS reports. Baker Donelson, LBMC, TVA and other firms have joined the GoGreenET Business Recognition program for energy efficiency and environmental responsibility.
► Development of the Amazon.com distribution sites in Hamilton and Bradley counties is proceeding apace, the TFP reports. VNC