Nashville healthcare entrepreneurs might want to examine HealthPrize Technologies' use of online games and other techniques to induce healthier consumer behavior.
HealthPrize Co-founder and CEO Tom Kottler told VNC in an interview earlier this year that his Norwalk, Conn.-based company employs financial and other incentives and rewards to increase user adherence to physicians' instructions regarding filling prescriptions and taking medicines to alleviate their health problems.
The company has since inception raised $4.3MM from founders, friends and family and other investors; in its earlier efforts, the company's management spoke with about 40 institutional investors, including at least one Mid-South VC, but received no investment from them in its most recent raised, which is closed, said 50-year-old Kottler.
HealthPrize recently began a Series B capital raise, and is focusing on potential strategic investors, 43-year-old Co-founder and Chief Medical Officer Katrina Firlik, M.D., told VNC on Sept. 7.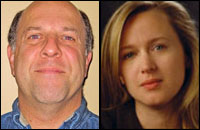 Kottler and Firlik
HealthPrize's current investors and advisors include a range of seasoned private-equity, healthcare, technology and other executives.
Its customers are currently pharmaceutical companies only, but it plans to sell into pharmacy benefit managers, healthplans and others who seek to increase adherence to prescriptions and uptake of prescribed medicines.
HealthPrize programs also help influence development of pharma brand market share, within parameters of current law and regulation, according to its website. HealthPrize data analytics services are among services slated for future launch. Pharmaceutical companies' marketing has in recent years been increasingly constrained by federal law and regulation.
The company's behavioral-economics and related knowledge base is suggested by an interesting white paper, found here.
Its website says of the HealthPrize approach, in part, "Financial incentives form the heart of the system and come in three varieties: (1) loyalty points, (2) weekly sweepstakes, and (3) monthly competitions, with a prize to the highest point earner per month. While the financial incentives serve as a compelling extrinsic motivator designed to maximize opt-in rates, and the loyalty points, in particular, serve to maximize persistence over time, targeted and repeated education in the form of weekly quizzes and daily Fortune Cookies (for additional points) is also seamlessly incorporated into the solution in order to build and strengthen a consumer's intrinsic motivation to remain compliant. Given lessons learned in consumer marketing, medical education is presented in short, memorable, repeated bursts, designed to maximize its impact."
HealthPrize offers its technology as a turnkey HealthPrize dashboard; as a HealthPrize API data feed to a customer's own front-end User Experience; or, as a hybrid, with the HealthPrize dashboard framed on a customer website or fully private-label branded, according to its website.
HealthPrize currently has no direct competitors, said Kottler, although he offered sector entrants Mindbloom, ShapeUp and CareVerge as entrants that are addressing similar objectives.
Kottler, an Ohio native, earned his JD at George Washington University School of Law ('89) and his bachelor's in political science at Middlebury College ('84).
He played founding and/or leading roles in several other biomedical startups, prior to co-founding HealthPrize, according to his Linkedin. VNC