STARTUP Ciari Guitars Inc.'s San Diego-based CEO, Jonathan Spangler, is working his way through Project Music while simultaneously raising capital and preparing to introduce beta models of his advanced fold-up Ascender™ traveling guitar during the June 28-30 Summer NAMM music products event, being held at Music City Center.
The Summer NAMM industry show comes at an important juncture for Ciari, said entrepreneur Spangler, who is also an avid guitarist and a longtime advisor on intellectual property law.
The company describes its Ascender guitar as having the "look, feel and play" of a standard 22-fret electric guitar, but with a symmetrically folded size small enough to toss into a backpack and carry aboard an airplane. Its patented mechanics minimize risk of damaging the instrument or having to do a full string-tuning after unfolding it for play.
With a conventional exterior style that belies its patented tech innards, the Ascender is designed to help the "multi-guitar owner-traveler" relax by playing their favorite instrument anytime while on-the-road, thereby maintaining both their guitar skills and their hard-won fingertip calluses. The Ascender currently comes in three styles, with prices now pegged at $2,500 to $2,800 each, said the CEO.
Spangler's co-founder is COO Bryan Cornwall PhD. In addition, James Lee, who was co-inventor with Spangler on the company's main patent, remains involved as Ciari's principal mechanical engineer.
And, Ciari's marketing, social media and communications are handled by Tommy Benson, who is also host of the "Guitar Gods Power Hour" radio program on 93.5 FM Laguna Beach.
The CEO explained that Ciari has three main objectives for the forthcoming NAMM event in Nashville: First, to raise awareness and active interest in its brands; second, to advance discussions with potential distributors and other partners; and, third, laying the groundwork for pre-production sales of its "kickass quality guitar that folds" via a Kickstarter campaign that is expected to run sometime in the 3Q2018-1H2019 timeframe.
Ciari Guitars' Ascender launch party and live-music demo will be Friday evening, June 29, at The Filming Station (501 8th Ave. S. 37203). The company has on-hand five beta guitars, in three different styles.
Spangler said Ciari's launch comes nearly six years after the product concept crystallized in 2012. Its core patent application was filed in 1Q 2013, and the patent was granted in 3Q 2016.
The company recently began pursuing a minimum $500K Seed raise, which remains underway. The Seed vehicle is the Simple Agreement for Future Equity (SAFE).
The Seed is likely to be followed in 2H 2019 with a Series A round of as-yet undetermined magnitude.
Spangler said the company raised $200K in pre-Seed capital from investors, in addition to a total $100K from founders. Spangler said he had previously invested another $110K for original intellectual property development and feasibility study.
All this activity includes some big moves for San Diego-based Spangler, who joined the Nashville Entrepreneur Center's Project Music innovation program this past April. (Earlier VNC Project Music coverage here.)
However, for those who care most about convincing out-of-state startups to plant their flags in Nashville, there's another momentous step just ahead.
For, as he did for the NAMM Show at Anaheim earlier this year, Spangler has decided to bring his San Diego-based wife and daughter to Nashville during NAMM Summer event.
You should know that Spangler, now 50, spent much of his youth growing up in often-frigid Rice Lake, Wisconsin.
So, he laughed knowingly when asked whether the weather here might be a shock for a family accustomed to the temperate and drier climate of a city located just 20 miles north of Tijuana, Mexico.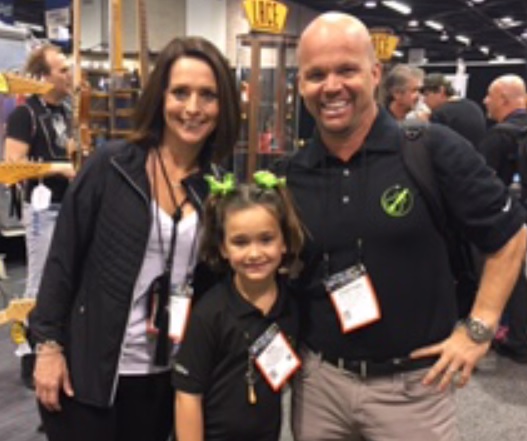 The Spanglers
show Ciari
flag at earlier NAMM Show
Although Spangler acknowledged that his family believes they "hit the jackpot" with San Diego weather, he said "there are many ways to cope with inclement weather." (The SD/NV average-weather charts are here and here.)
Asked to comment with utmost candor on whether or not Ciari is likely to have a significant long-term presence in Nashville, the lawyer-cum-entrepreneur responded without hesitation.
"Thus far," he said, "here's my impression of Nashville: Super encouraging. I've been overjoyed and frankly blown away by the open arms. I perceive it as sincere and I feel like I've got a pretty good radar. I feel like there's sincere support and willingness to help us along."
He said he personally senses that that readiness to help entrepreneurs is Nashville's "secret sauce."
Asked whether on a sheer business basis Nashville might qualify for a key role, he seemed equally candid.
Said Spangler, "It is proving-out very quickly that all the elements of the [Ciari] recipe are in Nashville" and he has become "completely open" to the possibility of Nashville becoming its manufacturing center or even its headquarters, if, as the company evolves, compelling evidence shows that Nashville is the optimal solution over other locations for manufacturing, customer relationship management (CRM) or even headquarters.
With such potential options in mind, the CEO said the company is already having discussions with an array of vendors.
Without ruling-out any other options, Spangler said the Nashville option "looks very promising," then adding with a grin in his voice "and a helluva lot more promising than any [other] place I've been exposed to."
That said, some quick VNC research shows that Southern California also has a storied history of music-industry innovation. More on that here.
Asked about direct competitors in the "travel guitar" segment, Spangler said they are relatively few and disparate.
He cited folding offerings by Voyage-Air Guitar Inc. (Livermore, Calif.) and acknowledged non-folding scaled-down products from such entrants as Journey Instruments (Austin); Martin (Backpacker; Nazareth, Pa.); Taylor Guitars (Baby Taylor; El Cajon, Calif.); and, Traveler Guitar (Redlands, Calif.).
Asked about eventual exit options for Ciari, Spangler said that while all options remain open, an eventual sale to a strategic buyer is one plausible outcome.
Fender Musical Instruments Corporation (FMIC, Arizona and California) or even a revived and refocused Gibson Brands (the iconic Nashville company that recently filed for bankruptcy court protection) could be among an array of hypothetical bidders, Spangler acknowledged.
The CEO then stressed that for the foreseeable future "our first goal is to establish the brand and get some traction. You're never going to get value without creating it," he added.
Asked about retained advisors, Spangler said he personally handles Ciari's intellectual property issues, drawing on his 20 years as an IP attorney and legal executive.
For corporate issues, he turns to Dan Gutierrez at Kunzler Law, in the San Diego area.
He said Ciari's advisory board includes a number of industry notables, including Nashville luthier/guitar tech and inventor Joe Glaser of Glaser Instruments; and, Rick Froio, EVP of Nashville-based Black River Records and former EVP of global business development at Gibson Brands and president of Gibson North America, as well as former SVP-Sales for Warner Music Group.
Spangler confirmed the company's roadmap calls for eventually using its patented technology (USPTO #9,424,818) in additional products -- in a banjo and in both a shallow-body acoustic and a bass guitar, for example.
Given that all Ciari principal executives are currently based in Southern California, Nashville might easily be viewed as the dark horse candidate as future home for Ciari headquarters.
But, beyond Nashville's legendary Music manufacturing footprint and Spangler family preferences, who knows what factors could swing the vote toward Nashville.
For example, unlikely as it might seem, the stature of Nashville and Memphis in HealthIT and Medical Devices, respectively, might conceivably heighten the Ciari team's interest in Tennessee.
One slice of the Nashville pie.
After all, VNC research shows that Ciari co-founders Spangler and Cornwall and co-inventor Lee all have significant experience in the life-sciences sector.
In fact, in addition to the J.D. he earned at University of Dayton, Spangler holds a bachelor's in biomedical engineering from Marquette University.
Spangler also spent 14 years with San Diego-based NuVasive Inc. building, protecting and monetizing that firm's intellectual property, according to his LinkedIn. NuVasive has an office in Memphis.
Furthermore, Spangler has supported a number of life-science startups through his Spangler Advisory Services and as an executive in residence with the Springboard program of San Diego-based CONNECT.
Co-founder Cornwall is a former president of NuVasive-affiliated nonprofit NuVasive Spine Foundation, and he consults to the bio-sector through his Cornwall Bioengineering and Communications. According to his LinkedIn, his clients have included Atlanta-based Startbox OR.
Lastly, in addition to his continuing stake in Ciari, co-inventor Lee confirmed he now serves as director of advanced technology and access for Alphatec Spine (Alphatech Holdings, NASDAQ:ATEC). Lee earlier spent nearly eight years in product development roles at NuVasive, he told Venture Nashville.
Wondering about the origins of the "Ciari" name? Spangler says it's a "combination of Cirrus (high clouds) and Aria (air, melody, tune)". VNC
. Last edited 5:20 pm 13 June 2018 to correct description of sequence of raises.
---