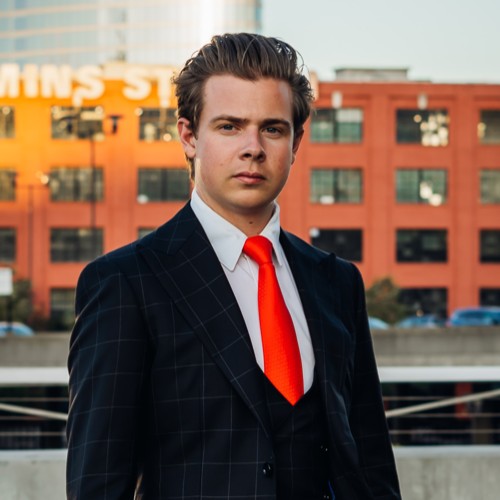 NATHAN RUFF, the Nashville founder-CEO behind Rabbit Inc.'s kiosks for charging mobile devices with its branded Carrot power bricks, confirmed he is pursuing a target-$5MM debt raise and projecting a Series A raise.
Ruff, 25, told VNC he began working on the charger business concept in 2018, registered the company June 21 this year and held the Rabbit launch party in Atlanta a month ago, on Oct. 25.
Rabbit offers businesses its counter-top kiosks that are "slightly bigger than an iPad" and offer charging bricks that are rented to the host shop's customers via card transaction.
Customers may also purchase a Carrot.
Carrots have already penetrated the Nashville market; and, the company projects entering the Miami market soon after Thanksgiving, after it receives further Rabbit kiosks and charging bricks, which are being produced in China.
He said he aims to have Rabbit in 100 markets "in under 12 months," he said. By mid-2020, the company will also be extending its offering to university campuses, he added.
He said the company now has 75 active sites in Nashville, with "hundreds" of engaged prospective local merchants in Rabbit's sales pipeline.
Its Music City marquee clients include Acme Feed & Seed, BB King's Blue Club and a Vanderbilt University site, according to the app this afternoon.
The CEO several times emphasized that Rabbit sees its power-charging offerings not only as a moneymaker, but also essential for users' lifestyle and safety. Special care will be taken to ensure rapid response to any problems with installed equipment.
Ruff, who is the company's majority owner, told Venture Nashville he has $200K of the debt-capital in, with a total of about $3.5MM he considers "circled."
Earlier, he conducted a traditional Seed raise, which brought $220K from three investors.
He said he currently plans that a Series A would only be open to holders of the debt now being raised. Those participants' debt holdings are to convert to equity upon completion of an A-round.
The company shares current power-brick rental and sales revenue streams with host merchants and will also future revenue from on-kiosk advertising and promotion.
Ruff said he expects to execute a very sizeable organic growth opportunity in its core business after its Series A.
At this time, Ruff said that because of the cashflow he believes the company will generate, he is not likely to pursue a Series B raise unless Rabbit opts to pursue add-on opportunities that involve internet of things (IoT) opportunities for partners to use the Rabbit platform to unlock additional value.
He said the company has taken steps to secure some intellectual property related to its brand elements, and some related to potential opportunities in the mobility space.
The company has 5 FTE currently, plus two additional contractors who are transitioning to fulltime roles. Inbound talent includes a CFO. Citing competitive caution, he declined to have team members identified in this story.
Asked about exit options, Ruff said hypothetically all options remain on the table for coming years, while his short term goal is to run a profitable company that capable of operating independently in ways the owners direct.
Ruff said that although there are a number of companies with large freestanding charging kiosks and others directly selling power bricks, he sees no direct competitors for small kiosks for renting power bricks within retail establishments.
In 2017, Ruff shifted his day-to-day attention from a collaborative network of web developers, which he had previously created under the OneNine brand, which he established at age 18. He said the collaborative had served about 400 clients, has hosted 250 sites and it continues to operate.
The company has some dedicated office space in Nashville's Edgehill community, the CEO explained, while most of the team works remotely.
Rabbit's formal outside advisors include Chase Cole of Waller Lansden, said Ruff. His accounting is handled by Steve Brown of Brown & McGuire CPAs, in Melrose. The startup's banking is with Pinnacle Financial.
He said he has also been informally advised by Matt Bodnar, the local entrepreneur and investor associated with Fresh Capital Group and Fresh Hospitality; and, by Jimmie Strong, an associate with Baker Donelson.
Though born in Hot Springs, Ark., Ruff said he has lived in Nashville since he was a year old.
He was presented his first computer at age 12 and immediately focused on the Internet, rather than on software. He skipped college, altogether. His LinkedIn is here.
His father is an IT consultant and his mother a professional artist. VNC
. last edited 1753 25 November 2019
---