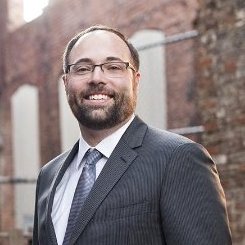 Josh Rosenblatt
JOSH ROSENBLATT on Jan. 1 became SVP for corporate development and general counsel for BTC Inc., the Nashville-based flagship for a cluster of blockchain, cryptocurrency and other tech-centric businesses and alliances, in an enterprise led by Co-Founder and CEO David Bailey.
In addition to its founders, BTC is backed by U.S. and international investors, including Shanghai-based Fenbushi Capital (more on the VC here).
It's worth noting that although Rosenblatt might well have been on the path to partner status in his former firm, Frost Brown Todd, he opted instead to join a startup moving ever-deeper into the disruptive blockchain and digital-currency arenas.
Fortunately, industry veterans in any field often become somewhat inured to volatility.
Even so, today's massive decline in the market values of Bitcoin, Ethereum and Ripple cryptocurrencies inevitably serves as a fresh dose of reality for all involved -- even if their involvement is limited to relatively tame non-currency applications of private or permissioned distributed ledger technology.
Prior to joining BTC, attorney Rosenblatt, now age 34, was managing associate within the Nashville office of Louisville-based law firm Frost Brown Todd. He was also head of FBT's Blockchain and Digital Currency team; and, he was a managing director of BlackLine Advisory Group (BlackLine Payments Advisors), a strategic fintech consultancy closely allied with FBT.
Rosenblatt told VNC that FBT remains BTC's lead law firm.
Rosenblatt said his corporate development role will span M&A and other inorganic transactions that can help the company create and commercialize a multi-vertical "ecosystem" around the blockchain and cryptocurrency-oriented platform that BTC has established.
He also acknowledged that BTC has considered creating a fund that could invest in ventures, products or forms of currency, whether involving platform tokens, crypto-currencies or Initial Coin Offerings (ICOs) and related opportunities. He would not elaborate on the status of that fund-development effort.
VNC notes that in 3Q2017, BTC announced during its Distributed:Health conference in Nashville that it would consider investing $2MM through its Storyboard Ventures for stakes in companies, including those it helps incubate.
Also in Summer 2017, BTC, which said earlier that it had raised $1MM in Angel capital for Po.et, succeeded in attracting $10MM through a digital-currency sale.
Po.et, developed in BTC's Labs unit, is a platform for documentation and execution of transactions involving licensable digital content assets. The projected timeline or roadmap for Po.et's further development and commercialization shows numerous milestones just ahead in CY18.
BTC Inc. began operations in 2014 as a producer of ad- and sponsor-supported print and online media and related conferences focused on Bitcoin and other digital currencies. It then built a parallel focus on adoption and commercialization of blockchain or distributed ledger technologies. BitcoinMagazine.com, yBitcoin and Distributed.com are currently the lead properties of its BTC Media unit.
In 2016-17, BTC mounted five major blockchain conferences in the Healthcare (in Nashville), Trade/Logistics (in St. Louis) and Markets/Financial (Atlanta) sectors. BTC has yet to announce its 2018 calendar.
Nor has the company broadly announced its plans for Digital Devsub, a unit BTC has said will help "great developers become great blockchain developers" by providing tutorials, protocol updates and other content in support of engineering teams.
FBT staff today confirmed that FBT's Blockchain and Digital Currency team is now co-chaired by FBT Members John Wagster and Gray Sasser. BlackLine Managing Director Howard Herndon is also listed as a member of the FBT Blockchain legal team.
For more on Rosenblatt's and FBT's roles in the blockchain sector, particularly in Nashville, see this earlier VNC report.
In 2010, Rosenblatt earned both his J.D. at Vanderbilt University Law School and his MBA at VU's Owen Graduate School of Management. In 2005, he earned his bachelor's at George Washington University, with concentration on political communications and economics.
Prior to joining FBT, Rosenblatt was with Waller Lansden, where he focused on securities and M&A deals.
Notably, within the past year or so, Waller formalized its own blockchain-cryptocurrency team. That team is led by attorney Kristen Johns.
Elsewhere: Partner Jason Epstein in Nelson Mullins' office here is chair of the firm's Blockchain and Digital Assets Group, among his other duties.
Other Nashville attorneys are exploring the space. For example, intellectual property-focused attorney Andre 'A.J.' Bahou of Bahou Miller serves a number of blockchain-centric clients.
Music City Legal Hackers, an initiative of the Program on Law & Innovation at Vanderbilt University Law School, has held several programs with portions focused on blockchain. Larry Bridgesmith JD, co-founder and CEO of startup Legal Alignment, coordinates MCHL for the Law School, where he is an adjunct professor.
In addition: Some local lawyers are typically among the throngs that convene for meetings of the Nashville Blockchain Meetup, which meets again Jan. 24 at Nashville Technology Council's conference center.
The local meetup has been sponsored in the less than 18 months since its inception by FTB, BTC and Hashed Health. VNC
. last edited 18 Jan 0738 1708 CT
---