SCOTT BORUFF, the Knoxville entrepreneur with hard-won experience in Oil & Gas and Real Estate sectors, expects to raise more funding for expansion of Healthcare Integrated Technologies (OTCMKTS:HITC), the nanocap software and data integration platform he leads as CEO.
Roughly four years since the business was conceived, Boruff this week told Venture Nashville that HITC is nearing beta-customer usage of the company's debut B2B solution.
HITC's "SafeSpaces" silent resident fall-alarm software and device are for B2B sales into multi-unit continuing care retirement communities.
Boruff said the pre-revenue startup has thus far employed about $1.25MM in capital. He confirmed HITC filed earlier this week on a $125K net-proceeds raise, for audit-related working capital. The small placement was taken by strategic investors, he said. The stock recently traded at about $0.31.
The CEO acknowledged the company is considering raising perhaps $2MM-$5MM, probably in the form of convertible preferred debt. That raise would support fulfillment and onboarding of initial customers.
Some prospective customers with hundreds of community units each are now being enrolled for 30-day commercial-beta tests on small increments of their large communities. Business development efforts are focused on senior-care corporate leaders, rather than on selling into individual units.
Its first beta site, in New Jersey, is to go-live in August and revenue from beta conversions is projected beginning in 3Q 2020.
Boruff explained that HITC aims to become a senior-care data and analytics hub and channel for device solutions, training of AI and more. Establishing itself in that position would secure its role as "a software-integration backbone and sales channel to an established customer base" for partnering vendors with mature market-vetted products and related services.
The company is navigating a highly detailed Senior Care Market Map, said Boruff. He added that projections of the U.S. over-65 population compounding at a 2% rate annually for 30 years, while spending on continuing care retirement centers is projected to rise from the current $192BN per year to $261BN through 2026.
Asked about competitors such as Best Buy's expanding senior-care products and services business, Boruff said many related Best Buy products would actually be good additions to the HITC platform.
Best Buy (NYSE:BBY) has for several years forecast expanding health-related revenue. Between October 2018 and August 2019, Best Buy (which also owns tech field workforce GeekSquad) acquired senior-care sector entrants GreatCall (for a reported $800MM cash), Critical Signal Technologies ($125MM net cash) and wearable-sensor producer BioSensics ($21MM). VNC research indicates these buys report within Best Buy Health.
HITC's SafeSpaces offering is used to deploy a layout-aware AI- and analytics-informed network of radar imaging sensors in residents' quarters, in order to detect and electronically report suspected falls to customer-caregivers' dashboards. Images of those monitored are rendered in dot-matrix form, rather than as video, in the interest of privacy.
The HITC dashboard -- branded Ambient 1.0 -- is paired with the wall-mounted SafeSpaces device, which is about the size of an electronic picture frame.
The monitoring system does not require residents to wear pendant, lanyard or wristwatch alarms, which are often forgotten or abandoned by residents. The wearables sector has numerous entrants.
With HITC's offering inplace, detected signals that suggest a resident needs help quickly produce alerts to staff monitoring the system's dashboard and-or generate phone calls and-or text messages until connection with a human responder is confirmed.
HITC's proprietary software was acquired via the company's March 2018 acquisition of Indeliving Holdings. The platform's analytics allow gait analysis, movement patterns and other signals that may be associated with medical or well-being conditions.
As HITC previously announced, its wall-mounted monitoring device is "powered by" Yehud, Israel-based Vayyar Imaging LTD, which is focused on intelligent imaging and 4D radar technology.
VNC research shows that Vayyar -- which has raised about $200MM from U.S. and Israel institutional investors since its founding in 2011 (Crunchbase), markets its wall-mounted offering into the consumer-residential marketplace under the brand Walabot.
Boruff said he understands Vayyar's current priorities include breast cancer detection and automotive applications, among other targets not competitive with HITC's offering. VNC research shows that Vayyar's registered U.S. trademark describes a wide range of human and vehicular tracking, monitoring, surveillance and other AR/VR applications of its offerings.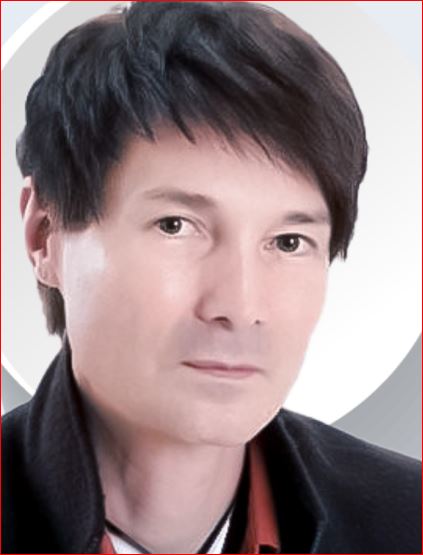 CTO Ken Greenwood
In addition to Boruff, the company's onboard FTEs are Charles Lobetti, its CFO. Kenneth Greenwood is HITC's chief technology officer. Brad Pruitt leads account acquisition.
Boruff said that, as yet, he has not made a decision regarding mandating an investment banker for a future capital raise, though he is varying stages of discussion with a number of potential advisors.
Outside advisors currently onboard include Nashville attorney Steve Mills (Nashville); patent counsel Jurgen Vollrath (Portland, Ore.); audit and accounting are with Rodefer Moss (Brentwood); banking is with Mountain Commerce Bank (Knoxville); and, brand management and marcom are with health- and wellness-centric BrandMETTLE (Nashville). BrandMETTLE helped open the New Jersey market opportunity, said Boruff.
Boruff aims for HITC to play a significant role as purveyor of technology, devices and services to aging Americans -- particularly those who intend to "age in place" -- and their caregivers. He makes clear he thinks HITC could eventually play a role structurally akin to that of Amazon in the senior care B2B enterprise space.
That said, Boruff is no startup greenhorn and knows the ups-and-downs of entrepreneurship.
He is widely known as having held executive chairman and CEO roles within Knoxville's Great Recession-stressed Miller Energy. The record shows he took that company from the non-reporting pinksheets to a fully reporting company on the Big Board of the New York Stock Exchange (NYSE:MILL) -- but, he was later obliged to exit and watch the company file in 2015 for bankruptcy protection, after reaching agreement with then-backers Apollo Global Management and Highbridge Capital Partners.
In July 2015, the SEC gave notice of its decision to delist the company's offerings, which delisting was implemented the following autumn.
Miller Energy was required by the SEC to pay a $5MM fine. The company's auditor at the time, KPMG LL and a KPMG partner, were required by the SEC to pay more than $6MM in disgorged audit fees, interest and penalty, the SEC announced at the time. In its order of August 2017, the SEC cited failings of the auditors, censured KPMG, restricted the partner's practice for a period, and cited such additional factors as insufficient industry experience by Miller Energy management and other faults.
Boruff said he is prepared and generally accepting of requests to review the Miller Energy story, as he did for this story.
He has no stake in the reorganized company, now known as Glacier Oil & Gas, which continued daily operations, and is still focused on offshore and onshore oil production on Alaska's North Slope and Cook Inlet. It has offices in Anchorage and Houston.
Glacier's website today shows directors including former Alaska Governor Sean Parnell and two executives from HPS Investment Partners (originally a division of Highbridge Capital Management, within JP Morgan Asset Management).
The 57-year-old CEO acknowledged that, whether or not HITC's growth-rate stretches out as he currently projects it doing, options for possible exit to a strategic bidder could come within three years.
Right now, he said he remains focused on building a solid public company. Though still a pinksheet, the company is now audited, reporting fully and timely, and preparing to seat its board of directors -- all with the discipline required of a NASDAQ- or NYSE-listed company, Boruff emphasized, adding that there are certainly scenarios for the company's rise to those exchanges.
He said he retains interests in commercial real estate, with active commercial project underway now in Alpharetta, Ga.; and, according to his LinkedIn profile, he remains manager of both real estate-oriented Platinum Equity and Own Shares LLC, the latter a holding company for interests in hospitality and entertainment sectors.
Boruff was previously an owner of Dimirak Securities and a director of real estate-oriented Cresta Capital Strategies. Boruff earned a bachelor's degree in business at East Tennessee State University.
The business that became Miller Energy Resources was founded in 1967 as Miller Petroleum Inc. by Boruff's former father-in-law, Deloy Miller. That original company went public via a reverse merger in 1996 and, in 2011, it changed its name to Miller Energy Resources.
Miller confirmed for VNC today that he remains active in another firm he founded in 2015, Millco Energy Consultants, based in Huntsville, Tenn.
Boruff's late former wife, Shannon Boruff, died in 2009 of cancer after six years of treatment, Boruff confirmed.
Boruff and wife Julie Boruff reside in Knox County. Together, they have seven children. VNC
. last edited 1553 19 July 2020
---