Feelings run deep among venture-capital executives who believe the state is doing far too little to advance high-growth sectors of the Tennessee economy.
In the face of that energy, Tennessee Technology Development Corporation President Eric Cromwell is working to keep the lid on, and win VCs' support for furthering a "dialogue" with state government officials and legislators, with an eye toward balancing a host of issues and passions.
A two-day TTDC Tennessee Innovation Conference held here Nov. 20-21 made clear that that "dialogue" will include TTDC and its allies offering Gov. Phil Bredesen and the General Assembly a plan for tech-driven economic development.
The event also provided a public opportunity for the venture-capital community to validate the the TTDC agenda, and to further strengthen a cadre of advocates who favor accelerated development of high-growth, venture-backed businesses in Tennessee.
During the conference, Petra Capital Partners Managing Partner Mike Blackburn was among those offering opinions on these issues, during a session that marked the first public gathering of TTDC's Tennessee Capital Formation Board.

Blackburn (at left)said he senses there are few, if any, Tennessee policymakers who "feel any real need to support" venture and private-equity funds based here. In his brief and pointed comments, Blackburn attributed the current state of affairs to policymakers' lack of awareness of the valuable economic role of venture funders; excessive emphasis on luring companies to relocate here from other states; and, failure to emulate practices that have led to expansion of high-growth industries in other states.
Those comments seemed reminiscent with a 2006 report from New Economy Strategies, in which the economic-development consultant said Tennessee is widely perceived as having "a shortage of entrepreneurial-minded people and an absence of an 'entrepreneurial culture'," with the state's current culture viewed as "parochial and conservative." The consultant also said the private sector must not rely on state government to fuel much-needed collaborative efforts.
Worth noting is the fact that earlier this year Blackburn's firm received a $4.5 million from the Arkansas Institutional Fund and $5 million from the Iowa Capital Investment Corporation, agencies that leverage a Small Business Administration venture-capital programs. Both the investments oblige Petra to explore possible investments in companies in those states, in the healthcare-business and information services sectors.

Blackburn said that, despite "the big headlines" that accompany news of Tennessee's industry-recruiting coups, "it looks to me like a lot of money gets spent on economic development in industries that are not growing." He questioned the ultimate wisdom of states competing to take jobs from one another, creating dubious economic benefit to the nation by shifting states' assets around. "What is the motivation?" Blackburn asked.
Those who manage Vanderbilt University's nearly $3.5 billion endowment were also the object of some VC frustration during the TTDC event.

MB Venture Partner Managing Partner Gary Stevenson (at right)raised the oft-heard story about Tennessee VCs being asked by out-of-

state investors why, if the local VC firm and its funds are so strong, Vanderbilt doesn't invest in them. Instead, Vanderbilt is believed to invest via dozens of large funds, including Kleiner Perkins Caufield & Byers, (in which Nashville resident and former Vice President Al Gore is a partner).

Vanderbilt officials reached Nov. 24 by VNC offered no comment when asked about these matters, citing confidentiality, and referring VNC to the university's recent financial report. The report says VU policy aims for allocation of 15 percent of its assets to private equity markets (that allocation stood at 18.3 percent, as of June 30).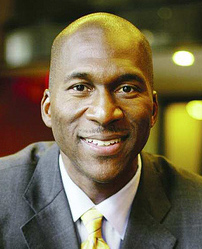 Thus, it remains unknown whether or not Vanderbilt portfolio managers led by Chief Investment Officer Matt Wright(at left)currently deem Tennessee VCs up to the task of serving them. A comment in Wright's annual report regarding his strategy of "increasing the portfolio's global breadth within a risk-controlled construct" does not seem to increase the odds in favor Tennessee VCs.

Stevenson also mentioned, but did not dwell upon, VCs' previously reported concern that they may be crowded-out by mega-fund managers out of state, when the Tennessee Consolidate Retirement System begins to exercise its recently legislated freedom to invest in private equity funds. Stevenson said VCs don't expect to receive a "preference," and simply want not to be excluded from playing fund-manager or advisor roles. (MBVP will soon have more funds of its own, story here.)

During the Nov. 20 session, Cromwell typically responded to provocative comments by emphasizing ways to bridge

the interests of all parties, inside and outside government. For instance, Cromwell stressed that TTDC seeks during the next 18 months to serve as a "trusted advisor" to state economic-development, pension-investment and other agencies, in an effort to both enhance traditional industry recruitment and create new tools for cultivating high-growth industry in a state that, according to Cromwell, has no laws on the books to proactively support expansion of research or capital formation.
Cromwell (at right) did state that, at least with regard to targeting high-growth industries, "when you look at intentionally designed development strategy...we [Tennessee] have not been a player."
Cromwell explained TTDC is working hard to create a network of unprecedented strength and complexity, to unite stakeholders in government, research and development, venture capital and entrepreneurship. When that "alignment" of groups and interests have been framed-out, Cromwell promised that TTDC will begin rolling-out a proposed state action and funding agenda for high-growth industries and overlal innovation.
Pension-fund officials have previously warned that if there arises pressure for TCRS to weight its decision to "earmark" funds for Tennessee firms or to support economic development, rather than keeping the focus on earning optimal returns on pension assets for the state and local governments and education customers served by TCRS, then TCRS might make in-state investments entirely off-limits.

Coleman Swenson Booth Managing Partner Larry Coleman (at left) echoed Blackburn's concerns, telling the task force that investors around the country "realize there's a lot of opportunity in the Southeast," but within Tennessee, itself, too few share that perception or are willing to act on it.
Several speakers agreed with Coleman and with Meritus Ventures Executive Vice President Grady
Vanderhoofven (at right) who noted that while Mississippi, Arkansas and some others states "have less raw material to work with," those states have been "proactive" in supporting high-growth investment.
Coleman said his view of the matter was reinforced earlier this year, when the VC community and others successfully repelled an effort by State Revenue Commissioner Reagan Farr to remove franchise and excise tax exemptions currently allowed family-owned non-corporate entities.
Coleman and others say a repeal of the FONCE exemptions would make Tennessee venture funds and other businesses less competitive. During state budget hearings in November, Farr made clear he has resumed his efforts to close what he describes as a "loophole" in state law. Reports indicate Farr is supported in his perseverance by former healthcare entrepreneur and now-Gov. Phil Bredesen.
Coleman and other present noted that attracting limited partners and other investors from outside the state multiplies the economic impact of individual ventures. However, said Coleman, "retention" of high-growth ventures is key in the longer run, and companies that receive most of their funding from VCs and others outside the state are not as likely to remain in Tennessee. Moreover, he said, in-state investors are more likely to "take a flier on the science" on which a startup builds its products, because they can monitor their backyard portfolio companies more closely than if the VC is based, say, on the coast.

Underscoring the importance of imported capital, Chris Kyriopoulos (at left), recently founder of public-equities manager Compound Capital Management, stressed, as have others previously, that Hospital Corporation of America - credited as the flywheel of Nashville's healthcare leadership - started with venture-capital investment, and "the lion's share of investor capital came from NewYork." Kyriopoulos also stressed that HCA, which in 2009 will observe the 40th anniversary of its initial public offering, has spawned a huge pool of talent and spin-off ventures, during the 40 years since its founding with venture backing, in 1968.
Even so, Vanderhoofven noted that with so much buyout capital coming into the state from elsewhere, Tennessee's in-state pool of capital is growing only slowly, and is not being "recycled" within the state to strengthen the state's economy.
Blackman said the state should take display a greater sense of ownership of the sector, by taking a "portfolio" approach tocapital formation, devising initiatives that help spur investment in startups and early-stage companies. In addition, he said, high-growth stakeholders should do more to raise public awareness regarding the fact that venture and private-equity investment create valuable jobs and other benefits.

Andrew Seamons (left), managing partner of Pittco Capital Partners, agreed steps must be take by the industry to create understanding of private equity investments as a "valued asset class." Seamons added that VCs must also learn more about Tennessee research, development and entrepreneurial activity. He noted that TTDC's innovation conference led him to learn of some "centers of excellence" at Vanderbilt and at East Tennessee State University for the first time. (Conference agenda pdf, here.)

Tom Wylly, (right) who is both chairman of Nashville Capital Network and senior partner in Brentwood Capital Advisors,
observed during the forum that addressing these and related issues is becoming more critical, as economic pressures lead venture-capital firms to move "upstream" to acquire stakes in larger companies. That migration leaves seed and early-stage entrepreneurs facing a steadily widening gap of funding. Other observers have noted that angel groups such as NCN seem to have begun focusing on more mature companies, as well, in the current buyer's market.
Wylly's NCN seems likely to play a key role in TTDC's increasingly aggressive work. During the conference, TTDC Vice President Dan Schmisseur several times referred to the acumen and network TTDC sees in NCN, which he said can help "illuminate the path" for venture-backed development.

The current harsh macroeconomic climate inevitably colored the capital-formation discussion, but in reality the credit crunch got no more airtime than federal Sarbanes Oxley regulations and the tightly closed window for Initial Public Offerings. (Without IPO options, said Pharos Capital Group Managing Partner Michael Devlin (at left), "The early-stage venture capital model is to some extent broken.")
In that broader context, the most confident comment of the day was probably offered by Seamons, who said he believes that, notwithstanding the current peril, the U.S. brand of capitalism represents "an advantage that will be hard to lose, anytime soon."

For further detail on specific recommendations that surfaced during the Tennessee Capital Formation Board meeting and related initiatives, please see the companion story, here. For earlier reports on TTDC, please click here. ♦