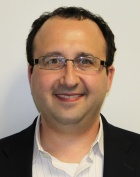 Updated: In 1Q19, the company announced buying TruePoint Partners, which supports bank lending compliance. In May 2017, it acquired Supernal Software. The company changed its name in May 2015 to Ncontracts.-Ed.
Lawyer-turned-entrepreneur Michael Berman is using lessons he learned as corporate counsel at Goldleaf Financial Solutions to drive Network Contract Solutions LLC, a Brentwood startup.
Berman, 35, told VNC that challenges he faced in keeping track of Goldleaf's (NASDAQ:GFSI) numerous vendor contracts led him in January to launch his LLC and to raise capital among local angel investors.
He declined to say how much he raised during the company's angel round, but explained that consultations with investors led to a "double-dip" offering had both interest-bearing and preferred equity aspects.
Berman supported himself during the ramp-up by continuing to provide legal services to local companies, as he had done since he and Goldleaf parted ways after seven years, when Goldleaf moved its headquarters officially to Gwinnett County, Ga. Apart from Berman and a platoon of tech workers supporting Goldleaf's legacy products, most of the GFSI management team had been in the Atlanta area for years.
Network Contracts allows clients to archive, manage and extract data from contracts and other agreements stored online. Berman said the service helps companies more effectively monitor deadlines, negotiate better vendor relationships and other tasks.

Network Contract's wares are offered mainly to chief financial officers, because, said Berman, "They're the ones who experience the pain the most... They'll most readily understand the pain and the money that can be saved by implementing" his company's systems, sooner rather than later.
Thus far, the company has signed three Tennessee clients, which Berman declined to identify. He said NCS services are building implemented for those clients now, and the first should come online by June 15. He indicated that some sales revenue has been realized during the past 60 days.

Berman stressed that he has recruited an advisory board that he will rely heavily upon for "warm leads" and door-opening to major prospects. The eight-person board includes Tom Black, erstwhile CEO of Private Business Inc. and now CEO of the Tom Black Center for Selling; former Goldleaf Chairman Carl Brasser; and, former GFSI CFO Scott Craighead.
Berman and Knoxville-based EVP-Sales Kimberli Sheets are the companies sole full-time payroll employees, with other functions being performed by seven independent contractors, including sales reps in Tennessee, Georgia and Florida. Berman said he divides his time among technology oversight, sales and administrative duties, including some that might be handled by corporate counsel in a larger firm. Brian Hiatt, a former CIO for Private Business Inc. serves part-time as EVP for Technology.
NCS outsources some functions via such local firms as Decosimo for accounting; Harwell Howard Hyne Gabbert & Manner and Stites & Harbison for legal services; Peak10, for web hosting and Internet; and, DeepWell Software for software development.
Berman, who says he has no interest at this point in working within another publicly held company, due to compliance burdens, said that his exit strategy is to build valuation for owners and investors, earn access to bank financing and then, if warranted, entertain purchase offers.
Prior to his stint at Goldleaf, Berman was general counsel for Springfield, Mo.-based Techniflex (now BancSource) and former Atlanta-based Imagic Corp., which has since been sold.

He earned his J.D. at the University of Tennessee College of Law and his bachelor's at Cornell University. Chicago-born, his family moved to Nashville when he was an infant, and he later attended University School of Nashville. His father was an anesthesiologist at Vanderbilt University Medical Center. ♦