TECHSTARS Industries of the Future Accelerator (TIFA), which is led in Knoxville by Managing Director Tricia Martinez-Saab, has now inducted a total 20 companies into two successive cohorts, with its second cohort announced earlier this month.
Update 14 June 2023: A UT spokesperson said June 13, "Techstars Industries of the Future Accelerator will have a third cohort and information regarding a new director will be forthcoming at a later date." The TS/IOF Summit is set for June 21 and includes presentations described in this PDF. Signup for the 2023 Summit here. Earlier update 18 April: Martinez-Saab announced she will soon return to Chicago as Managing Director for Techstars Chicago Powered by J.P. Morgan!
Aggregated, each of the companies that are members of the two cohorts has come from one of 13 U.S. states or from Canada, England or Peru*.
There have thus far been no Tennessee-based businesses admitted to the TIFA program and VNC has yet to identify a current or former cohort member with active plans to establish permanent presence in Tennessee.
Companies admitted to TIFA's 2023 cohort are listed below in this story. Last year's 2022 cohort is here.
Particularly in the current venture and economic environment, the Tennessee sponsors of the TIFA initiative are betting somewhat on-the-come, i.e., projecting with a degree of confidence that Techstars'expertise, drawing-power and involvement in the local ecosystem will produce out-sized benefits, directly and indirectly.
The primary local sponsors of the initiative are Oak Ridge National Laboratory (ORNL), the University of Tennessee System (UT), and Tennessee Valley Authority (TVA).
While the trio of TIFA sponsors' goals include the heightened development of jobs and other economic impact within the technology-intensive sectors of the Tennessee economy, the TIFA team -- members of which seem to have quickly established themselves as valued members of the ecosystem, in their own right -- has long made clear that it leaves state and regional economic development to TIFA's "Big 3" sponsors and others.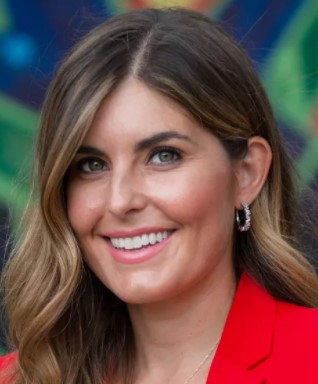 Tricia Martinez-Saab
Martinez-Saab reaffirmed for VNC yesterday that sponsorship agreements now in-place support only the initial series of three cohorts, executed over about three years, including the two cohorts that have accepted a total 20 startups.
A deadline for application to the third cohort has not yet been announced.
VNC this morning queried staffs of the Tennessee Department of Economic and Community Development (TNECD) and Tennessee Technology Development Corporation dba Launch Tennessee, asking whether there are additional ways to heighten the odds that TIFA alumni who originated outside Tennessee will maintain a business presence in Tennessee. We also asked whether it would be worthwhile to help actors in the existing Tennessee ecosystem discover more competitive native-Tennessee companies and direct them toward TIFA.
LaunchTN CEO Lindsey Cox replied, "We certainly support the work that Techstars is doing, and we are proud that they are a part of all the offerings we have in Tennessee to drive the commercialization and development of highly sophisticated technologies. We will continue to look for opportunities within the programs that LaunchTN and our partners manage to work together and encourage participation from Tennessee companies."
Actors in the Knoxville-OakRidge ecosystem with whom we have spoken in the past year invariably seem to value the expertise, commitment, impact and, yes, candor of Martinez-Saab.
Her already substantial reputation in venture circles is likely to rise further, given that she is now launching a tech-news platform called MXA.tech, through which she says she aims to "demystify" Deep Tech and ventures for investors and others. She is also personally an active investor and an in-demand speaker, as indicated by her personal website here.
In addition, Martinez-Saab has also recently led the Techstars Payments Accelerator (which recently held its 2023 Demo Day) and other initiatives.
Also, she and husband Samer Saab, an engineer who is SVP-Product for Alloy Labs Alliance, reside in Knox County with their infant child.
Here are the members of the Techstars IOF Accelerator 2023. Note that names of each participating team's enrollees have not yet been released. Based on VNC research, we have included below names of founder(s). VNC welcomes guidance and updates from readers.

Update 14 June 2023:
► Allosense (San Antonio) is making sensors and measurement systems, with emphasis on electric vehicle (EV) battery manufacturing, test automation, and logistics. Founder-CEO: Roman Sandoval. CEO commentary. Crunchbase.
► Crow Industries (Scottsdale) is building a fully autonomous robotic labor force that will enable vital mineral producers to exceed production targets while keeping human workers safe, under the harshest conditions. Founder: James Crowell. Crunchbase.
► Eolic Wall (Lima, Peru) provides homes, communities and businesses with cheap and highly efficient on-site wind energy to reach net-zero. Founders: CEO Alfredo Calle PhD, CFO Natalia Cardenas.
► ExLattice (Raleigh) addresses additive-manufacturing users' build-preparation and setup challenges with physics-based analytics, AI and manufacturing-simulation solutions. Co-founder CEO: Runze Huang PhD. Coverage.
► HyperTunnel (fka FactualVR Inc., Jersey City, N.J.) is enabling synchronous and asynchronous collaboration between workers at remote physical sites and domain experts available via centralized digital twins on a mixed-reality software platform. Founder-CEO: Eduardo Neeter. Coverage. FB visuals.
► Laminar Scientific (Iowa City) says its ocean wave-driven energy device and surrounding components and services supports even small operators. Founder-CEO: Narayan Iyer. WeFunder page here. SEC filing.
► Raev (Philadelphia) offers shared small electric vehicles for use on a pay-per-drive basis for short trips. Also 2022 Spark Innovation Center Spark CleanTech Accelerator member. Co-founded by David Castley.
► Team Wildfire (Boulder) affords users technology and tactics for fighting wildfires. CoFounder CEO: Steve Wolf. F6S page. Background.
► Undesert (Los Alamos) helps produce electrical power, deionized water, and dry salt with no liquid waste (Zero Liquid Discharge, ZLD). CEO: Nicholas Seet. F6S profile. TechCrunch.
► Wing Driver (Wilmington, Dela.; Porto, Portugal) augments driver safety with computer vision and AI functionality for mobile-OS environment. Founder-CEO: Andre Azevedo. Crunchbase.
The TIFA initiative was designed and launched in 2022, following Techstars' 2021 submission of a report on the Knoxville-Oak Ridge entrepreneurial ecosystem, an assessment that was commissioned by the aforementioned sponsors that now sponsor the TIFA program.
The 2021 Techstars ecosystem evaluation underscored both strengths and weaknesses of the Greater Knoxville Area's entrepreneurial ecosystem. Notably, the matter of "deep tech" was cited once in the 2021 report (p. 11): "Most of the Tennessee-based funds are also conservative in their investment approach, which doesn't necessarily align with the needs of deep-tech startups coming out of UT or ORNL that require long R&D times and capital investment."
* Origins of the 2022 and 2023 companies accepted to TIFA: Arizona(1), Canada(1), Colorado(2), England(1), Florida(1), Georgia(1), Indiana(1), Iowa(1), Massachusetts(1), New Mexico(1), New York-New Jersey(2), North Carolina(4), Pennsylvania(1), Peru(1), Texas(1).
Previous VNC coverage of Techstars Industries of the Future Accelerator here. Resources re: Deep Tech: 1 | 2 | 3 | 4 | VNC
.last edited 14 June 2023 1436 cdst
---