Genera Energy Inc., dba Genera, has secured "more than $118MM" in new investment to develop its first manufacturing facility for production of its Earthable® agricultural fiber-based paper and packaging products, according to Kelly Tiller PhD, the company's president and CEO.
The round was anchored by an equity investment from WindSail Capital Group, the Boston-based growth capital investor that specializes in sustainability and energy innovation. WindSail partnered with investors Coppermine Capital (Concord, Mass.) and Stairway Capital (Long Island) for the Genera financing, which overall has both equity and debt components.
In an interview yesterday with Venture Nashville, Tiller confirmed that the company projects Earthable will be nothing less than "the largest [vertically] integrated, domestic solution for ag-based fiber and food-grade packaging in the United States, designed to meet the growing, consumer-driven demands for more eco-friendly products in the food and consumer industries."
What could over the years prove to be the first of a number of regional Genera production plants is located in Vonore, Tenn., not far from Knoxville and Oak Ridge.
In partnership with the region's farmers, Genera uses such locally grown crops as switchgrass and biomass sorghum to supply customers the biomass fiber material they need. Genera is continually scouting for additional feedstock growers.
Tiller noted that, in contrast to the longer supply-chain paths associated with woody pulp production, Genera's focus on biomass grasses and other crops is likely to lead the company to establish multiple Genera production hubs that have much shorter supply radiuses.
Genera has over the years sourced about a dozen different feedstocks originating in a like number of states, producing on-the-ground experience within Genera's core team that is vitally important when picking markets to enter, said Tiller.
With the commissioning of the Vonore facility, Genera "will have the capacity to produce 100 tons per day of unbleached pulp, a portion of which will be diverted to our integrated thermoforming operation to produce finished molded fiber products, with the balance sold as wet lap market pulp," she told VNC.
Genera's Earthable® fiber products are used to produce towel, tissue, cupstock, to-go containers, compostable tableware and other products. Earthable products represent a sustainable alternative to products derived from plastics and polystyrene, including, for example, DowDuPont's STYROFOAM™.
The Earthable.com URL currently takes visitors to Genera's main site.
The Vonore facility is leased from TennEra LLC, a bio-mass to bio-fuels subsidiary of the University of Tennessee Research Foundation (UTRF).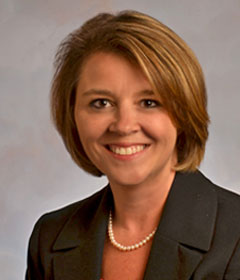 Stacey Patterson
UTRF is among individuals and institutions that hold a stake in Genera, VNC confirmed today in an exchange with Stacey Patterson, who is president of UTRF and University of Tennessee vice president for research, outreach and economic development.
Yesterday, Patterson was quoted in a Genera release saying, "We are excited for the positive rural economic benefit of Genera's fiber production facility in East Tennessee and beyond, furthering UT's land grant mission."
Tiller told VNC that with the Vonore manufacturing facility now green-lighted, her core staff of roughly 10 FTE will soon be augmented by 80 employees.
Current and prospective customers are signalling levels of demand for Earthable products that seem to indicate "a good opportunity to grow beyond this initial stage," which could lead to expanding the Vonore workforce to a total 120 or more, she confirmed.
Tiller several times emphasized that Genera's immediate, undiluted focus is on revenue growth and successful execution on the Earthables line of business.
However, she also explained that Genera has almost from its inception monitored and assessed a wide array of market trends and opportunities, and the company does have additional targets in mind, each of which could represent opportunities for further outside investment, in due course.
The company welcomes approaches by sector-savvy investors and strategics whose business objectives align with Genera's mission. After the Vonore facility is optimized, Genera can expand capacity in a disciplined and efficient manner, as warranted, said Tiller.
Earlier VNC reporting and research for this story show that in 2014 Genera announced securing $4MM in financing from WindSail. Genera also previously mounted Series A and B raises, but did not publicly disclose results.
Further, in 2009, Genera partnered with the UT Institute of Agriculture in successfully pursuing a nondilutive $5MM multiyear grant from the U.S. Department of Energy.
Tiller confirmed she has long held an ownership stake in Genera, but she declined to identify other investors or discuss which party or parties hold controlling interest in the company, in the wake of the latest infusion of capital.
Asked whether consumer sentiment regarding product sustainability and-or international trade issues are contributing to Genera's prospects for growth and development, Tiller said that while Genera's B2B business success does not hinge on such variables, many of Genera's customers are aggressively addressing such things as they strive to satisfy end-users' evolving preferences.
That dynamic could contribute, at least marginally, to rising domestic interest in Genera's solutions and products -- provided, of course, that Genera's offerings remain solidly competitive.
Asked about competitors, Tiller first observed that competition is a constant.
She then asserted that she and her team have confidence that Genera's ability to deliver products with competitive cost and other characteristics -- and doing so "locally, sustainably and with transparent supply chains" -- affords Genera a "really good position" in the market.
VNC online research quickly turned-up other examples of groups in North America and globally moving to establish positions in sustainable paper and packaging products.
One of the highest-profile entrants is Columbia Pulp LLC, based near Walla Walla, Washington. Tiller acknowledged that when Columbia reaches full scale it is likely to be the largest sustainable pulp producer, at that point.
She added that, to her knowledge, neither Columbia nor other entrants are organized to manufacture products, and few, if any, seem prepared to source and supply feedstock through grower networks to fulfill customers' requirements, as does Genera.
That said, Tiller added that, particularly at this early stage in building the category, there is probably real benefit in having multiple market makers, in line with the adage that "a rising tide lifts all boats."
All that has doubtless been considered by its investors.
Ian Bowles
WindSail Co-Founder and Managing Director Ian Bowles said in yesterday's release, "We and our partners are investing in Genera because they are pioneering a solution that will serve both our domestic rural economy and the rapidly growing demand for environmentally friendly packaging in the consumer market."
Bowles added that in his view "Genera is uniquely qualified" to deliver its solution to the market.
Genera traces its lineage to 2007 and was formally registered as a Tennessee business in 2008. The company has been evolving for a decade or so. It is now emerging from a couple years of strategic development and is implementing a tightly focused strategy.
In the early-going, Genera Energy was focused on helping to create infrastructure and business in Tennessee for production of cellulosic ethanol.
Genera closely allied during 2009-2015 with DuPont Danisco Cellulosic Ethanol project, a JV between DuPont and Denmark-based Danisco's Genecor division. The effort was backed by substantial State economic-development funding. The facility closed in 2015, and then-owner DuPont opened a similar project in Iowa.
Todd Ervin
Genera's corporate legal counsel is attorney Todd Ervin with Bass Berry Sims' Nashville office, said Tiller, who declined to identify other advisors for the recent financing or other corporate functions.
Previous VNC reporting and research show that Knoxville attorney Bill Mason has at times assisted both Genera and TennEra.
CEO Tiller, 49, previously held University of Tennessee administrative and faculty positions She earned her doctorate and her master's in agricultural economics at UT, and her bachelor's in economics at UT-Chattanooga.
She and her husband are parents of high school- and college-age daughters. She is a native of Greenback, Tenn., southwest of Knoxville.
Additional resources: Earlier VNC coverage - PaperAge - SFT - Genera / VNC
.last edited 0805 19 July 2019
---