Tennessee's fledgling biotechnology industry and those who seek careers within it may get a boost, December 7.
That's when the Tennessee Biotechnology Association's Graduate Alliance will convene to explore the intersection of science and the business priorities and practices that shape the commercialization of intellectual property that flows from research and development.
TBA-GA Vice President Judsen Schneider told VNC yesterday, "Instead of looking for jobs when we graduate, we want to create them."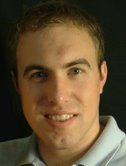 Toward that end, Schneider (at left) said the December program at Belmont University will include presentations on biotech-company valuations, with Cumberland Pharmaceuticals and BioMimetic Therapeutics as cases-in-point.

Also included: A presentation about Ann Arbor, Mich.-based I3 Drug Safety, which provides contract research, informatics, staffing and other services, primarily in support of the pharmaceutical industry.
Schneider, a 28-year-old doctoral candidate at Vanderbilt University, explained that TBA-GA aims to support graduate students who are working to "develop new biotechnology ventures from existing intellectual property," while encouraging Tennessee companies to increase their absorption of Ph.D.-wielding scientists, MBA-holders, lawyers and others who are being produced by Tennessee universities.
The alliance estimates there are at least 30,000 graduate and post-doctoral students in Tennessee.
Schneider said TBA-GA is stepping-up efforts to engage graduate students at all Tennessee institutions, by creating chapters at each school. Currently, Belmont, Tennessee State University and Middle Tennessee State University are becoming engaged, in addition to Vanderbilt. The TCA-GA is relaunching with only about a dozen student members aboard.

The "Integrative Biotechnology Workshop" in December will feature presentations by industry professionals, as well as participation by the graduate students and doctoral candidates who are current and prospective members of the TBA Graduate Alliance.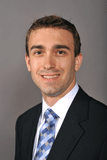 Commenting on his group's new action agenda, TBA-GA President Mark Harris (at left), PhD, said graduate students who are not interested in entrepreneurship will also benefit from TBA-GA programs, because running a laboratory is "very similar to running a small business," even though lab revenue comes from grants awarded after peer review, rather than from commercial sales.
Harris noted that in the lab, as well as in business, the enterprise must produce a superior product, if it is to attract funding and "position for long-term success."
Schneider said the relaunched TBA-GA plans to conduct a business-planning workshop, in spring 2010, in collaboration with Tennessee Technology Development Corporation. That event will span not only business-plan basics, but also fundamentals of evaluating intellectual property and related topics. The alliance's board recently voted to focus on business-planning basics, rather than to resume efforts to conduct a plan contest, for the time-being.
In addition, TBA-GA, which was previously known as the TBA Academic Chapter, is launching a series of biotech discussion groups, during which students and industry professionals will network and explore common interests.
The group's ambitious slate of events represent an effort build fresh momentum, in a program that has had an uphill climb in establishing traction. TBA-GA membership is available to students, only. Students interested in membership should write membership-at-tnbio-sc-dot-org.

Harris, also 28, is now pursuing his MBA within Vanderbilt's Owen Graduate School of Management, and is a past president of the Vanderbilt Cancer Biology Student Association. He earned his Ph.D. in cancer biology at Vanderbilt University Medical School, earlier his year; and, earned his bachelor's at Vanderbilt in molecular and cell biology, in 2003.

Harris owns a startup that produces training videos for tri-athletes, and is on the Vanderbilt cross-country, track and cycling team, is a tri-athlete and a national elite Adventure Racer. Harris lives with his wife and son in Nashville.
Schneider will be defending his Ph.D. dissertation, Dec 4. He is president of the Vanderbilt Cell and Developmental Biology Graduate Association. He earned his bachelor's in biology at Kalamazoo (Mich.) College, in 2003. He is co-head coach of the Nashville Aquatic Club, and was swim-dive team captain at Kalamazoo.

He has been a graduate researcher at Vanderbilt the past five years, and plays bass in a Christian rock band. He lives in Nashville with his wife and daughter. ♦