OPTIMISM and concern, alike, have arisen in the wake of the most recent slow-motion shakeup at Tennessee Technology Development Corporation (TTDC).
TTDC, which now uses the street name Launch Tennessee, is getting preliminary high marks for what is, in the broadest sense, a restatement of its long-standing, but now refined and updated strategic plan; and, for its avowed determination to achieve increased returns from the state's investment in TTDC, partly by re-populating the TTDC board and management with the strongest hitters it can find.
VNC informal research suggests that -- including what promises to be TTDC's largest single-year funding yet, in FY 2013 -- TTDC will by June 30, 2013, have received more than $14 Million in government grants since its founding in 1998, at least one-third of which was provided in the first two full years of Gov. Bill Haslam's Administration.
In pre-Haslam years, most of TTDC's funding came during the eight-year Administration of former Gov. Phil Bredesen (D); during the Bredesen era there were three years in which TTDC received no government grants, according to TTDC records. TTDC was founded during the Administration of former Gov. Don Sundquist (R). (Dan Marcum of Relevance Capital in Tullahoma was its long-time chairman during the Sundquist to Bredesen transition, also a transition marked by some bumpiness.)
While stakeholders interviewed for this story believe meaningful progress is the likely outcome for LaunchTN, many also acknowledge that at some point the State and its constituencies may need to consider seriously pulling the plug on the 14-year-old nonprofit.

Bill Hagerty
A bit of backstory: The TTDC board has, with the passage of time and unfilled appointments, been reduced to half-strength under TTDC Chairman Bill Hagerty, who is simultaneously commissioner of Gov. Bill Haslam's department of economic and community development (ECD). Less than a year ago, Hagerty assumed the TTDC chairmanship from Bill Evans, the CEO of St. Jude Children's Research Hospital, in Memphis.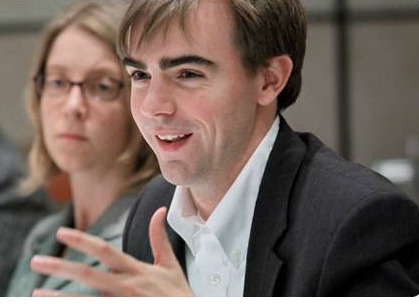 Brad Smith
Also, TTDC Interim CEO duties were picked-up Friday, June 1, by Brad Smith, who until recently wore Hagerty/ECD's chief-of-staff hat, a role now owned by Will Alexander, son of U.S. Sen. Lamar Alexander (R-TN).
Smith, age 29, told VNC he does not currently plan to be a candidate for the permanent CEO post. No limit on Smith's interim term has been published.
ECD, TTDC and many of their allies are widely reported to be beating the bushes for CEO and board of directors-level talent for a refurbished LaunchTN. Smith reported to a May 23 TTDC executive committee that there were three candidates earnestly interested in the job, according to minutes provided by TTDC at VNC's request.
Nonetheless, some key prospects for the CEO post from the venture and private-equity community are said to have declined invitations to offer as candidates for the job. An enthusiastic array of volunteers is said to continue scouting for all positions, including new industry and entrepreneurship executive fellows, with whom Gov. Bill Haslam plans to meet, regularly.
Most people close to the search process who were contacted by VNC expressed hope of finding a "high impact" player as CEO, but also acknowledged that such people typically have many other obligations, as well as potential conflicts.
Both Hagerty's taking the chairmanship and Smith's becoming interim chief are prima facie consistent with the Administration's oft-voiced determination to achieve taught "alignment" between ECD objectives and TTDC programs and expenditures.
Leslie Wisner Lynch
Leslie Wisner Lynch, a bioscientist and former TTDC board member, stepped down from the Interim CEO role on Thursday, May 30. She had served more than two years, on a month-to-month basis, in that capacity. Her appointment in Spring 2010 followed the departure of former TTDC President/CEO Eric Cromwell. Cromwell, who had previously served as ECD's in-house innovation director, led TTDC during a progressive period that turned rough-and-tumble amid the TNInvestco capital-formation program's sometimes rancorous, but ultimately productive debate and launch.
Asked by VNC for comment prior to her departure from TTDC, Wisner-Lynch said she was pleased to have been involved with TTDC's work for five years as board member and CEO, and expressed gratitude for the Haslam Administration's commitment to encouraging creation of high-quality jobs and its support of the innovation sector of the state's economy. She added, in part, "I am pleased for the further alignment of the state's innovation initiatives," and she made clear she looks forward with enthusiasm "great things ahead as the organization is able to transition to new permanent leadership with additional staff and resources to support their important work."
Wisner-Lynch has since 2007 remained active in state education-advocacy circles and is co-founder of Franklin-based BioTN, a nonprofit positioned as a catalyst for science and technology in Tennessee.

A. Seamons
TTDC Board Member Andrew Seamons, managing partner of Memphis-baed Pittco Capital Partners, told VNC that Lynch did a "terrific job," adding that he "applauds" her service. Viewed from his vantage as a board member, Seamons said the transition to the Haslam ECD relationship did not seem particularly difficult, though adjusting to "different approaches" requires some effort.
Important now, said Seamons, is the imperative that everyone involved in shaping the state's future accept the fact that such efforts have "a long cycle-time" and "you've got to be thinking 10 to 20 years ahead."
Most concerns surrounding TTDC center on whether or not wide variations in TTDC funding and disruptions and uncertainty regarding its leadership will continue periodically to occur, potentially at the expense of traction in statewide efforts to improve Tennessee standing among states vying for leadership in technology-based economic development and commercialization of intellectual property.
Indeed, Hagerty has made clear that he's aiming for success with TTDC, the INCITE co-investment fund, and the nine new regional accelerators that ECD has helped fund, et cetera -- nonetheless, individual organizations sponsored by ECD will almost certainly be expected to develop significant non-state funding, if they are to continue beyond FY 2013. TTDC has runway through FY 2017, the Administration has indicated. Federal funds of the "one-time" variety have funded some of the Haslam Administration's highest-profile initiatives, including regional accelerators and INCITE funding.
For now, funding is less of a concern for TTDC, going forward: ECD has approved more than $4 Million for TTDC's Fiscal Year 2013, which begins July 1. That contrasts with slightly more than the $1MM that the TTDC annual allocation averaged for FY2011 and FY2012, which ends this month. (TTDC will earn additional administrative fees for several years going forward, as consideration for managing, under contract from ECD, the Haslam Administration's INCITE co-investment fund, as previously reported.)
The dust may be settling at TTDC. Nonetheless, TTDC's ups-and-downs the past few years, spanning two governors' terms, have left some observers questioning the outcome of the state's latest push for leadership in knowledge-intensive industries.
Tennessee does not yet seem to have achieved "long-term sustained direction" in its tech-driven initiatives, said Dan Berglund, who is president and CEO of the State Science & Technology Institute (SSTI).
Such continuity is characteristic of the nation's most highly regarded state initiatives, but seems to have proven elusive in Tennessee, thus far, Berglund told VNC. He cited Ohio, Connecticut, Georgia, Maine and other states that have effectively stepped-up efforrts to cultivate new tech-centric businesses within their borders. Those efforts are justified on the basis that effort expended nurturing such indigenous business is often more valuable than funds spent for traditional recruitment of industry from elsewhere.
Gov. Bill Haslam
Gov. Haslam has demonstrated clearly that he understands this principle, said Berglund, who explained that he has been present for public remarks the governor has made on the topic. In addition, Tennesee previously earned accolades for the state's implementation of the TNInvestco program, said Berglund. Hagerty's chairing of TTDC seems like a good thing and is a model that has proven effective in some other states with top-ranked programs, said Berglund when asked by VNC.
TTDC Vice Chairman Tom Ballard told VNC in a wide-ranging interview May 5, "The reality is that the iterations [TTDC has] gone through have created questions of, Is it going to survive? What's going on? and so forth." Some of this is a natural result of the inevitable review of roles, responsibilities and spending that come with a change of overseers for any organization, noted Ballard.
That said, Ballard continued, the Haslam Administration's commitment of funding for new initiatives, including TTDC funding, suggest that TTDC has ample time to recruit a "permanent CEO," replenish and activate the TTDC board, implement its strategic plan and take other steps to ensure that TTDC can "more easily deal with the next transition of governors," whenever that is.

Brad Smith
Newly appointed interim CEO Smith told VNC this week that he is grateful for the Administration's support of TTDC's latest efforts.
Commenting on his own priorities, Smith then said, "Initially, one of the most important tasks for LaunchTN will be developing strong relationships with private sector partners, as well as public research institutions. If over the next few years LaunchTN is able to provide value to our public and private sector partners, we are confident LaunchTN will have a broad base of support for years to come."
Then, when asked by VNC, Smith affirmed that some TTDC stakeholders with whom he has been in touch have expressed strong optimism regarding increased future TTDC contributions to the state, as well as concern that TTDC needs more continuity and stability. Smith strongly agreed that both performance and continuity are essential, adding that he believes strong execution of TTDC plans will help attract the broad support TTDC needs, during "the next three to five years."
"However," Smith added, "if TTDC does not have a strong record of performance and stable leadership three to five years from now, I hope both our public and private sector partners will weigh that record carefully when evaluating whether or not to continue investing their time and resources in the organization."
Bruce Doeg
Smith, et al, have been aided in planning for the transition now underway by an ad hoc strategic planning committee that has convened to work in private, and including members of the TTDC executive committee. Its members included Joe Cook Jr., founder of Mountain Group Capital (MGC) and chairman of LifeScience Tennessee; Baker Donelson attorney Bruce Doeg, as well as Wisner-Lynch, and others. ECD also previously obtained volunteer expertise regarding tech commercialization from Byron Smith, who is also a principal in MGC and is a former Asurion executive.
LaunchTN/TTDC is staffing-up to roughly the level it enjoyed four years ago. Existing staff members Steve Wonsiewicz (director-F&A) and Courtney Corlew (Communications & Admin coordinator) remain aboard.
Laura Braden, a political and public-relations consultant and former member of the staffs of former California Gov. Arnold Schwarzenegger and of the 2008 presidential campaign of U.S. Sen. John McCain, among other posts, has been designated to lead LaunchTN communications. She currently serves as a consultant, according to the abovementioned May 23 TTDC minutes. She bears a TTDC vice president title when representing TTDC.
In addition, Nashville Entrepreneur Center operations chief Sam Lingo is also cited as a key resource going forward, although VNC has been unable to clarify his role. Former TTDC VP James Stover, now an executive with the Diagnovus startup, remains an operations consultant to TTDC, according to the TTDC website.

Eric Cromwell
Reached for comment regarding recent changes at TTDC/LaunchTN, former TTDC CEO Cromwell told VNC that he is "encouraged" by changes implemented by the Haslam Administration and believes TTDC has "a wonderful opportunity to make the case" for tech-driven economic development, with an eye squarely on the longer term.
The needed scale of investment in TTDC, a plan for leadership, and a sound strategy seem to be coming together and bode well, said Cromwell. Cromwell also suggested that, as with most nonprofits, the challenge of raising private-sector capital is likely to remain a major hurdle to surmount.
Cromwell and former TTDC VP Dan Schmisseur are nurturing startup ventures and consulting on capital formation and economic development, via an LLC they formed. VNC