Late Friday afternoon, Vanderbilt University announced the retirement of Chief Financial Officer and Vice Chancellor Lauren J. Brisky.
Brisky has overseen Vanderbilt's $3.1 billion operating budget and $5 billion in net assets, including the university endowment; and, has managed Vanderbilt debt, which totaled $1.1 billion, as of June 30.
Vanderbilt announced that Betty Price, currently Brisky's deputy vice chancellor for finance and controller, will serve as acting vice chancellor for finance and CFO. Associate Vice Chancellor Jerry Fife, who currently manages business services and research finance, will oversee the balance of Brisky's domain, as acting vice chancellor for administration.

The changes come as the administration of Vanderbilt Chancellor Nicholas Zeppos (at left) and the nation adjust to sharp declines in the economy and financial markets, while having recently shouldered such additional commitments as replacing all need-based student loans with grant and scholarship assistance.

With such ends in mind, Vanderbilt is also nearing completion of its latest capital campaign, and has raised more than $1.6 billion in that effort.
Brisky told VNC yesterday she is retiring now, after 20 years with Vanderbilt, because "A new year is an opportune time to open new doors. I plan on being active in community, corporate and non-profit activities, because giving back is integral to who I am."
Brisky joined the administration of then-Vanderbilt Chancellor Joe B. Wyatt in 1988, having been tapped as associate vice

chancellor by then-Vice Chancellor Bill Jenkins. She had previously been North Carolina State University's associate vice chancellor for business and finance, and had served earlier in management at Cornell University and the University of Pennsylvania.
Brisky, 57, told VNC she will continue in several leadership roles she has taken on, beyond Vanderbilt walls. Those duties include serving as compensation-committee chair for the board of directors of publicly held Abercrombie & Fitch Co., based in New Albany, Ohio.
Brisky said she will also continue as chair of the Board of Trustees of her alma mater, Simmons College, in Boston, where she earned her bachelor's in 1973.
Among other current affiliations, Brisky is a member of Nashville's Metro Sports Authority and recently completed her term as chair of the board of Girl Scouts of Middle Tennessee, which is based in Nashville and serves 39 counties. She is also a member of the President's Council of Cornell Women, at Cornell University, Ithaca, N.Y., where she earned her MBA in 1975.
Price (left) joined Vanderbilt 22 years ago, after a decade with KPMG LLP and American Express. Two years into her Vanderbilt career, Price earned her MBA at the university's Owen Graduate School of Management. She earned her bachelor's in accounting in 1979 at Middle Tennessee State University.
Fife (at right) joined Vanderbilt in 1998, after a career that included roles at his alma mater, Purdue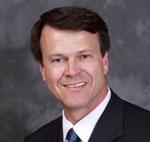 University, as well as at Mississippi State University and the University of North Carolina at Chapel Hill. At UNC, he was director of research contracts and grants.
In announcing Brisky's move, Zeppos said, in part, "Perhaps Lauren's greatest achievement was to build a remarkably strong and collegial leadership team."
Brisky echoed that sentiment yesterday, telling VNC, "We are at a perfect juncture for change, because my team is fully capable of maintaining stewardship and professionalism with integrity. Vanderbilt is fortunate that there will be no break in continuity in financial and administrative leadership."
Upon succeeding Jenkins in 1999, Brisky became the highest-ranking woman in the history of the university, which was founded in 1873.

Upon Brisky's departure, two women have permanent senior status in Zeppos' eight-person administrative cabinet: Vice Chancellor for Public Affairs Beth Fortune recently succeeded Mike Schoenfeld in that role; and, Susie Stalcup, vice chancellor for development and alumni relations, recently joined VU after four years at Columbia University Medical Center in New York City.♦