Life-sciences startup Revalida LLC, driven by knowledge spawned at Vanderbilt University, is scouting for a CEO and recruiting its first round of capital.
The venture relies on a nanotechnology-enabled drug-delivery platform for sustained release of drugs, which was developed in recent years by researchers at Vanderbilt.

Eva Marie Harth, Ph.D., leader of the scientific team that produced the nanotechnology Revalida hopes to license from Vanderbilt, told VNC earlier this week that she and her colleagues in the venture aim to raise a minimum "$400,000 to $600,000" to sustain the company for 18 months.
Harth said Revalida will use some of the fresh capital to hire a chief executive officer and a vice president for business development.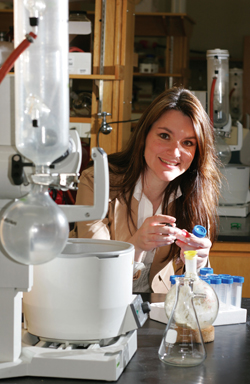 Harth (at left, VU Photo) said Revalida is preparing to share with potential investors its research data, as well as a Revalida business plan that was developed for the company by MasterPlans Inc., a contractor based in Portland, Ore.

The technology is believed to represent a breakthrough that promises to improve delivery of drugs to targeted sites and eventually to portions of cells within the body, simultaneously reducing risks associated with patients' failure to comply with instructions for scheduled medications.
The first target is glaucoma and other degenerative eye diseases. Glaucoma patients are typically older persons, many of whom are forgetful or confused regarding use of drugs prescribed for them. Patients' noncompliance with physicians' instructions often undermines medical care.
Harth expressed confidence that Revalida's ability to "tailor" drug delivery to support a wide range of drugs that require "very sustained and very constant rate" of administration will soon lead to significant progress in such fields as chemotherapy for cancer patients.
Thus far, she said, pre-clinical research data indicate "the particle is superior to classical chemotherapies, so far demonstrated in glioma (brain cancer) and breast cancer."

A document provided VNC by Harth says, in part, that the technology will enable Revalida to "create and customize the nanoparticle system for each unique cancer," with wide implications for targeting sites, penetrating cells and monitoring treatment and progress, through imaging.

This suggests that cancer-fighting drugs long in use, such as taxol and gemcitabene, can be administered more efficiently

and effectively with the new platform, resulting in better treatment and alleviation of some side effects.
Among the interrelated variables Revalida can adjust to meet medical requirements are the size of the particles on which the drug is placed, the amount of drug cargo aboard the "nanosponge" particles, and the rate of delivery of the drug from the particle to the target area. (Related VUMC Reporter story, Oct. 2007.)
Harth said toxicology studies show no downside to the nanotech approach, and polymer materials used in creating the nanoparticles are already FDA approved. She said the intellectual property associated with the new platform is protected by three patents.
Asked the origins of the company's name, Harth explained in an e-mail that "Revalida" is "made up of the three founders' first names: Eva, Alice and David. The R stands for 'retina', the main area in the eye we want to deliver the compounds to" in treating glaucoma and degeneration, which are the company's initial targets.

As previously reported by VNC, Harth's collegues in the venture are Ph.D. graduate student Alice van der Ende, and David Calkins, director of research within the Vanderbilt Eye Institute.

She is principal investigator in the Harth Research Group, within the Chemistry Department at Vanderbilt. In 2007, she received a $478,000 National Science Foundation Career Award.

Harth holds assistant professorships in both the Chemistry Department of the Vanderbilt College of Arts and Science, and in the Pharmacology Department of Vanderbilt University Medical Center. In 1998, she earned her Ph.D. in organic chemistry at the Max Planck Institute for Polymer Research, University of Mainz Germany.
Earlier, Harth earned her bachelor's and master's degrees at the University of Zurich, Switzerland; and, a B.D. at Friedrich-Wilhelms-University, in Bonn.

Her postdoctoral fellowship was at Stanford University's IBM Almaden Research Center; earlier, she participated in the Europa-Stipendium program, Max-Planck Geselleschaft. ♦