THE WOND'RY Innovation Center at Vanderbilt University runs a PreLaunch program to help potential entrepreneurs in the VU community determine whether they should pursue their venture ideas.
With assistance from Wond'ry Associate Director Deanna Meador, we obtained varying amounts of information on three of the five teams that received microgrants. They were among 13 teams that participated in the Fall 2019 cohort that recently concluded.
In our summaries (below) of three microgrant winners' ideas, we borrow heavily on the commentary provided us in behalf of each team. Any misinterpretations are VNC's.
Jeremy Gross
WhatNxt helps travelers ensure they have more deeply satisfying travel experiences. Rationale: "Planning trips is time consuming, requiring the use of multiple, incompatible platforms which overwhelm users with touristy and sponsored suggestions, making it difficult to have authentic experiences. The WhatNxt Travel Mobile Application helps travelers create flexible, custom itineraries with preference-based suggestions in just minutes and connect with other travelers around the world to share local finds and experiences. Our mission is to create a more trusting, understanding, and empathetic world by helping people have more authentic, local, and efficient travel experiences." The undergraduate team's current offering is available here. Team: Jeremy Gross, James Raubenheimer, Faythe Gomolka.
Patrick Musau
SafeCert is a platform concept aimed at enhancing the current state of the art in autonomy and provide lawmakers and businesses real-time and predictive information about the operational performance of their autonomous applications. The team is in the "customer discovery" stage of its diligence and has used its microgrant to attend this week's Autonomous Vehicles Silicon Valley, where they hope to gain deeper insight into the challenges facing the industry. We're also participating in the Wond'ry PostLaunch program this spring, and hope to develop a robust MVP and revenue model. Once that is done I think we can create an effective commercializing plan. The industry changes so fast and we want to make sure we do our diligence in creating software that will help generate confidence in autonomous vehicles," team member Patrick Musau told VNC. Autonomous technologies are likely to be highly influential and disruptive. The team wrote earlier "Currently, the biggest challenge within this domain is ensuring that these systems are capable of robust and reliable operation without the direct involvement of humans. In sectors such as the transportation industry, there is a lack of a binding unified set of standards for gauging safety and [reliable] performance, and lawmakers often do not have access to the information needed to enact policies that will keep the public safe." Team members: Patrick Musau, Shreyas Ramakrishna, Diego Manzanas Lopez. Asked by VNC about current advisors, Musau cited, in addition to The Wond'ry's Deanna Meador: Brad Potteiger PhD, Stryker Warren, John Bers, and Michael Miles, adding that the team is looking for an experienced public policy advisor.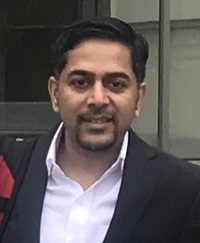 Himanshu Neema PhD
EmpowerVI provides an advanced and potentially revolutionary software application that embodies hardware and software tools that are augmented with artificial intelligence to learn the characteristics of all aspects of the shopping experience, such as selecting appropriate apparel or picking a fruit or vegetable is fresh, in order to provide needed information to the visually impaired user, thereby enhancing the blind or visually impaired user's independence and productivity. "While a sighted individual can go to a nearby grocery store and handpick the vegetables or fruits they need, a blind or visually impaired person either (a) relies on either other individuals (such as friends, neighbors, or relatives) to do the grocery shopping for them, or (b) asks for help in store and gets paired with a store employee, or (c) orders online from a reputable website, or (d) just assumes that the vegetables or fruits at the store are not stale or spoiled..." EmpowerVI's tech roadmap envisions further hardware and software augmentations to "directly empower the visually impaired" for activities other than food selection. Team: Himanshu Neema PhD.
The 2017 and 2018 PreLaunch cohort participants are listed here. The Spring 2020 PreLaunch cohort recently began.
Microgrants of $2,900 are awarded to winners in each PreLaunch competition, and some winners may qualify to compete for National I-Corps grants of up to $50K each.
One of the websites for the PreLaunch program indicates that in addition to Vanderbilt University support via The Wond'ry, one or more grants supporting the program have been received from Massachusetts-based VentureWell. VNC
.
---