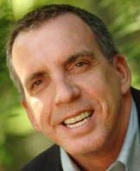 Bruce Lynskey is taking the reins as CEO of a tech startup in Massachusetts, from which he has commuted the past four years while serving as a key faculty member of the Owen Entrepreneurship Center at Vanderbilt University.
After nearly seven years at OEC, Lynskey will be succeeded in his role as de facto partner to OEC Founder and Director Germain Böer by Byron Smith, the 47-year-old former executive vice president and chief marketing officer of Nashville-based Asurion Inc.



Speaking with VNC this morning, Böer (left) praised Lynskey's intelligence and drive and credited him with "getting us plugged-into the startup world," while serving as a "great connector" to the worlds of business and venture capital. Böer welcomed the arrival of Smith, noting his experience and explaining they're still getting acquainted.
In separate interviews last evening with VNC, Lynskey and Smith (right) spoke highly of one another and said
they are working closely to ensure a smooth transition for students in courses that span venture startups, fast-growing established businesses and related domains.
Lynskey now serves as chief executive and lead fundraiser for Neoflect Inc., regarding which he would only reveal, "We are creating a mobile computing platform that will let the user re-create the full (standard-sized) computing environment from his mobile phone."
Neoflect, he explained, is in pursuit of seed capital and "concentrating on a couple of giant corporate players in the industry, as well as Silicon Valley VC firms and possibly some very rich, adventurous angel investors." He then named Texas Instruments and Motorola as companies where he's in earnest discussions, adding that the ilk of Dell or Nokia might also be prospects for investment and collaboration.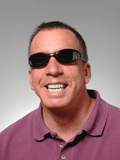 Lynskey (left, in mufti), who has regularly exhorted Nashville investors to take reasonable risks that would help propel local ventures, added a comment that may surprise some: Said he, "I think that our concept is 'beyond' the Massachusetts VC community mindset. They are a bit too conservative for this play," which he noted is centered around licensing of the technology, and does not involve product manufacturing and marketing by Neoflect.
Neoflect, he said, is looking for a chief technology officer with experience in electro-optics, voice recognition and related domains. He already has a trio of engineers and Ph.D.s with virtual-device, cognitive psychology and software acumen.
Lynskey's involvement in tech companies' domestic and international development and marketing stretches back 20 years or more. He prepared for life in tech with undergraduate degree and master's in mathematics, a master's in engineering and an Owen MBA, which he earned 23 years ago.
Asked what achievements he's proudest of, Lynskey quickly listed expanding entrepreneurship education with Boer; participating as a founding director in the creation of the Nashville Capital Network (the angel network that now has an investment fund); and, co-founding with Owen students Veran Medical Technologies, which recently relocated from Nashville to St. Louis, at the behest of investors and grantors, there. He noted that if Veran's recent progress continues, "we will have hatched a home run" at Owen.
Smith now holds the title of adjunct professor in business strategy and entrepreneurship. Yesterday, he expressed enthusiasm for his new focus on startups, small business and rapidly growing businesses, noting "people have found that large companies don't have the interest they once did, nor do they provide the opportunities they once did."
Smith told VNC he has been on a "sabbatical" the past 18 months, since an Asurion liquidity event that freed him to pursue private-equity investments. He was, however, a lot busier prior to that break. Prior to serving as CMO during five years of rampant Asurion growth, Smith was CMO of Excite@Home; vice president, AT&T; area president for GTE Wireless (Verizon); and, a product and brand management exec with Pepsico and Procter & Gamble. He earned an MBA at the University of Chicago and his bachelor's in economics and political science at Middle Tennessee State University. ♦