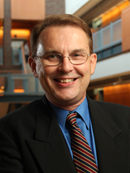 VANDERBILT University School of Engineering's continuing efforts to address "major societal problems, as opposed to doing research in a vacuum" has been boosted by a $5MM anonymous gift establishing a Dean's Chair in Engineering, said Dean Philippe Fauchet.
Proceeds from gift-at-interest will translate into perhaps $250K per year help free the Dean of Engineering to allocate more resources address "large-scale societal needs" in the realms of Medicine-Health, Energy and Security, in which Vanderbilt has strengths, Fauchet confirmed Friday for Venture Nashville.
The university said in an earlier press release that the gift will attract to VUSE other eminent deans such as Fauchet, as well as top-ranked students.
Regenerative medicine, big data, and energy and natural resources are among top growth priorities within VUSE, said the university release.
Each of those three represents an "enormous" bucket of challenges and opportunities, Fauchet told VNC.
Fauchet explained that, among many possible examples, increased funding could mean that "when a very smart graduate student makes a discovery or demonstrates a first protoype" that could lead to products that could make it to the market and broad usage, a relatively small amount of timely funding can have pivotal effect.
The dean said target categories are broadly defined, with, for example, Energy and Natural Resources ranging from "clean sustainable energy" to water supplies, while Security spans cybersecurity, bridges and other infrastructure and other issues. The aging U.S. population makes the Medicine-Health basket particularly large, he added.
Fauchet said that he views the VUSE community as comprising "intellectual neighborhoods" of varying degrees of maturation, into which the school is focusing its resources, faculty and philanthropy.
The Medicine-Health portion of the community includes subsdivisions, such as medical imaging, precision surgery, tissue engineering, and rehabilitation engineering, which produces such goods as exoskeleton mobility systems for those who are paralyzed.
Among other domains, Big Data encompasses such things as real-time analytics and modeling or simulation of processes, such as processes of physical-structure failures (e.g., in aircraft components).
Next, VUSE faculty's widely recognized excellence in cyberphysical systems involving hardware and software, gives VUSE a rare vantage from which to target challenges in such arenas as the Internet of Things (IoT) and computer control of physical systems.
A related set of challenges lies in the area of "risk, reliability and resilience" in which VUSE can focus on technologies that help not only anticipate infrastructure failure, but which also support efforts to ensure that structures' functionality ages gracefully.
Fauchet said VUSE also has advantages in addressing energy and natural resources challenges, such as water management and nuclear-waste handling, and is developing strength in small energy-storage batteries.
VUSE also has long-established capabilities in nanoscale science and technology, and the new main VUSE building that opens in August includes a large clean room, usable, for example, in building very small objects out of a few atoms. VNC
.
---