BOOTSTRAPPED Nashville startup Waffle LLC is "looking hard" at possibly raising $300K in Seed capital to accelerate growth of its WaffleMe.com user base.
Its WaffleMe.com platform helps brand-owners generate more consumer engagement and revenue by selectively aggregating companies' branded social media postings on their primary websites.
Founder, CEO and 100% owner Wesley Belden told VNC the company has nearly 200 paying customers and a similar number of nonpaying users who had signed-on during late-stage development.
Though he's still considering Waffle's capital options, Belden said priority targets will include Angels in Nashville, where he went through the 2013 accelerator program at the Nashville Entrepreneur Center; and, in Cincinnati, where he says he developed a broad personal and professional network, as he earned his MBA and worked for a financial-services firm. His LinkedIn is here.
Now that its platform is fully operational and it is steadily bringing aboard paying customers, Belden is looking seriously at a raise.
Proceeds would be used to hire staff, increase market penetration and introduce further tools and features, while dealing with the inevitable rise of competition, said the founder.
Concentrating postings onsite in a scrollable format, using WaffleMe.com adds value to a company's otherwise diffuse postings across the social landscape, thereby reinforcing brand attributes and increasing site visitors' lengths-of-stays and other forms of engagement, said Belden. In turn, with an average 20% improvement in visit duration generated by Waffle, users can convert more customers to trialists and buyers, Belden explained.
The subscription-only software-as-a-service (SaaS) product was initially offered in May, with tuning completed several months ago. Right now, the company is straightening-up its customer onboarding backlog, record-keeping and related matters, ahead of talking to investors, Belden said.
Waffle is advised by attorney Chris Sloan of Baker Donelson Bearman Caldwell & Berkowitz, and it banks with Regions.
Its most direct competitor is Angel- and accelerator-backed TintUp.com (Los Angeles), with VC/PE-backed RebelMouse.com (New York) also significant, said Belden, a 30-year-old native New Yorker.
Canada's Vancouver-based Hootsuite is a logical and potential future competitor, he acknowledged.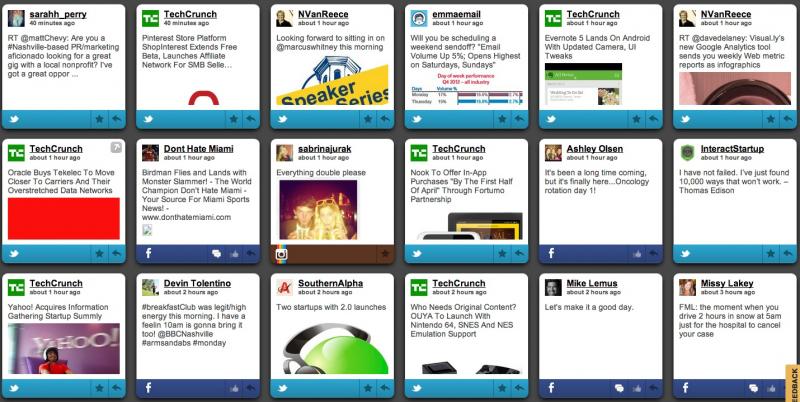 Interface screen shot
Having spent about $80K of Belden's personal funds thus far, the company is now meeting all its out-of-pocket expenses, and occupies space with Centresource in Nashville's Germantown, said Belden.
According to its website, Belden's team now includes Scott Hoos (IT/operations), Michelle Pieterse (Marketing) and Anthony Panozzo (software engineering).
Belden's idea emerged in 2010-2011, followed by steps toward development, and the company was registered in September 2013.
The Waffle identity was chosen because the secure interface to which Waffle customers have access (screenshot at right, above) seemed to resemble a waffle, Belden told VNC. The issue of the brand being mistakenly associated with food rarely arises, and does not seem confusing to customers, he said.
During its recent launch party, Belden said he served his guests waffles fresh from the Pinewood Social eatery. VNC