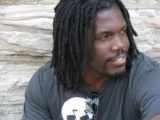 On Saturday, Marcus Whitney began his Barcamp Nashville presentation by telling his techie audience, "We better start learning some open source code around here."
Okay, so it wasn't exactly, "Get ready to rumble!" However, delivered with Whitney's sobering tone, it served to focus the attention of his session's slice of the 600 techies who attended the daylong event at Cadillac Ranch, the cavernous multilevel bar and music venue on Broadway.

Technologist and entrepreneur Whitney quickly proceeded to explain to his Barcamp audience that the Nashville tech community must go beyond borrowing ideas from other other cities.

Moreover, he said Nashville must stem what he sees as the exodus of tech talent from the city for better opportunities, elsewhere; and,
among other things, must leverage the region's universities to develop the talent he and other entrepreneurs need to propel their start-ups.

Then, underscoring the priority Whitney assigns to innovation, he said flatly that while many tech entrepreneurs complain about the scarcity of venture capital in the Nashville region, "We have a lot to prove before we can start complaining about money."

To establish Nashville as a center for tech innovation, Whitney said, Nashville techies must "show we're actually thinking here, and not just following" trends that originate elsewhere.

Toward that end, Whitney told his Barcamp listeners he hopes to catapult Nashville into a national "thought leadership" role through two technology events he and his collaborators have set for Nov. 6-7.



Whitney has said he hopes the twin programs - LAMP Enterprise Summit and Big LAMP Camp, taking place at Nashville and Franklin venues, will attract upward of 600 software developers.

LAMP organizers say confirmed Summit speakers include senior technologists and officers of such Nashville-area firms as Asurion, Ingram Digital and Magazines.com, as well as innovators more widely known in tech circles, including chief information officers, CEOs and other principals from Red Hat, North Bridge Venture Partners, MySQL and numerous others.

Whitney displayed, as he has on other occasions, his passion for raising Nashville's aspirations. He stressed that in his view the Nashville tech community may be too willing to employ other people's technology and ideas, and not yet sufficiently motivated to stake a leadership claim in the nation's tech arena.

Whitney's candidate target for leadership is open-source innovation and adoption, which he believes is best embodied by LAMP, a set

of key open-source development tools, including Linux, Apache, MySql and PHP and related protocols. Whitney uses the acronym as shorthand to represent open-source operating systems, applications servers, databases and programming languages.

Whitney said Saturday he believes Nashville's growing leadership in healthcare services and related information technologies can translate into leadership in use of open-source tools, as well as in approaches for developing new health IT products and services at lower cost and with more creativity than might be achieved using proprietary technologies.

In a lighter moment, Whitney acknowledged that Nashville's attempting to seize leadership on such a core issue may seem "completely crazy"; but, he explained, his is an effort partly driven by a desire to embrace such frontiers, and by the simple fact that, as he put it, "I don't want to leave town" to find such opportunities.

With Nashville's "thought leadership" at stake, the LAMP Summit and Camp are designed to give chief technology officers and other attendees a deep soak in the state-of-the-art of open-source software development and related technologies - resources that Whitney and many others contend are now reliable, less costly and often better-performing than proprietary offerings from such major players as Microsoft.

The initiative led by Whitney, 33, inevitably builds upon his entrepreneurial interests, including his current CTO role with Moontoast; his earlier founding of Remarkable Wit, a start-up services organization; his previous role with e-mail marketer Emma; and, his earlier stint at HealthStream.


While he wants to move beyond replicating other people's events, Whitney acknowledged that he and others have been successful emulating other communities.

As one of the founders of Barcamp Nashville and a leader of other un-events, Whitney was referring to Nashville's proliferating tech- and creatives-oriented events, ranging from narrowly defined tech user groups, to more inclusive gatherings, including, in addition to Barcamp Nashville: Podcamp, focused on podcasting; and, Nashville Startup Weekend, an intense free weekend workshop that helps teams advance tech-business concepts. Another derivative event that may be sprouting here is Ignite Nashville, following a Seattle model. Some other seed-group models, e.g., Coworking Nashville, which has been influenced by Knoxville Overground, don't seem to be gaining traction here. Some other initiatives that originated locally - notably Digital Nashville and GeekBreakfast - have steadily built a base. Others, such as Creatapalooza, won't have their first outing til next spring.

Many Nashville techies also closely follow the tech community in Memphis, which has an array of tech and entrepreneurial initiatives underway. ♦
Related Articles