MEGAN ALLEN didn't seem to bat an eye when asked whether her Georgie Beauty cosmetics venture will ever headquarter in Nashville.
Georgie's lead offering is its Winks by Georgie faux eyelash collection, 15 variations made of human hair and applied with eco- and health-friendly adhesive.
"I doubt that our business will end up in Nashville...," she recently told VNC, adding that despite the connections she and her co-founder sister, Abbey, have to their shared Vanderbilt University alma mater, "there is much more of a cosmetic industry presence in NY & LA."
There are, nonetheless, useful lessons for Nashville entrepreneurs in Allen's Georgie Beauty experience, as it has unfolded, thus far.
Just prior to her VNC interview, Allen was on the phone with the owner of another LA-based beauty site that is partnered with Facebook, and another she knows is backed by investors that are in Pinterest, she said.
She relocated from her former New York City base to LA, because "there's a ton of makeup artists, a ton of celebrities" and industry organizations in southern California, making it the perfect place to "network and grow a beauty business," she continued, adding with a slight laugh that "it doesn't hurt to be by the ocean."
Now-Los Angeles-based Allen, 29, and Abbey Allen Watt, 32, got fresh impetus for Georgie earlier this year, when Megan won entrepreneurial grants through a business-plan competition at VU's Owen Graduate School of Business, as she was finishing her MBA. Abbey resides in their hometown, Thomasville, Ga.
Megan Allen was one of two recipients of the Owen School's annual Sohr Grants, which provided $25,000 each to eco-luxe product company Georgie; and, to Contigo Financial, which seeks to provide consumer-financing alternatives for borrowers who might otherwise turn to payday lenders. Students with each of those ventures also received $15,000 entrepreneurial stipends via another dedicated fund. (Eight finalists have been selected to compete for Sohr Grants that will be announced in January 2013, according to a source familiar with the process.)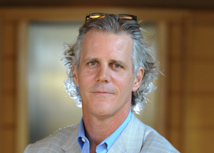 Jim Sohr
Entrepreneur Jim Sohr -- who with wife Leah Eskind Sohr underwrites the Sohr Grants -- told VNC that Megan Allen is "a classic entrepreneur. Always working, selling and building her brand. Her passion for her business is contagious and she is a tireless sales person. Her focus and energy would lead her to success in almost any business she would undertake. In short, she is a person you would bet on."
Sohr would probably know: He's the Owen alumnus and middle-Tennessee entrepreneur best known for having founded and later sold AIM Healthcare to OptumHealth's Ingenix unit in 2009, for north of $400 million. Allen told VNC that she had also received valuable encouragement from Leah Sohr, who is a Nashville-based designer/decorator. And, she expressed gratitude for the sustained mentoring she received from local consultant Shawn Glinter and the ubiquitous Germain Böer, director of the Owen Entrepreneurship Center.
Sohr's assessment of Allen's sales grit is borne-out by Allen's own explanation of how Georgie gained the entre it now enjoys with Nordstrom, Neiman-Marcus and other retailers.
Asked about that sales feat by VNC, Allen said she had no intermediary with the retailers. Rather, she said she "kept sending them products and kept calling them until I thought they'd have me arrested." Similar perseverance has helped her get Georgie lashes on contestants on American Idol and Dancing with the Stars.
There's more: Asked how Georgie's products got six slots on hotly contested HomeShoppingNetwork (HSN) in 2011, Allen explained that she attended a speaking appearance by HSI CEO Mindy Grossman, went up to her and handed her a flash-drive with their presentation on it. (Its HSN sales were about $100K gross, she said, noting that there's "not a lot" of negotiation with HSN over the deal.)
Allen said that early this year she made it only part-way through competition for a spot on ABC's popular Shark Tank pitch program. She's likely to try again, now that she knows the intense process, she said. (In her first attempt, she planned to ask for $150K and had no plans to offer more than 10 percent equity the company in exchange, she said.)
By 2011, the Allen sisters had raised $100,000 from friends and family, Allen said. Now, its sales efforts are focused on major chains, and revenue is being reinvested. It projects $250K revenue in 2013, she said.
The sisters are typically reimbursed their travel costs and related expenses, but they take no salaries, yet, she said when asked. It's the only way to be "aggressive" in marketing, she explained.
They'll continue to bootstrap while that makes sense, and they have no concrete plans to raise outside capital, at this time. For now, they focus on gaining more customers and strengthening their ability to compete with such brands as Chantecaille and tarte cosmetics, she said. Georgie is positioned more upscale and "urban" that products offered via mass marketers, she noted.
Winks by Georgie are marketed mainly to women age 18 to "early 30's," said Allen. Its 15 lash products are today found in shops in 19 states and via such e-retailers as Nordstrom.com, NeimanMarcus.com and others, and they have received a wide array of reviews online.
Pricing varies in bricks-and-mortar shops; but, based on VNC calls to several authorized outlets, the Nordstrom prices seem representative: $28 (a pair of lashes and adhesive, in a compact case), or $15 per pair of lashes and $8 for a tube of adhesive.
Georgie's formal and informal advisors doubtless include her father, Miron "M.H." Allen, a founder of Allen, Mooney & Barnes Investment Advisors, in Thomasville. (The Georgie Beauty name reflects the entrepreneurs' homestate, according to one media account).
Earlier this year, The New York Times reported on the faux lash trend, noting that in 2010 the US market was estimated at $44 million and rising, while much of the fashion industry was flat. According to various media reports in the US and UK, the eyelash impetus has been generated by the examples of singers Adele and Katy Perry, and by such realityTV entrants as the Kardashians and X Factor. Another report suggested that in a down economy, false lashes have become an affordable alternative to cosmetic surgical enhancement.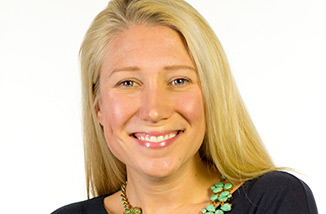 Megan Allen
In the Allens' view, Georgie is about "reinventing the classics" in beauty and style. Whereas Audrey Hepburn and Marilyn Monroe helped create the first "heyday" of false lashes, said Megan Allen, a "second heyday" is emerging, and she likes to imagine that Georgie is one of the reasons for that.
Allen earned a degree in communications at the University of Georgia and spent several years as a freelance publicist and as an agency account manager for Trent & Company, an NYC-based media, PR and social-media promotions house, according to her Linkedin. An old entry on an NY City babysitter website indicates that at one point, Megan for a time offered to help City parents in need.
Georgie's hand-made human hair lashes are made in Indonesia, with packaging produced in Taiwan, said Allen. The adhesive is proprietary and made in the U.S., she noted.
According to New York state records, online, the Georgie venture is successor to a business chartered by Abbey Allen in New York in 2007. VNC