PROJECT Music, the year-round accelerator and mentoring program resident in the Nashville Entrepreneur Center (EC), has recruited its smallest batch of startups yet: Four, including one from Tennessee.
Heather McBee, VP-operations at the EC, told Venture Nashville the smaller cadre is largely a reflection of the program's commitment to the success of its alumni.
Project Music admitted eight startups admitted to its inaugural 2015 class and seven in 2016.
The EC-based program also announced appointing an Entrepreneur in Residence for Project Music, details here.
Update: Several sources said the startup teams have been discouraged from talking with media at this early stage, while their concepts are still evolving, and that they will all debut their then-current plans in March during a special event.

The four young companies and informal descriptions of each provided by McBee are:
Event Escrow: Ben Hodge, CEO (Texas) "...a safe, easy online booking platform for music industry professionals that ensures payment and work fulfillment."

EyeBuyTV: Todd Coulter, CEO (California) "...a platform that identifies and commercializes merchandise seen in video content."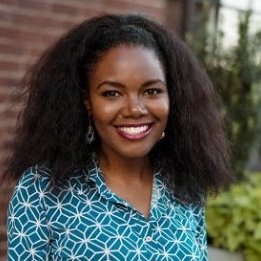 Kimberly Lannear
Hi Karl: Florian Doumenc, CEO (New York) "...a virtual dedicated private assistant that matches fans to music events." His Linkedin links to Karl.limo, based in Los Angeles.
Scripturally Sound: Kimberly Lannear, CEO (Tennessee) "matches Christian education to music lyrics using a simple search."
In a press release Jan. 26, Project Music principals were quoted, as follows:
Project Music Co-Founder and EC Master Mentor Joe Galante: "The Project Music accelerator continues to be supported by virtually every aspect of the music industry. Managers, major labels, artists, publishing, PRO's, and industry leaders have come together to not only provide funding, but to identify and nurture opportunities to advance the industry through tech innovation."
EC CEO Michael Brody-Waite: "Project Music's third year emphasizes Nashville's opportunity to become a national destination for music-minded entrepreneurs to launch and grow their tech startups... As Music City USA, Nashville offers unique insight into the music industry through both the city's rich musical heritage and its access to leading music business companies."
Supporting Project Music, in addition to the EC, are Title sponsor Country Music Association (CMA); Platinum Sponsor Launch Tennessee (Tennessee Technology Development Corporation); Sponsors Pinnacle Bank, BMI and Rock Paper Scissors, Inc.; and, Silver Sponsors Belmont University Curb College of Entertainment and Music, Linda and Doug Howard, and the Music Business Association.
Additional industry leaders have joined the investor group to help provide $40,000 in funding for each startup chosen to participate in the 2017 accelerator program.
Investors for 2017 year include RCA recording artist Chris Young, Galante Entertainment, Clint Higham of Higham Management, Maverick, McClusky PMN Investments (a Jeff McClusky, Ryan Carey & Roy D'Souza Partnership), Red Light Management, SESAC Inc., Marion Kraft of ShopKeeper Management, Sony/ATV Music Publishing, Universal Music Group Nashville and Warner Music Group Nashville.
SESAC recently announced plans to sell to Blackstone, the private-equity group. VNC
.
---