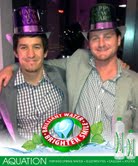 AQUATION LLC, a Nashville startup with a hydration and hygiene pitch, is tapping into America's reportedly growing thirst for bottled water and its owners hope local Angels will bless its planned seed-capital raise.
Founded by President/CEO Andrew Coulton in mid-2011, the company is soon likely to seek $850,000 from Angels, atop the roughly $250,000 invested, thus far, Coulton told VNC. In a longer-term scenario, it's likely to mount a $2.5MM Series A round, by year-end 2015.
Following two recent touches from the producers of ABC's "Shark Tank" entrepreneurial pitchcast, Coulton, 31, is standing-by to see if he and COO Andrew Hulsey, 29, will get a shot at the show's panel of Super-Angels, the founder said.
Aquation explains that its "functional enhanced water" product not only routinely hydrates consumers, but also contains a sugar substitute, a branded xylitol product manufactured by DuPont. Xylitol is widely used in other products and is credited with reducing bacteria in the mouth that contribute to tooth decay and halitosis, as described on the Aquation website. Its water originates at Nantze Springs, near Albany, Ga.
Aquation's competitors in the hotly contested beverages category include Nashville-based Hapi Drinks (fka Hygen8). Coulton partnered briefly in 2011 in then-Hygen8 with its majority owner, local dentist dentist and entrepreneur K.B. Parkes. Parkes and Coulton had years earlier known each other as students at Montgomery Bell Academy, according to a source familiar with the men.

George Malone
Hapi's day-to-day business is now led by President George Malone, who told VNC today that Hapi is now primarily focused on distribution in the Carolinas and Georgia, with broader Nashville distribution efforts held in check while the company awaits results of its pending U.S. patent application.
Coulton acknowledged that Aquation holds a license from now-Hapi for one formulation of an enhanced water, but he said the formulation Aquation has used since its own launch differs substantially, and yields a product that is enhanced by the addition of "a significant amount" of electrolytes and calcium, as well as xylitol.
Strongly associating the Aquation brand's "story" with wellness and environmental sensitivities -- and overall "coolness" -- is key to its marketing strategy, said Coulton. Its marketing is unfolding "slowly and strategically," targeting dentists as channel partners and referral sources, Coulton explained, adding that he believes the model is unique for a beverages company positioning in an "oral care, tooth-friendly niche."
Aquation-brand bottles are now in more than 350 retail locations in 17 states, including 25 Whole Foods and 30 Earth Fare organic-food stores, among other chains, he said. It forecasts 80% of its distribution being via natural foods and wellness products retailers.
In addition to Hapi, it competes with such products as Smart Water, Essentia, Penta and Fiji, and it sells in the $1.29-$1.69 range. The company has projected passing the 600-location milestone by year's end 2013. Steven Souders is its national sales manager.
As-yet-undisclosed Aquation product tweaks are in-the-offing for later this year, Coulton confirmed. The company conservatively projects more than $300K revenue for 2013, surpassing the $500K mark by mid-2014, according to materials the team provided.
Prior to wading into Water, Coulton served in healthcare-sector consulting roles with FTI Consulting, Siemens Healthcare and Southwind Health Partners, according to his Linkedin. He is a son of David Coulton, who is president of Westgate Commercial and RealtyTrust Residential, according to his father's Linkedin page.
Hulsey is an Auburn University-bred civil engineer who worked for several engineering and information technology firms, and earlier held a management role in Hulsey Sustainable Solutions, a Gainesville, Ga.-based business owned by father John Hulsey, which mainly focuses these days on waste recovery and recycling, with an eye toward establising a complementary role in the renewable energy sector. Hulsey's Linkedin.
Sales of bottled waters in the U.S. topped $11.8BN in 2012, with per capita consumption at more than 30 gallons, according to Beverage Marketing Corporation (BMC).
Aquation's advisors include attorneys with both Evans|Petrie and Riggs Davie, local patent attorney Shayne Cortesi, Chicago-based FDA attorney Amin Taliti, and Nashville accountants Doyle & Horlacher, said Coulton. It banks with Avenue Bank. It has worked on its brand with Cascadia Managing Brands, according to materials the team provided. Prior to launch, it also obtained patent-related counsel from attorneys with Waddey & Patterson, Coulton said today.
Hapi's legal advisors, according to several sources, include Butler Snow O'Mara Stephens & Canada; Dodson Parker Behm & Caparella, and Riley Warnock & Jacobson. VNC