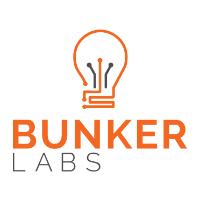 Updated: An additional startup, Menud led by Neil Whitney, is also to present. JPMorgan Chase and Bunkerlabs announced JPM will provide a $100K grant to the Nashville bunker.-Ed.
BUNKER LABS Nashville's accelerator startups will get a close inspection June 28, during a Bunker Builds America Tour stop sponsored by JP Morgan Chase & Co.
In addition to startup teams, particpants include Tennessee Gov. Bill Haslam, Metro/Nashville Mayor Megan Barry and State Sen. Mark Green (R-22-Clarksville), as well as State Veteran Services Commissioner Many-Bears Grinder, Economic and Community Development Commmissioner Randy Boyd, Launch Tennessee CEO Charlie Brock and "Frontline Generation" Author Marjorie Eastman, who served in the U.S. Army and is president of the YWCA of Middle Tennessee.
JP Morgan Chase will be represented by John Morris, an executive director and senior private banker with the company.
The local Bunker Labs chief is Blake Hogan, who's also director of business partnerships at the Nashville Entrepreneur Center (EC).
Registration is free for the event convening next Tuesday morning at The Pinnacle Building, 150 3rd Ave South, Nashville (37201). To register, visit this event page.
Bunker Labs startups currently expected to present include: EarIQ (Stephen Davis), Ishipit (Dave Roberts), Veterans Heavy Haul (Mike Tacke), KickTread (Joshua Parsons), Mott LLP (Jonathan Mott), MenuD (Neil Whitney), Gymcloud (Kenton Boutwell), Operation Troop Aid (Mark Woods) and Death from a Bun (Chuck Anderson).
Other speakers and panelists include Comcast VP for Military and Veteran Affairs Carol Eggert, Brig. Gen. (Ret.); Mission BBQ Co-Founder Bill Kraus; American Born Moonshine Co-Founder Scott Koffel; and, Heroes Vodka Founder Travis McVey.
Also participating: Metro/Nashville ECD Director Matt Wiltshire and Labor/Workforce Sr. Advisor Ashford Hughes; Amy Bunton, president, Pathway Women's Business Center; and, Erin Coleman, president of Yad Consulting and a former U.S. Army officer.
Among other highlights of the day is the formal launch of Millie, a Veteran-led startup currently based in Northern Virginia near Washington, with plans to raise capital in Tennessee. The company helps military personnel and their families make relocations from one duty station to the next.
Millie Co-founders Ken Robbins and Jason Dempsey, both West Point grads who served 20-years or more in the U.S. Army before retiring, told Venture Nashville that the company is advised in their continuing Seed raise by Nashville-based Samar Ali of Lodestone Advisory Group. VNC



.
---