Updated 23 April 2014: VNC hears from a reliable source today that CellJournalist has been sold to Toronto-based ScribbleLive. Seeking confirmation.-Ed.
Nashville-based CellJournalist, the user-generated news and community content provider, is now profitable and serving more than 130 print and broadcast media outlets, according to CEO Parker Polidor.
Potential buyers have approached CellJournalist, says Polidor, but he insisted during an interview Saturday that he, his brother/COO Colin and four other employees are focused solely on growth, and are overtaking some of the competitors cited in VNC's earlier coverage.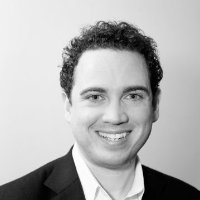 Parker Polidor
The Nashville startup has garnered attention by focusing on helping media outlets enlist audiences in documenting breaking news, weather trouble, community events and otherwise "winning the big story," said Polidor.

Colin Polidor
Asked whether his company might soon experience a fate similar to that of Nashville-based StudioNow, which was snapped-up a year ago by AOL for $34 million, Parker, 34, said he and Colin, 31, would be "flattered" by mention of the idea.
Without hesitation, Polidor confirmed the company is having "conversations" with a number of potential strategic partners, though he would not discuss the range of potential relationships. Achieving "fit" between CellJournalist and prospective partners has proven key, he noted.
CellJournalist offers a technology and services platform that enables audience members to upload or email images created using cellphones and digital cameras; and, which increasingly supports media outlets' community-building efforts with social media and other tools. That toolkit will soon expand: New Twitter and Facebook ties will be unveiled during NABShow, the annual broadcasters gathering, which this year is focused on content integration and delivery. CellJournalist has customers in about 40 states, Polidor estimated.
Primary CellJournalist competitors include VMIX, MyCapture, KickApps and Kyte, as well as the inevitable local "lone wolf" techie who attempts to provide a similar service, Polidor explained. VMIX has not concentrated on user-generated content and former CEO Mike Glickenhaus is no longer with that company, he noted. CellJournalist elbowed MyCapture out of ABC O&O KGO-TV in San Francisco, he added.
CellJournalist shone during the recent snowfalls in the Southeast, Polidor said, and images in the CJ system are growing at 75,000 per month, now totaling about 1 million, he noted. During the recent Southeastern snowstorm, the system gained 75,000 images during a two-day period, he added.
CellJournalist earlier completed a seed round, and has fewer than a dozen investors, said Polidor, who would not disclose revenue figures for the company. The company just hired its sixth payroll employee, a developer, and may soon hire another .Net developer or a customer-service staffer.
The CellJournalist business model includes one-time setup fee, licensing fees and a percent of revenue achieved through monetizing content using ad-placement and contest-management tools. Future features include additional content-syndication capabilities. One objective: make CellJournalist's "content library" dramatically more searchable and contextualized, he noted.
CellJournalist, which has for several years been in the ConduIT Corporation incubator on West End, now serves not only eight ABC-owned and -operated television stations, but also the recently signed Vanderbilt Hustler, one of the nation's oldest college newspapers. Other customers include outlets owned by Raycom Media (with holdings also weighted toward Southeast), Belo Corp., Barrington Media Group, and all Scripps newspapers and some radio stations, as well as such institutions as the Grand Ole Opry, said Polidor. Thirteen months ago, CellJournalist served no more than 50 media outlets, he said.
Sales and marketing are led by EVP Steve Sabato (at left), former news director at WKRN-2, Nashville's ABC affiliate. Sabato's LinkedIn profile indicates he continues involved in Uselabs, a tech firm specializing in user interfaces and information technology services; and, as Sabato LLC, he apparently continues to consult to social-media companies serving broadcasters and publishers.
Weather Decision Technologies (WDT), based in Norman, Okla. is a CellJournalist ally, said Polidor.
Other advisors to CellJournalist include attorneys Bone McAllister Norton, and the company banks with Reliant Bank. Accounting is with Tom Wall, CPA, in Franklin.
Parker Polidor is a 1999 econ/finance graduate (with CIS minor) of David Lipscomb University, in Nashville; Colin is a 2002 Lipscomb grad in MIS with a minor in management, and earned a Belmont University MBA in 2008. Both were previously co-founders of Mountain Valet, a parking company in which Polidor said the brothers learned about ups and downs and the prudence of bootstrapping, whenever possible. VNC